Holy Matri-Money
Money is a touchy topic for young couples, but here's how newlyweds can invest in a healthy—and happy—future. Plus five ways to save money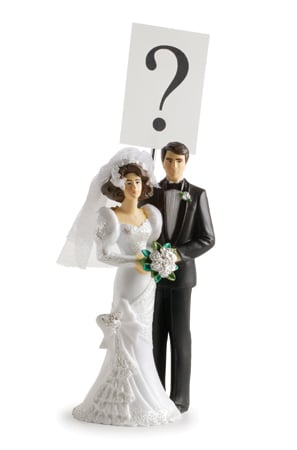 A few weeks shy of our three-year anniversary, my husband and I bought our first home, an adorable three-bedroom ranch in a college town. After years of renting furnished city apartments, we didn't own couches or a kitchen table, but our new—albeit empty—digs meant more than a step in the right financial direction: this was a goal that the two of us
had dreamed about, discussed, saved for, and, ultimately, accomplished together. Being home-owners was right up there with other major money milestones of our relationship: hosting a wedding, moving cities, and getting new jobs. After settlement, we pulled two beach chairs from our car trunk and sipped champagne on our deck. Like other young couples, this wasn't the first financial phase of our relationship that we budgeted for—and it won't be our last, either. (Hello, kids!)
Charlotte marriage therapist Leslie Petruk says that money is one of those "hot-button issues" that quickly reveals the dynamics of a relationship. "How couples communicate around money oftentimes sheds light on their communication, partnership, and problem-solving skills," says Petruk. In other words, do you consider your spouse's opinion? Are you honest
or secretive? Are both of you willing to commit to shared goals, even if it means compromising individual ones? The way you address bills and budgeting could reflect how you address other issues in your relationship.
Finances will forever be a fixture in relationships—just ask Kim Kardashian—and there are sound ways to manage money and, ultimately, your marriage. "Sometimes when you're younger you don't think about the future or consequences of spending as much," says Petruk. First and foremost, get rid of debt from credit cards and student loans. "There may be a period of time where you have to let credit roll, but it's a really bad habit to get into," says Karen Keatley, owner of Keatley Wealth Management in Charlotte. Keatley, who regularly advises couples about money matters, says that young adults are at a higher risk for making money mistakes (because of their inexperience) and accruing debt. (She notes that the only kind of "good" debt is a mortgage and maybe a car loan.)
But discussing a budget is difficult—even with your sweetie. "A lot of couples fight about money, so it's important to first agree on the goals," says Keatley. By sitting down and acknowledging short- and long-term goals—i.e., do you want to be the couple who vacations in Hawaii, or would you rather retire by age fifty?—couples can break down the specifics of a budget according to priorities.
"A lot of couples fight about money, so it's important to first agree on the goals,"
Ryan and Laura Ammel bought their Madison Park home about a year and half before they married. The twenty-six-year-olds used that time living together to practice budgeting, and said that being on the same financial page also helped when planning for their wedding. "We talk about finances more now than before," says Ryan, adding that they are really honest with each other. "Why sugarcoat things and have problems down the line?" This candid dialogue is exactly what Petruk suggests with newlyweds: "By having these conversations, you're building a foundation of open communication and trust," she says. While the Ammels have set a few key financial goals, such as updating their home and planning for retirement, they've also agreed on a lifestyle that allows them to travel and go out to dinner frequently.
Sharing goals is just as important as crunching the numbers. Whether you hire a certified financial planner or keep tally in a budget notebook, work through what's coming in and going out on a monthly basis. "Budgeting is like dieting," says Keatley. "It's not pleasant to talk about and it's not pleasant to do." She stresses that no matter how awkward, both spouses need to take an active role in the financial planning process. Disclose any personal "financial baggage" like job security, credit scores, or outstanding debt (credit cards, student loans) as soon as possible. According to Keatley, couples should squirrel away a savings of 15 to 20 percent of their total income, plus a rainy day fund that can handle three to six months of expenses.
"We have an Excel sheet for everything," says Laura Glinka, about how she tracks expenses with her husband, Ryan. The couple, who own a home in Ballantyne, group bills accordingly: utilties, entertainment, mortgage, etc., which allows them to see "big picture" spending. But even before the bills, they "pay themselves first" with aggressive contributions to their savings and retirement accounts. The newlyweds attribute much of their financial success to having four years to align their goals while dating. "Asking your significant other about their debt and financial goals early in the relationship is absolutely necessary," says Ryan. "That way, there's a smaller chance of 'sticker shock' after marriage."
Additionally, take a moment to evaluate your family history: were your parents frugal or indulgent? Were finances always—or never—a concern? "Good, bad, or indifferent, talk about what you learned in your family with money," says Petruk. "And then discuss how you want to do it differently—or the same." After defining how you want to merge the two sets of behavioral patterns, make deliberate efforts to practice these spending and saving habits.
Finally, and most importantly, go slowly. "Many of these issues you won't work out in just one conversation," says Keatley. "But marriage is long and things come up, so you have to be able to sit down, analyze the situation, and figure out the best response. This is just one of the many things you have to learn to do together."
Five Ways to Save Cash
Cut back on all of the "extras" for a specific period of time, be it a weekend or month. Make coffee at home, take public transportation to work, or dust off a favorite DVD instead of a night out at the movies.
Dedicate one day to cooking most of the meals for the entire week. Bonus points for using coupons at the grocery store and buying cost-efficient recipes, like stews or pasta dishes.
Even in the summer, save dollars on the utilities: swap out incandescent bulbs for the EnergyStar kind; do a nightly sweep to turn off all electronics; and change your air conditioner filter, which may help it run more efficiently.
Instead of pricey weekend getaways, reconnect with destinations within driving distance. A day trip at the beach or nearby city will, at the very least, cut down on the cost of a hotel room.
Pay all of your bills online. It's convenient and fast, and you'll also save on checks, postage, and possible processing fees.