Home Place: Heirloom
Chef Clark Barlowe's new restaurant is a well-tuned, North Carolina-centric dining experience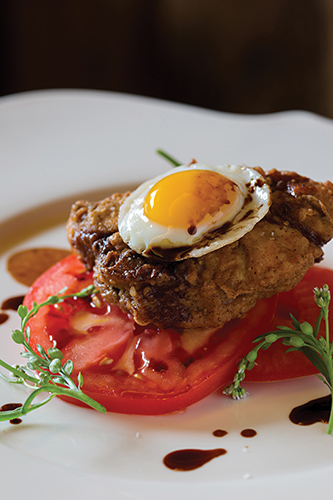 It's in a neighborhood, Coulwood, whose name you may not recognize. It opened on an inauspicious day, just before a rare February snowstorm. But the dishes that emerge from the kitchen at Heirloom, the new restaurant from 27-year-old chef and owner Clark Barlowe, have an easy elegance. The menus, which change daily, are a reflection of Barlowe's attachment to North Carolina and its bounty. His family has owned a farm in Lenoir for seven generations.
"I want to support the state I grew up in," Barlowe says. That philosophy drives his cuisine, which is crafted with produce sourced from across the state, like ramps and vetch blossoms foraged by Barlowe and fresh oysters from Harkers Island in the sounds of eastern North Carolina.
Beer and liquor are made in North Carolina too, and even the wood lining the walls came from an old dairy barn in Caldwell County. Barlowe and his father and grandfather spent two months reclaiming the wood—which included dismantling the barn, cleaning the wood, and removing the nails, then priming and installing.
Owner and chef Clark Barlowe at Heirloom.
Still, Barlowe is most comfortable in the kitchen. The chef, who studied at Johnson & Wales in Charlotte, has worked at two of the best restaurants in the world: The French Laundry in California's Napa Valley and El Bulli in Catalonia, Spain. In many of his dishes, those influences are evident. Diners can choose from a traditional daily menu or opt for a seven-course ($65) or five-course ($50) tasting menu. On a recent evening, Barlowe's playful approach was apparent, from a briny-meets-decadent bowl of pork belly and clams served with roasted garnet sweet potatoes to stewed nettles nestled under a tender flank steak and topped with earthy oyster mushrooms. Many of the ingredients on the menu can't be found elsewhere in the city: grilled day lily stems served alongside tilefish and crab fried rice, chef-foraged fiddlehead ferns, or honey from the restaurant's three rooftop hives.
Pastry chef Joselyn Perlmutter also has an impressive pedigree; she trained at Ecole Nationale Superieure de Patisserie in Yssingeaux, France. Her dainty, elegant desserts are inventive and exquisite. Witness the recent lemon and rosemary profiteroles—airy puffs filled with lemon curd, served with honey-rosemary ice cream, and topped with strawberry sauce.
With its welcoming, laid-back vibe and uncommon fare, Heirloom is poised to shake up the farm-to-fork philosophy that's swept the city's restaurant scene. But Barlowe aims even higher: A board in the kitchen counts down the days until the next James Beard Awards are announced.