HOMES: Inside Author Kimmery Martin's Home Office
The physician-turned-novelist welcomes us into her modern, light-filled Cotswold office before the February publication of her second novel, The Antidote for Everything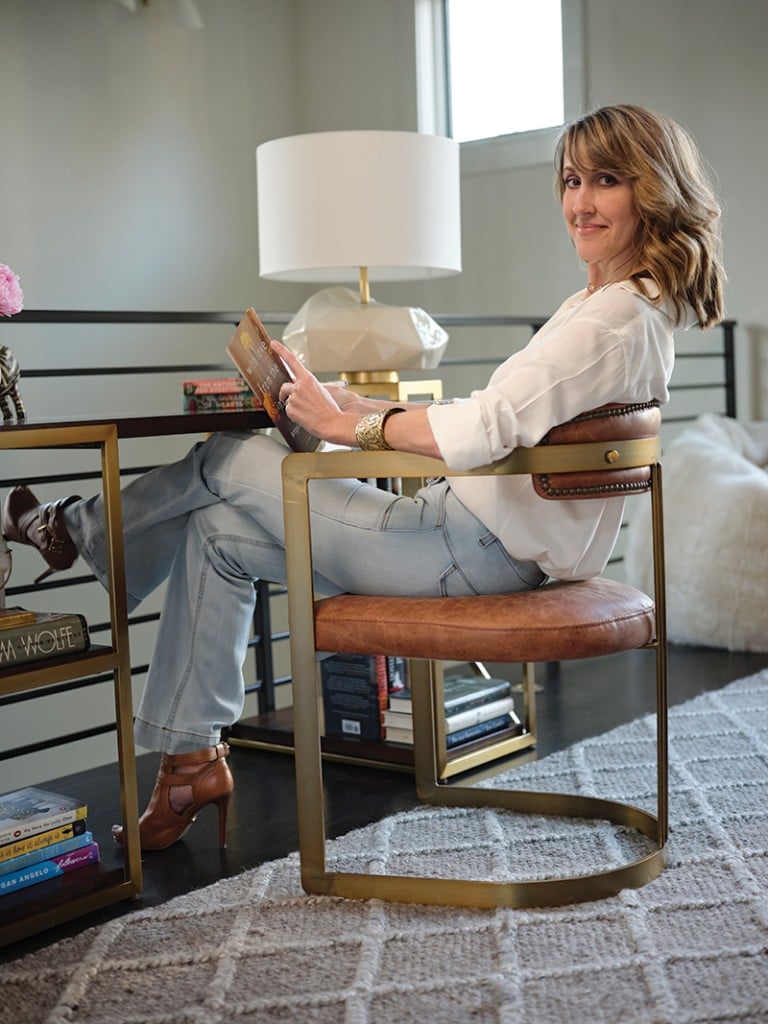 "I HAVE 45 MINUTES to an hour of complete and total chaos getting the kids out the door," Kimmery Martin says with a laugh as she describes a typical morning in the Cotswold home she shares with her husband, an orthopedic surgeon, and her three children, ages 15, 13, and 9. "None of us are calm people at my house."
Fueled by coffee—and 30 minutes of Pilates—Martin then retreats to her home office, where she spends a few hours tackling the email backlog, writing articles, and keeping up with her social media accounts. "Then the carnage starts up again in the afternoon when the kids get home," she says.
I first met Martin two years ago at my book group, where she led the discussion on her first novel, The Queen of Hearts. The story, set in Charlotte, had little winks and nods to places we all frequented: Selwyn Avenue Pub, Queens Road West, the car pool line. Aside from her medical degree and book deal, she felt like one of us: an overscheduled wife and mother in need of a night out and a glass of wine with her girlfriends.
I caught up with her again last fall to chat about her new book, The Antidote for Everything, as she recovered from knee surgery. It was a role reversal for the former ER doctor, who prefers to be on the other side of the scalpel. But the downtime, she admits, was a refreshing change of pace for someone who rarely makes time to relax.
When Martin started writing her first novel in 2013, in "a fit of misguided confidence," she didn't have a designated writing space. She took over the playroom and gradually started moving more books in and phasing kids' stuff out. "I still love to write there," she says, "but I love the new space."
Her new office is part of an addition to the home, which doubles as a pool house and a guest suite. Kelly McArdle Construction handled the addition, and Martin worked with Casey Maslanka of Traditions to design the interior. Leading up to her office is a "stair library," a staircase decorated in decals with names and titles of her favorite works of literature that Martin found on Etsy. "(This space) is a more modern aesthetic with clean lines, lots of light, and an industrial look in places, so it's different from the rest of the house," she explains. "I can write anywhere—at my kitchen table, the library, my office—but I like having a serene space because the rest of my life is so cluttered."
Martin likes to write without "visual clutter," so there's not much in the way of trinkets and accessories—just some fresh flowers, an antique typewriter that belonged to her mother, and her book collection. "I keep a stack of books on my desk that I love, with the most exquisitely written sentences. I look at how they structure their words, and the arc and flow of narrative. It's good inspiration if you get blocked while you're writing. And books are physically beautiful."
Her clean and airy workspace is the opposite of her work style, which she says is disorganized and undisciplined. "I function best when I'm in a panic. It's stressful, but that's how I get it done." It's how she completed The Antidote for Everything, which revolves around two physicians who go rogue after their hospital fires one of them for treating transgender patients. "I was curious what happens if a doctor's core practice principles conflict with administrative ones," she says.
Martin no longer works in the ER; once she landed a publishing deal with Random House in 2016, writing became her full-time occupation. "I love the idea of reinvention. I find both careers equally compelling," she says. "Both allow an examination of the human condition—the difference being, in medicine, doctors are striving to alleviate suffering, while authors are deliberately torturing their people, because you can't have a good book without friction."
Her book tour starts in Charlotte on February 18 with a ticketed luncheon at Quail Hollow Club and, later, a free book signing and talk at Park Road Books, then stops in Charleston, Atlanta, San Diego, New York, and many others. For the self-described introvert, it's equal parts energizing and exhausting. "It takes a supreme amount of energy to talk in front of people for any length of time. I collapse like a burst balloon after," she says. "I had no familiarity with public speaking when I started, but I wound up really liking it. I love bookstores (and) meeting readers, and I love the travel. I'm not gonna lie—I love a hotel room to myself. It's a frantic pace, though. There's not much time to soak in a city."
When she's not traveling—or recovering from knee surgery—Martin meets with a weekly writers group, interviews authors for her website (kimmerymartin.com), edits her children's book reports, and reads three to four books a week. ("I can't imagine being a writer who didn't read," she says.) She's also a trustee on the Charlotte Mecklenburg Library Board, where she advocates for the addition of a dedicated writers' space to the new Main Library, scheduled to open in 2024.
She's working on a third book—about an infectious disease doctor traveling with her two children in the midst of a viral pandemic—which she hopes to release in 2021 or 2022. And in those unavoidable moments when she finds herself staring at a blank computer screen, she often clicks over to a favorite hashtag, #bookstagram, to scroll through artistic photos of books, libraries, and workspaces.
Sometimes a beautiful interior is all the inspiration she needs to keep writing—at least until the kids get home from school.
---
An Excerpt From The Antidote For Everything by Kimmery Martin
Mark's clear eyes shone with something that looked suspiciously like mirth. "I realized I already know a lot about you—you're a doctor, you're a bookworm and a science geek, you're a bit of a rogue but you're lonely, you—"
"Whoa," she interrupted. "Hold up. Obviously you're aware I'm a doctor, but how do you know those other things?"
"I'm paying attention. You have not one but two novels and a biography sticking out of your shoulder bag. Only a dedicated book junkie would carry that much weight around."
"Okay."
"The science part: the biography is Nikola Tesla, and there's a novel by Neal Stephenson. And then there's your tattoo."
"You saw my tattoo? Which one?"
He nodded. "A Delta. I saw it on the plane, when your pants leg rolled up a bit." He paused, adding, "I wasn't purposely staring at your ankles or anything."
She must have looked dubious, because he went on. "Okay, yes. I was looking at your ankles. They're very nice."
"No, it's just most people think I have a tattoo of a triangle. Or if they recognize it as a delta they think it's a sorority thing."
"The Greek letter delta," he said. "The scientific and mathematical emblem of change."
"Correct. And it's the differential operator given by the divergence of the gradient of a function on Euclidean space."
He stared, his mouth slightly ajar. "The Laplace operator."
Her turn to be impressed; she'd never met anyone who didn't look at her strangely if she started babbling math jargon, let alone anyone who could actually comprehend what she was talking about. "You know about the Laplace operator?"
"I was a math major; how do you know about the Laplace operator?"
"My father was a college math professor. So, yes, I have a lot of reasons for liking the delta symbol. What about the rest of it?"
"The rest of the Greek alphabet?"
"No, the rest of what you said." She waited, embarrassed, but he still looked puzzled. "That I'm a rogue or whatever."