Honey Bun Heritage
Katie Scarborough's grandfather launched the company that has cranked out thousands of Duchess brand honey buns every day for more than 40 years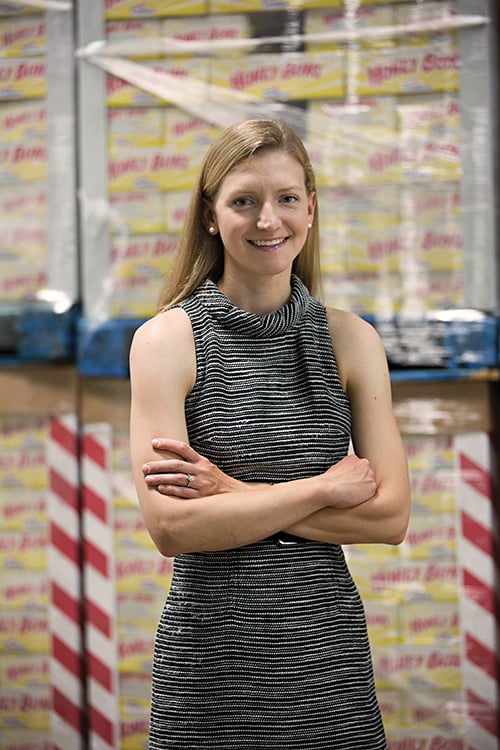 Amid the warehouses and old textile mills in South End, one white brick building stands out—not for its architecture but for its smell. The sweet aroma riding a gentle, southwesterly breeze is from Carolina Foods Inc., one of the biggest and oldest bakers of honey buns in the country.
The dark, wood-paneled offices look like they haven't changed since the 1960s. Here is a world where you know just what to expect. In another moment, the plant foreman/tour guide will appear. His name will inevitably be Butch or Duncan—a big, aw-shucks kind of guy in shirtsleeves, sweat pouring off him, bandana around his neck, big toothy smile. Just plain folk.
The tour guide who emerges instead is a slim, blond woman in a spotless white jumpsuit. Katie Scarborough, 32, is Carolina Foods Inc.'s CFO. With a master's and a CPA from Wake Forest and an MBA from Wharton, Scarborough could've chosen a career almost anywhere. And she did, at first. She spent two years at the Securities and Exchange Commission in Washington, D.C., decided she hated big government bureaucracy, returned to Charlotte, and worked for a hedge fund before she came back to the family business—a decision that was partly about not wanting to be "just one more new hire at some big company doing brand management" and being afraid "to end up someplace like Michigan," she laughs.
Before you can follow her along the catwalks of this cavernous 100,000-square-foot plant, you have to sign a declaration that you will not reveal what you see inside. (It's rumored that McKee Foods in Tennessee, bakers of Little Debbie cakes, won't let any civilians inside its plants.)
What's all the fuss about an industry that dubs its most important revenue producers Ding Dongs, Ho Hos, and Twinkies? The fuss is about the recipes, the number of production lines, and the other companies they co-package for.
On the plant floor, 400 workers in hairnets command an infantry of honey buns marching phalanx upon phalanx in precise formation, 20 across, thousands a minute, slogging through trenches of boiling shortening and several miles of steel conveyors where they are iced, dried by huge fans, and finally put to bed in cellophane.
Scarborough says she really returned to Carolina Foods to continue the legacy, working in a business that her grandfather started 80 years ago, selling sandwiches off the "dope wagons" that wheeled up the aisles of Charlotte's textile mills. Her father, Paul, a Harvard MBA, took over in the late 1970s. Corporate investors regularly try to buy them out, but the Scarboroughs aren't selling.
"I think it's kind of special to be here," Scarborough says, "working at something my grandfather started."
Scarborough hands you a freshly minted sample from a nearby extraction point. All that marching and slogging, they shouldn't taste this good. But they do; still warm, honeyed and heavenly. Everything you'd expect a honey bun to be.