Honeymoon How-to: All-Inclusive, or Not?
Is all-inclusive the way to go for your honeymoon? Here's how to decide which resort option is right for you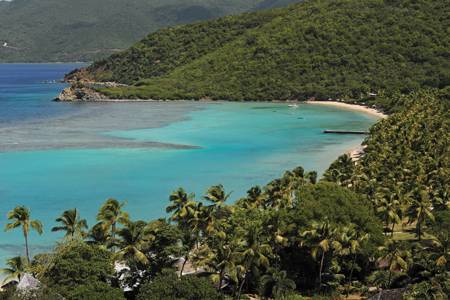 When it comes to booking your honeymoon at an all-inclusive resort, break out your magnifying glass and make sure you read the fine print. While these resorts usually offer unlimited food and drinks along with other perks and activities (think: stocked mini-bars and snorkeling), incidentals that may not be your thing are sometimes included in the overall cost. Tipping, which is typically included, sometimes isn't. Some resorts welcome children, while others remain adult only. The alternative to all-inclusive destinations, so-called "European plan" resorts, operate on a more traditional pay-as-you-go basis, often touting higher-quality food and superior service.
"Our clientele expects a choice of dining options during their stay," says Duncan Hogarth, managing director of Rosewood Little Dix Bay, a European plan resort in the British Virgin Islands.
But that doesn't mean that some all-inclusive resorts don't also offer top-quality food, beverages, and service, says Sandy Saburn with Mann Travels. All-inclusive resorts, just like hotels, span the spectrum. "You've got your Motel 6 resort, and you've got your Ritz," she says.
Top all-inclusive resorts, such as the El Dorado Royale in Mexico's Riviera Maya, employ James Beard Award–winning chefs. Some even boast on-site greenhouses where chefs grow their own produce and offer choices of twelve different house wines. Likewise, not all European plan resorts are pricey: many also offer complimentary boat rides, snorkeling, and cocktail hours.
The most important thing when planning your honeymoon is to decide what you want to get out of it. If you're the type of couple that doesn't want to miss out on local cultural experiences, an all-inclusive resort that encourages you to spend most (if not all) of your time on the property may not be the right choice. "If you're into snorkeling, zip lining, and sailing, and you're rarely going to be in the room, you might want to go another route. All-inclusive resorts are not for people who plan to leave the resort first thing in the morning and come back and crash because they can't take advantage of all the food and wine," says Saburn.
If you're not big eaters or drinkers, all-inclusive resorts might not offer the best value. But while most all-inclusive resorts include all-you-can-eat, buffet-style meals, some do also include on-site à la carte restaurants, which can help break up the monotony of the buffet (at no additional cost).
In all likelihood, your wedding—and the planning that goes along with it—will be stressful enough, so the biggest perk of choosing an all-inclusive resort is a good one: they're trouble free. They alleviate the stresses of daily decision-making and the ever-present temptations to break the budget.
"With all-inclusives, you book, you pay, and you're done," says Saburn. Her best advice for avoiding honeymoon snafus? Talk to a travel agent. "We go to these places and make sure the website photos match the location," she says. "Is great cuisine important to you? Do you want to be somewhere you can water ski, scuba, sail? [An agent] will make sure you get to the right place."