Hooked: A Wave of New, Young Fishing Enthusiasts May Outlast the Pandemic
And where to fish in and around Charlotte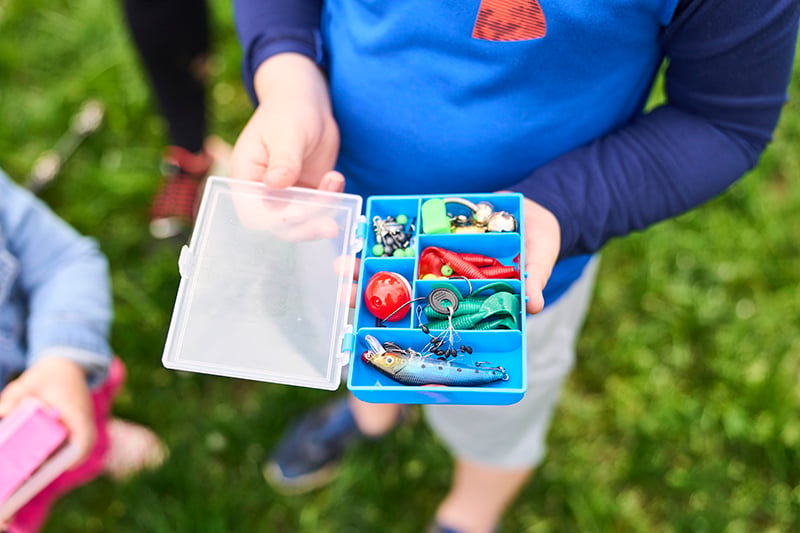 This used to be a typical Saturday for Ashley and Keith Ganci: Get Nash, 7, into his baseball jersey and cleats. Dress 4-year-old Ruby in her leotard and tutu. Strap 2-year-old Willow into her car seat and pack the family Tahoe with baseball bats, water bottles, coolers, and orange slices. Beeline to the baseball field to deposit not only Nash but also assistant coach Keith. Watch; play; coach; cheer. Exchange high fives and see-you-next-weeks; reload the car. Then, ballet class, soccer practice, or BounceU for a classmate's birthday party. After all that, point the car toward their home in Myers Park and pray for nothing but green lights to make it to their neighborhood cookout.
In March 2020, everything stopped.
The COVID lockdown put the family's activities on ice. But they had their weekends back. With the warmth of spring, the Gancis began to venture to nearby Briar Creek with fishing poles and a tackle box.
"We discovered outdoor activities that hadn't been on our radar before," Ashley says. "We'd go hiking and exploring, and every weekend we tried out new greenways and trails." And the extra time allowed Keith, a neuropsychologist, to rediscover a favorite pastime from his childhood on Long Island: fishing. A few weeks into the stay-at-home order, Ashley bought $40 rods for Nash and Ruby on Amazon so they could fish in their backyard, which backs up to Briar Creek.
Individuals and families across the country have taken up the same hobby. Nationwide sales of fishing licenses increased 11% from 2019 to 2020, the Recreational Boating and Fishing Foundation, a national nonprofit, reported in March. The N.C. Wildlife Resources Commission, the state agency authorized to sell fishing licenses, sold 13% more resident licenses and 4% more non resident licenses in 2020 than in 2019, says foundation spokeswoman Stephanie Vatalaro.
Fishing has natural advantages under COVID guidelines. With the exception of big charter boats, fishing is a solitary or small-group activity. Anglers tend to skip crowded stretches of shoreline, so those 6-foot social distances happen automatically. Compared to youth sports, dance, or gymnastics, fishing is relatively inexpensive, too. A basic North Carolina fishing license costs $9 for 10 days or $25 per year. (Those prices double for nonresidents.)
***
At Jesse Brown's Outdoors in SouthPark, general manager Wes Lawson and his staff would normally outfit families for spring break trips to the Bahamas or Belize. But since last March, they've had trouble keeping up with the demand for fishing gear. "The business definitely took a hit, but fly-fishing carried the ball further down the field for us," he says. "We'd sell out of waders a week after we'd get them in. It brought new energy into the store."
They also saw a surge in guided fishing trips to nearby destinations like Davidson River and Mitchell River. The full-day trips, designed for one or two anglers, meet streamside for a day of casting instruction, water reading, entomology, and hook setting. The cost is $300 for one angler, $375 for two, and includes lunch and all gear for the day. Lawson says customers rarely flinch at the expense of the trip or splurging on a $250 pair of waders if the cheaper ones were out of stock. "When we realized we'd be in this for a while, people started committing, buying waders, rods, and more gear," he says. "Now they identify as anglers."
Besides basic water safety skills and a North Carolina fishing license, Lawson says young anglers just need to come with an ability to listen and ask questions. And unlike outdoor activities like hiking and mountain biking, "you're highly unlikely to get a concussion or tear your ACL," he says. "Just make sure you're wearing sunscreen and protective clothing. That's it."
Fishing trips have also opened an outdoor classroom for kids who've spent months trapped indoors in front of their devices. The Recreational Boating and Fishing Foundation's online portal, Angler Academy, saw more traffic in 2020 than in any other year, Vatalaro says. Visitors downloaded ice-fishing experiments and picture books and viewed video tutorials on how to hook live bait. "Parents were looking for ways to lean into the science," she says, "and this helped them teach their children about the language, conservation, and aquatic habitats."
According to the U.S. Fish and Wildlife Service, North Carolina is home to 234 freshwater fish species like spotted bass, blue catfish, bluegills, and rainbow trout. In fly-fishing, there's an order and pattern to the aquatic insects' emergence. Lawson says all of that is a science lesson. "Kids become more in tune with what makes this place better," he says. "Where does that storm drain run off to? Does my shampoo cause problems for aquatic culture? If I take a tree out of this environment, how does it affect the fisheries? They learn cause and effect."
***
Another valuable life skill many kids have lost in the digital age? Patience. "A lot of kids expect to go out and catch, catch, catch," Vatalaro says. "But sometimes it's a success if you can get them out on the dock, playing with bait. It doesn't have to be a perfect experience. They can work on casting, bringing the bobber in, putting bait in a bucket. Success is getting them out there and having a memorable experience."
While Ashley juggled her children's homeschooling with her full-time job as vice president of legal at American City Business Journals, she spent many afternoons on her back porch with her laptop while the kids fished in the creek. "They'd collect worms and bugs and learn how to work their rods and reels," she says. "It was really nice to get back to those outdoor simplicities."
As the world reopens and social activities resume, the Gancis' weekends will inevitably fill up with sporting events, barbecues, and birthday parties. But they hope fishing remains a regular family pastime, too. They say the unscheduled outdoor time has taught their children to entertain themselves instead of interrupting Mom or Dad to set up an inflatable pool or a painting station every time they get bored. It's been a sweet spot in an otherwise turbulent year.
Lawson, who also fishes with his 11-year-old son, says it's an activity that doesn't require you to keep score or have any great skill. "It's easier than you think it will be … you can be a hero with your kids," he says. "You don't sit around the dinner table talking about who got the highest score at pinball. It's a lot more exciting to tell that story about the time you caught the big one."
---
Where to fish in and around Charlotte
Freedom Lake at Freedom Park
1908 East Blvd.
Park Road Lake at Park Road Park
6220 Park Road
McAlpine Lake at McAlpine Creek Park
8711 Monroe Road
Beatty Lake at Colonel Francis Beatty Park
4330 Weddington Road, Matthews
Latta Plantation Nature Preserve
6211 Sample Road, Huntersville
McDowell Nature Preserve
15222 York Road
Reedy Creek Park and Nature Preserve
2900 Rocky River Road
Jetton Park
19000 Jetton Road, Cornelius
Ramsey Creek Park
18441 Nantz Road, Cornelius
Lake Norman State Park
759 State Park Road, Troutman
Colonel Francis Beatty Park
4330 Weddington Road, Matthews
Cane Creek Park
5213 Harkey Road, Waxhaw