Hoop Dreamer
Over the last half-century, few people have had as much impact on college sports in our area as basketball lifer, stubborn idealist, and Davidson grad Terry Holland. Bet you weren't expecting that name, were you?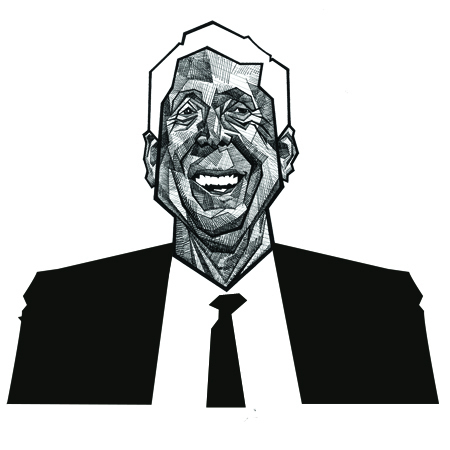 Clinton, a wisp of a town, lies eighty miles southwest of East Carolina University. If you follow US-13, the drive will eat up the best part of two hours, and you'll pass dozens of abandoned sheds in which just-harvested tobacco was once readied for auction by curing.
For Terry Holland, the trip took more than forty years, including a couple of decades at Davidson College. There, he went through a comparable curing that prepared him for a career that has turned into one of the South's most admirable in intercollegiate sports—and one of its most underrated.
His is a story marked by twists. He is a basketball lifer who runs the athletic department at East Carolina, where football is Priority No. 1, 2, and 3. He had a catalytic hand in reversing the fortunes of two of our region's most bedraggled college basketball programs, yet if a talk-radio host asked callers to list key figures in the sport's history in these parts, you'd sit through a dozen commercial breaks without hearing his name.
Similarly, at seventy, he is of an age when most executives have swapped wrestling the bottom line for untangling their fishing line, but he is resolute in tackling East Carolina's longest-standing athletic problems—a basketball team that has had one winning season in fifteen years and finding a conference that makes sense for the school, geographically and academically. He is fundamentally idealistic about college athletics, though he has drawn on his pragmatism and his competitiveness to flourish in an NCAA where idealists are as outdated as a leather football helmet.
His is also a story with layers. It's about causality and happenstance and their impact on our lives. It's about the ways in which anywhere we land and anybody we get to know can have an effect on us, sometimes in a manner so subtle that we're not aware of it—the idea of the butterfly flapping its wings in Madagascar—and sometimes in ways we feel every day, in every nerve ending. It's about the things that stick with us.
In Holland's case, throughout the twists and layers, you see the clear influences that his time at Davidson brought to bear. He was an excellent player and diligent student, later the coach who cemented the school's passion for basketball, and finally he was the athletic director whose wisdom and instincts ensured another generation of the sport's prosperity.
An aside: This, I'm realizing, is shaping up as a psychological profile, so I'll tell you why I'm at least partially qualified to take that tack. I saw Holland play for Davidson, met him in his first season as the school's head coach (1969-70), reported on his teams at the University of Virginia as a journalist (1975-90), and spent a morning a few weeks ago at East Carolina catching up with him in his office (replete with "Go Pirates" memorabilia in purple and gold). I don't want to minimize the impact of his disciplined rearing in Clinton by parents who operated Holland's Grill on the town square and awakened him at 5:30 a.m. to clean tables before school. He went back after school, too. "Only two things got me off work," he says. "Church and sports events. So I was highly motivated to make the team." His mother and father did good.
But here's what he acquired at Davidson: a practicality forged by his study of economics, a perspective on college athletics that allows him to avoid getting distracted these days by their scale and hype, a doctoral-level understanding of basketball that enabled him to coach his teams to nine conference championships, and an orientation to the values of community and service.
When he enrolled in 1960, Davidson was half its present size, and that half was all male. (Biographical note: he stuck with his girlfriend from high school, marrying her two years after college.) In most other respects, Davidson was not unlike today's version—a national-class liberal arts school with a demanding curriculum. Holland got a degree and an education. Plus, the small-town setting and the emphasis on social responsibility left their impressions.
Back then, Davidson basketball was barely a notch above intramural quality; the Wildcats had not finished over .500 since the Truman administration. A new coach, Lefty Driesell, had signed Holland. He was a breakthrough recruit, an ACC-caliber player. Then, in a development that ranks with aeronautical swine, Driesell surprised everyone, including the college's administration, by turning the Wildcats into a Top 10 team by 1964. (Biographical note: Holland was a rail-thin six-foot-seven forward on that club; last summer he hosted a beach reunion for the other starters and their wives, among them Fred Hetzel and Dick Snyder, Davidson's first All-Americans.)
Suppose that Holland had gone to Wake Forest, his second choice. He wouldn't have had a nine-year relationship as player and assistant with Driesell, who grew into one of the game's most accomplished coaches, and Holland wouldn't have benefitted from his tutelage and counsel. Bones McKinney, Wake Forest's coach, flamed out in 1965 and was fired; he was never in Driesell's league as a tactician or recruiter, anyway. Absent joining his staff right after graduation, Holland probably ends up as an accountant. That had been his ambition. Mentors matter.
When Driesell left for Maryland in 1969, Holland was promoted to the job. It was the second of three watersheds for Davidson basketball, and he was a principal in all three. One, of course, was Driesell's arrival, which touched off a seven-year phenomenon in which the Wildcats went 153-40, splashed onto the cover of Sports Illustrated, and beat the likes of Ohio State and Duke. But if Davidson basketball had fallen back to where it had been, all that could have been written off as a one-in-a-billion lightning strike, never to happen again, not worth even trying.
However, Holland learned fast, brought in tough-minded players, and kept Davidson atop the Southern Conference standings for four more years. The period was critical. So was the fact that Holland presided over it. Because those achievements came at the hands of a Davidson alumnus imprinted with Davidson sensibilities about athletics—a belief that they can flourish in an intellectual environment, that they are not the most important public identity of a school, that they should never compromise educational standards—Holland's success attached credibility to the college's efforts to go toe-to-toe with the powers of Division I sports while immunizing itself to their excesses and wrong-headed priorities.
Those values, and the willingness to advocate for them, continue to drive Holland. Butch Davis was hired as UNC-Chapel Hill's football coach in 2006, and, before long, his compensation, in the realm of $2 million annually, triggered controversy. Erskine Bowles, the state university system president, summoned the athletic directors of his three schools with top-level football—Holland, UNC's Dick Baddour, and N.C. State's Lee Fowler—to a Board of Governors meeting to discuss the balance of academics and athletics. Baddour, in a Tar Heel–blue polo shirt, spoke first. His message was that all was well in college sports, or words to that effect. Fowler, wearing a golf shirt in his school's red and white, followed with a similar assessment. Then, clad in a dark pinstripe suit, white shirt, and tie, Holland stepped up. "Ladies and gentlemen," observers recall him saying, "we have a problem." He stressed how rising coaches' salaries and an increasing reliance on television revenue were skewing college sports and harming athletes' education. He got a standing ovation.
Thirty-some years earlier, Holland took his clear-eyed perspective on collegiate sports, inculcated in him at Davidson, with him when he headed to Virginia. He faced a coaching challenge equal to that which Driesell surmounted at Davidson—the Cavaliers had put together four winning records in twenty-five years—and the result was the same type of magic. By 1990, when Holland returned to Davidson as athletic director, his turnaround at Virginia had produced an average of twenty victories a season, nine appearances in the NCAA Tournament, the luster of Ralph Sampson—three times the national player of the year—and a permanent inflation of the expectations of Virginia fans. (Biographical note: in Charlottesville, Holland chose to reside just a full-court pass from the school. He lived that close in Davidson, and he liked that his home was within walking distance for players and other students. At East Carolina, his house is sandwiched between the campus and the athletic facilities.)
As Davidson's A.D., Holland confronted similar expectations about basketball, in part of his own making. By 1993, Bob McKillop's first four Wildcats' teams had gone 39-74. Few were confident he was the right coach. Holland was. Says McKillop, "I was brash and arrogant and from New York, and a lot of people thought I should've been put on the bus and sent back. Without Terry's support and guidance, I don't know where I'd be today. He was always there for me."
McKillop likens Holland's relationship with him to the one Duke athletic director Tom Butters famously had in the early 1980s with another struggling young basketball coach, Mike Krzyzewski. Now, McKillop has won seventeen division and tournament championships in the Southern Conference, and, under him, Davidson basketball has thrived like no other high-level sports enterprise in Mecklenburg County. Mentors matter.
East Carolina is on a stretch of flatlands far different from the urban expanses of the Piedmont. Those dilapidated tobacco curing sheds flanking the roads are shadows of better economic times, and the school has the largest number of students on financial aid of the sixteen campuses in the state system. Service to the region is a central dimension of East Carolina's mission—for example, its medical school has a higher percentage of graduates who practice in North Carolina than those from UNC, Duke, or Wake Forest—and an aspect of service is embedded in Holland's return to his roots. East Carolina needed an athletic director with acumen and gravitas and, in particular, an appreciation of its constituency.
I asked him why, after deciding to retire as Virginia's athletic director in 2001, where he served after leaving Davidson again in 1995, he reversed direction in 2004 and plunged into another job. "I realized I was not ready to retire," he said. "I wasn't actually looking forward to fishing all the time. I had been speaking out on the things that were wrong in college athletics, and I saw that I needed to get back in the mix to have an impact."
The guy who got up at 5:30 a.m. to bus tables probably is unable to imagine not working, and his to-do list is lengthy. Near the top: fixing East Carolina basketball. Walk into virtually any college arena, and you'll see the jerseys of the school's foremost players in the rafters; none hang in Minges Coliseum. That's how barren East Carolina's basketball history has been. Jeff Lebo, once a guard for UNC, is in his second year as the coach. He is 32-31 in two seasons; the jury is still sequestered. To help with recruiting, Holland has commissioned the construction of a new building for basketball practice.
That was his pragmatism speaking. He knows, and regrets, that college sports are an arms race—bigger and bigger stadiums, better weight rooms, more of this, more of that, paid for with television revenues in hopes of greater television revenues—and to sit it out dooms an athletic department to losing records and flagging interest. As an A.D., Holland has improved facilities and increased fundraising everywhere he has gone, but he understands the danger of the pursuit of more and more. "It's like standing in front of a steam roller," he says. "While we applaud the television money, where will it put us in twenty years? We schedule games when people want to watch them on television—a Thursday night conference football game on the road, for instance—and that causes players to miss classes, maybe two days of them. We've gotten so far away from a consistent message about the most important goal in our athletes' lives—their education."
That was Holland channeling Davidson. As athletic director there, he negotiated the college's return to the Southern Conference in 1992, after a four-year absence. The very top line on his East Carolina to-do list: ensuring that East Carolina does not get left behind as leagues rip one another apart in a furious scramble to expand, motivated by their lust for more zeroes at the end of the number on their television contracts. East Carolina has been rebuffed twice by the Big East and remains, for the present, in the unstable Conference USA. "Surely," he says, "before we destroy conferences, we have an obligation to all of college athletics, to the greater good."
That was Terry Holland, the idealist. What separates him from so many of his peers in college athletics is that he still believes in the greater good.