House of Blues (and Rock … and Folk)
Smaller, more intimate concerts, it seems, are best performed at home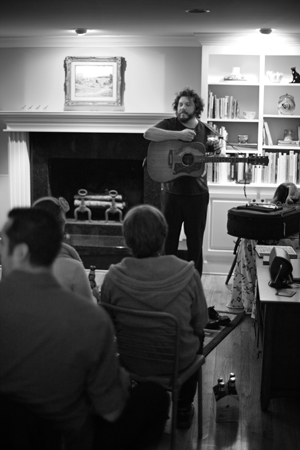 It's a Thursday night in February in South Charlotte. Close to thirty people are crowded into a living room, standing in doorways, and seated on couches and rows of kitchen chairs. In front of a black marble fireplace, Bobby Bare Jr., a burly forty-four-year-old with frizzy curls and a beard, is strumming a guitar whose body is so worn it's the equivalent of threadbare. In socked feet, he stomps a tambourine. Its tinny jangle adds texture to songs about killing your Valentine, a puppy-like boyfriend, and a frustrated goth girl who works at a rural Quickie Mart.
"Thanks for having the courage to do something weird like go hang out in a stranger's living room," Bare Jr. says. Tonight is a first for Ken Cotner, who is hosting this house concert for his birthday. The crowd is made up of local musicians and fans, as well as, yes, a few strangers.
House concerts, which double as a chance for touring acts to fill in open dates on their schedules and for fans to catch performers in intimate settings, are catching on in Charlotte.
"Four years ago there were maybe two families that did them in Charlotte. Right now there are at least four or five," says Elizabeth Miescher-Clemens. She and her husband, Mark, are two of several Charlotte Folk Society members who host house shows.
House concerts have traditionally thrived in the bluegrass and folk-music community, but they're increasingly popular with a younger, experimental-music crowd. These events take on a bit of a club- scene vibe (Plaza Midwood's Yauhaus and Nu Faizon, west Charlotte's Sewercide Mansion) and tend to feature punk, noise, indie, avant-garde jazz, or art-rock shows.
Typical shows draw twenty-five to seventy-five people. Concerts are BYOB, and attendees are usually asked to bring a cash donation and sometimes an appetizer. Most hosts rely on word-of-mouth, newsletters, and social media.
For performers, the advantage of a captive, quiet audience can outweigh the oddness of performing next to photos of the family pet. There's also the low overhead and homecooked meals. Says local musician Gus Engstrom, who played several house shows with his former band, "We made better money and were treated better."
Finding out about house shows is largely a word-of-mouth endeavor, but here are some helpful links: Charlottemusic.typepad.com
(or @CharlotteMusic on Twitter) Folksociety.org On Facebook: Support Local House Concerts, Sewercide Mansion