House of Love
In a home where three of the four family members suffer from debilitating diseases, love and happiness somehow outweigh regret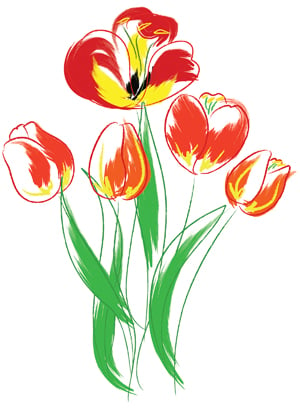 My sister and I are driving to Greensboro, our hometown. I'm tagging along for her monthly visit with Liz James, a childhood friend. It's been a while since I've gone with Donna to see Liz. She's been making the trip for years, ever since she moved to Charlotte.
She comes to see Liz because Liz can't come to her. Unless, of course, you count the times they've met at Dr. Michael Kaufman's Charlotte office—he runs the Multiple Sclerosis Center for Carolinas Medical Center.
Twenty years ago, shortly after Liz had twin boys, she was diagnosed with multiple sclerosis. Over the years, her body has become increasingly disabled. Now her life is tied to a wheelchair; she is nourished through a feeding tube. She lives with her best friend and husband, Alex, who is her constant companion and provider. Their house is always buzzing with people—Liz's mom, who lives across the street, as well as friends and medical personnel. Extra help is needed because the twins, now young men, have Duchenne, the most severe form of muscular dystrophy. Three of the four people in their home are in wheelchairs.
I go because I love Liz, and because I am anxious to witness, yet again, the transformation that comes over my sister. Around Liz, she is her truest self: kind, funny, irreverent, confident. They've shared so much of life—as young teens they swam on the same team and as older ones they got driver's licenses and sported about in Volkswagen Beetles—Donna's yellow and Liz's blue. They were roommates in college; they were debutantes together. Liz is the godmother of Donna's first child. When apart they write letters, an old-fashioned ritual they refuse to let go, although Liz must dictate hers.
We arrive, parking in front of a lovely house on a tree-lined street. It's 10:30 a.m. when we walk in the back door. Liz is still in her room. A nurse is busy in the kitchen and soon Alex appears, setting up the den for Liz. Already Donna is cutting up with him. I smile as I remember the girl my sister once was.
A few minutes into the morning's banter, Liz motions to Alex that her catheter needs to be emptied. I step out into the hallway.
The wall is filled with artwork and photographs, and I study an old one of Liz seated with her boys, Matt and Will. Like a postcard from the past, it takes me to another time. Her black hair glints in a cascade to her shoulders, each arm wrapped around a blond toddler. She is grinning like a Broadway star moments after a curtain call. I think about that day, the innocence of it, the things she didn't know about her future.
I hear people on the other side of the wall getting Matt comfortable in an elevated bed. He's finally home from the hospital, maybe for the last time. He's twenty years old now, and muscular dystrophy is closing in on him. It will soon destroy his heart and lungs. An emergency tracheotomy introduced a new level of frustration into his life, made worse by his autism. It's hard for him to talk.
My sister walks up and turns me around to look out the window of a nearby bedroom. The door is open, as is every door within my line of sight.
The twins have the most severe form of muscular dystrophy.
Three of the four people in their home are in wheelchairs.
She draws me across the threshold, into Liz and Alex's room, to see the garden outside the window. "Isn't it great?" she says. "It's her sanity." I admire the last garments of fall, the tangled vines and leaves. As we turn back to the hall, Donna points to a picture by the door. It is my painting of a Rembrandt tulip.
Streaked with flaming patterns of red on white, it was among the tulips that caused a financial collapse in Holland in the 1600s. Ironically, the patterns are the result of a virus. When attacked by a pathogen, the petals respond in streaks of intense color. The Dutch, who in other matters were financial wizards, surrendered common sense to the tulip's enchantment, putting up entire estates to acquire the bulbs.
In a Rembrandt tulip my sister saw Liz, struck by a disease yet beautiful, and so she asked me to paint one for her. It is low on the wall, where someone in a wheelchair might see it.
Walking back to the den, I sit down and talk to Liz about old times, about when I first met her, when she was my sister's cute eighth-grade friend who lived down the street. I was a senior in high school, living in a whirlwind that left little time for younger siblings and their friends. But Liz was a magnet. Five minutes with her was five minutes of laughter, and she only got funnier as she became older.
"Was it as crazy at your house as it was at ours?" I ask Liz. She raises her eyebrows. "Y'all were wild," she whispers. I feel a bit admonished. "Y'all were wild," she repeats. Despite my parents' best intentions, our home life was chaotic, fun, and rife with activities that sometimes brought a policeman to the door, stray child in tow.
When I mention high school basketball, Alex starts giving Liz grief about when she used to play. Walking to a high bookshelf, he pulls down his annual. Flipping to the girls' basketball section, he points out to his wife that his high school team beat hers that year. They laugh at each other, his finger on the score as Liz dismisses him with a wave.
Alex met Liz in 1981 when she was a receptionist at IBM. Fresh out of Harvard, he developed a crush on the funny young lady at the front desk. Despite his gregarious nature, he was shy around the opposite sex. "I'd just been through sales training and they taught us to deal with rejection," he told me. "That gave me the courage to ask Liz out. I thought, 'What can she say? No?' So I asked her out." They married and, following months of bed rest, the twins were born in 1990. Donna once remarked, "I never saw anyone so determined to keep her children." Whatever it took to get through the pregnancy, Liz was going to do it. Becoming a mother was her dream.
The following year Liz went to a doctor for problems with her vision. The verdict: MS. Two years later something didn't seem right about the boys' development. They had difficulty running and fell too often. Test results brought the shocking news about their Duchenne muscular dystrophy.
For Liz, a turning point came when she read "Welcome to Holland," a story by Emily Kingsley, a writer for Sesame Street. Kingsley's son was born with Down syndrome, and she explained her experience by comparing it to a woman who plans a trip to Italy and lands, instead, in Holland. Upon arrival, the traveler learns she will never make the coveted trip to Italy. At first, she objects. "I signed up for Italy! I'm supposed to be in Italy," she insists. But she cannot alter her course. Soon she realizes she has a choice: long for what she cannot have or explore Holland. She turns her eye to Holland. To her surprise she finds windmills, tulips, and even Rembrandts. This story became Liz's story.
Several years after the boys' diagnosis, Alex left IBM to earn a master's degree in occupational therapy. He got a job helping others, but eventually he came home. He was needed full time there. "I have a lot of trouble thinking about how I used to get up and leave every day and not come home until 6 o'clock," he tells me as we sit at the bar in the kitchen. He is a man in his element. "The way civilization is organized now, with all the specialization, it's very uncommon to spend your day with the people you love," he says.
"This is a house full of love," he adds, smiling.
I look away, across the room to Donna and Liz in the den. Donna is feeding Liz vegetable soup and a cheddar biscuit—tiny bites and crumbs, really, because Liz no longer eats much; the muscles in her throat are failing. Donna cooked these for her yesterday.
"When were you happiest?" Donna asked her.
"Now," Liz told her.
Around Valentine's Day in 2003, Donna interviewed Liz. No longer able to write in a journal—a practice she had maintained for years—Liz had lost a place to put her deepest thoughts. My sister wanted to give her a chance to record things she kept to herself.
She asked Liz thoughtful questions, including, "Who is the person you admire most, besides Alex?" to which Liz answered, "Alex."
"When were you happiest?" Donna asked her.
"Now," Liz told her.
"What do you wish you had done when you could?" she ventured.
"Nothing. I didn't miss anything," Liz responded.
Donna's questions covered so much, from faith to music, from life's saddest moment to Liz's sense of purpose. The last question brought a surprise answer.
"What place would you like to go visit?" Donna asked.
"Italy," Liz quipped. "Tuscany." Was Liz thinking of Emily Kingsley's story? The main character never loses her desire to see Italy. For the rest of her life, she says, "Yes, that's where I was supposed to go. That's what I had planned."
Some places don't live up to their reputations. Liz has made Holland the most beautiful place on Earth.
Laurie Prince's award-winning essays appear regularly in this magazine.