House of Sand & Fog
Designer Lisa Sherry makes her 1970s throwback beachworthy and beautiful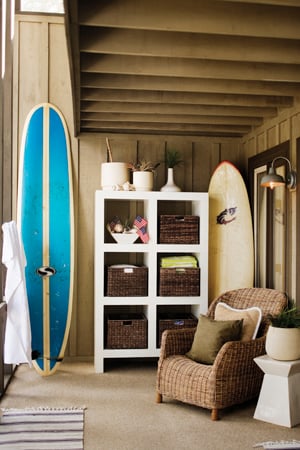 The Three-bedroom Bald Head Island retreat that won over Lisa Sherry and her photographer husband, Ron Royals, didn't look like anyone's idea of a beach house. For one, it's not on the beach, but on the third fairway of the island's golf course, and the water view is not of the ocean but of an alligator-infested lagoon. The dark, dated façade was more suited to a mountain ski chalet than a summer vacation home, and the interior was an homage to the 1970s: dark wood paneling, a lime green bathroom, and a painted mural on one living room wall that "looked like a bad LSD trip," Sherry says. "When we bought it, it was still stuck in 1974."
It took the transformative powers of Sherry, an interior designer, to lighten and brighten the dark, cramped rooms, and make them live up to the potential she saw in the house's clean-lined architecture. Using her signature style — neutrals, lots of them, with plenty of texture thrown in — she gave the place a sum- mer-casual makeover. A fresh coat of a white paint brightened stained wood walls, and a natural palette of rattans, linen, and wood allowed once-oppressive spaces to open up and breathe.
The look is calm, but also casual, informal enough to fit in on an island where the preferred mode of transportation is golf cart. Equally as important, washable white slipcovers and sleek travertine tile floors stand up to sand, wet bathing suits, and whatever else guests might track in. "We wanted the house to feel open and inviting, never too precious," Sherry says. "In the summer we live and entertain here, and the main thing is not having to worry — about anything." In that regard, Sherry's summer home is now the very definition of a perfect beach house.