How 704 Shop Has Navigated Hard Times for Retail
Apparel store covers faces, losses with hometown masks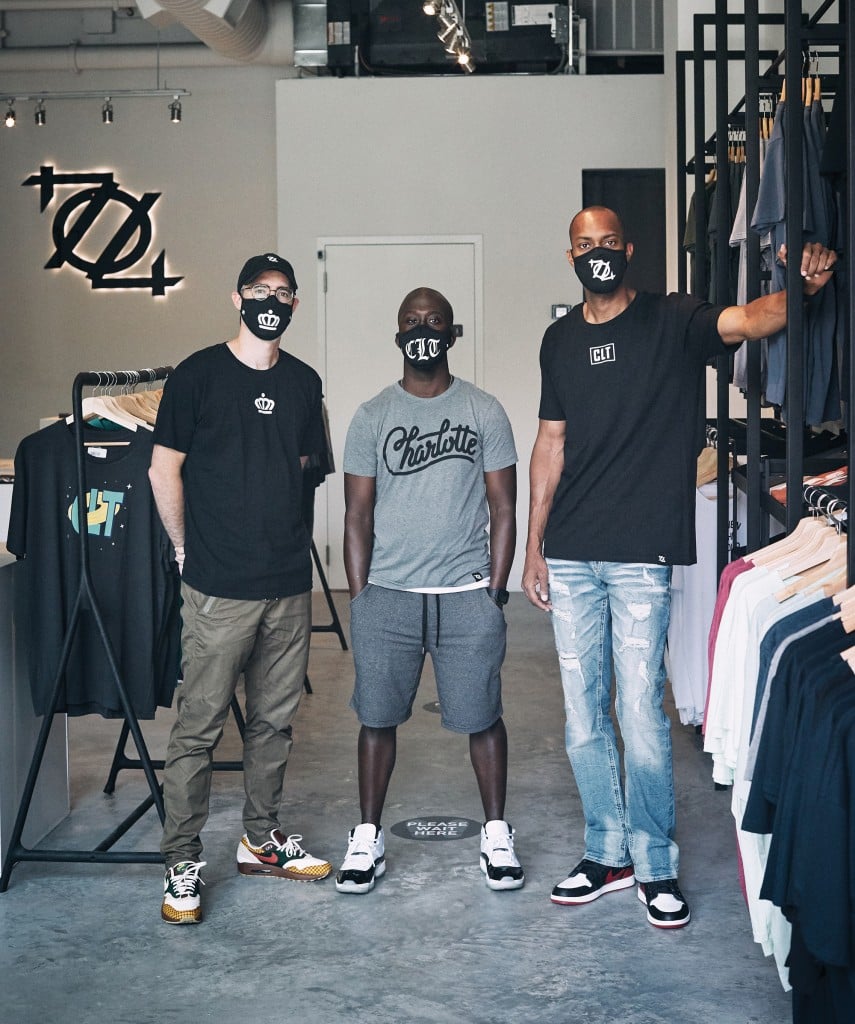 The South End apparel store 704 Shop, which a trio of UNC Charlotte alumni founded as an online venture five years ago, suffered through a hard April for retailers everywhere. COVID-19 had disrupted the supply chain, shipping took longer, and customers were stressed—which meant that Scott Wooten and partners Chris Moxley and Jerri Shephard were, too.
Since 2017, when 704 Shop moved into its physical space on Camden Road, the team had released a new Charlotte-themed product nearly every week—shoes, socks, shirts. In late March, they had designed and sold T-shirts that raised about $6,000 for COVID-19 relief efforts. But as retail shopping came to a halt, the store added a new kind of staple to their line-up: Charlotte-themed face masks.
They've become an unexpected hit. U.S. Representative Alma Adams of Charlotte wore the black mask with the white "Queen City" crown logo on the floor of Congress in late May. Mayor Vi Lyles wore the same model when she met with demonstrators outside the Government Center in June. The shop obtained a license to sell apparel with the city-owned logo and also sells masks in blue camouflage, gray, and green, and with its stylized "704" logo and "CLT" in Old English lettering. They come untouched with two filters for $18.
When Wooten and his team placed their first order for the masks in April, they ordered 500. They sold out online in 20 minutes. "We vastly undershot the demand," he says. "We've been buried by the overwhelming demand. We are trying to restock as fast as we can."
As of early June, Wooten estimates that 704 Shop has sold about 6,000 masks. "We want to do what we can with our platform to help the community," he says. "That's what's built us."
Wooten, 38, is a Charlotte native and Vance High School graduate who handles most of 704 Shop's product design, social media, and website. He met Moxley and Shephard at UNCC—Moxley while apartment hunting, Shephard while refereeing intramural sports. The three had teamed up before on a business idea, a recording studio venture that was going nowhere.
Then, in 2006, Wooten landed a job in Pittsburgh as a DJ and club manager. There, he noticed the city's loyalty to local apparel brands. He wondered whether something like it might work in Charlotte. "I started to see what hometown pride was like [there]," he says. The trio launched the 704 Shop online in late 2013.
Business was slow for the first two years. Then local muralist Matt Moore wore a 704 hat in front of his mural on 5th Street. A few media outlets picked it up, and more customers found them. As online sales grew, they rolled out a series of pop-up markets across the city, including Front Porch Sundays in South End and the Southern Christmas Show. Queen City, CLT, 704, and other Charlotte-themed T-shirts, hats, and socks were all so popular that they eventually outgrew the popup circuit. In 2015, Wooten came home to run the business full-time.
The COVID-19 T-shirt sale wasn't the first fundraiser for 704 Shop. Wooten and his team raised $50,000 to help cover medical costs for the victims of the UNCC shooting on April 30, 2019, which left students Riley Howell and Reid Parlier dead and four injured. "If we're doing good," Wooten says, "it'll come back to us in the long run."
VIRGINIA BROWN is a native Charlottean and full-time writer whose work appears in AAA Go magazine, Our State, BBC News Magazine, among others. Reach her at vbwrites.com.
---
704 shop
1616 Camden Rd.,
Ste. 140