How a Charlotte Councilman's Film Forces Confrontation With Our View of Police—and Ourselves
Tariq Bokhari's film follows CMPD officer on a Friday night in May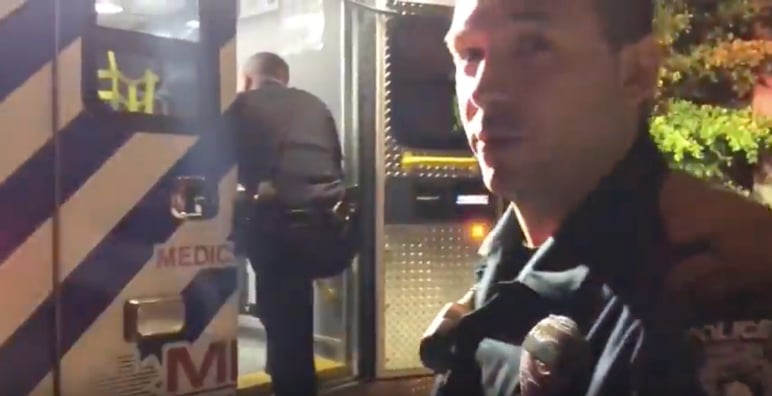 A few minutes into the documentary, Charlotte-Mecklenburg Police officer John Koukopoulos accompanies some of his fellow cops into an apartment where, they've been told, a two-year-old lives in neglect. It's after dark. The child's grandmother, who's outside in the parking lot, argues that she should have custody. She's shown the officers video of the child picking food out of a trash can to support her case.
Tariq Bokhari, a first-term Republican City Council member, walks into the apartment with the cops. Days later, for the finished film, Bokhari has layered dramatic, movie-trailer music over the video, along with a voiceover from Koukopoulos. In the voiceover, the officer explains the risk of entering a home, even with consent. There could be a relative in a back room who doesn't like cops, or just someone who's not expecting to look up and see a team of police stalking through the apartment in the dark.
In the film, as the footage rolls, Bokhari asks Koukopoulos, "Were you scared?"
"I was not scared."
"Was I scared?"
"Yes, you were scared."
Bokhari screened the finished short documentary, TenEighteen: Officers Need Assistance, at Triple C Brewing Co. on June 10, the day before the council voted to increase police pay beyond even the 6.5-percent increase that City Manager Marcus Jones had proposed. The budget arguments over police pay—and the unearthing of a March tweet by Councilwoman LaWana Mayfield that said the election of Donald Trump "has created homegrown terrorist(s) wearing blue uniforms"—led Bokhari to join Koukopoulos on a Friday night ridealong in May and make the 32-minute film.
To Bokhari's credit, the documentary squarely faces the polarized reaction that anything about policing induces these days: Regardless of content or context, a certain percentage of the viewership will reflexively hate or love it because they hate or love police, or the idea of them. In another voiceover toward the end, Bokhari notes that he doesn't want viewers to perceive TenEighteen as "a complete police fluff piece."
A section of the film contains a conversation with Bokhari's fellow council member, Braxton Winston, a Democrat who like Bokhari was elected in November 2017. Winston joined the hundreds who demonstrated in the streets of Charlotte after the police shooting death of Keith Lamont Scott in September 2016 and emerged as the most visible and vocal of the bunch. During the conversation, Winston repeats his contention that CMPD "brutalized" demonstrators during those two nights, and Bokhari informs Winston that plenty of officers think he rose to prominence on an explicitly anti-police platform. Winston maintains it's more complicated than that—that he's not so much anti-CMPD as pro-police reform.
"This is not an easy conversation to have," Bokhari notes. "But guess what? We've developed a relationship among this council, six months in, that we can actually have a real conversation about this."
Part of that conversation compels honest participants to sit with truths that seem contradictory. There's no question that police violence lands disproportionately on people and communities of color—which is the ultimate point, however inexpertly worded, Mayfield was making in her tweets. It's also apparent that, across the nation, police have to suffer the backlash to violence or misbehavior by any one of them. "There are very few jobs, especially at the local government (level), where what somebody in Michigan or Oregon does reflects on me," Koukopoulos remarks during the documentary. He adds that officers' acts of kindness and professionalism don't have the same ripple effect. "That's a really hard way to build up your trust bank," he says. "Everyone can debit, but nobody can make a deposit."
People have trouble overcoming their prejudices. Plenty don't even want to try. Bokhari's made it plain that he has CMPD's back on the council—but that doesn't blind him to his own inherent filters. I interviewed him for a story that will appear in the August issue of Charlotte magazine; his relationship with and support of CMPD was one of the things we talked about. When I asked him about the documentary, which he hadn't finished yet, he said something notable about his own prejudices—what's come to be known in law enforcement as "implicit bias."
The night of the ridealong, Bokhari told me, "We got a radio call where some younger African-American men were in a parking lot, and they were shooting paintballs at cars, at buildings, and they hit some people in the head, and it had been reported. OK, so we go, and we hit this corner fast, and we come around, and I see some younger African-American gentlemen in a parking lot. I'm like, 'OK, they're here. So what are you gonna do, pull up?' And (Koukopoulos) is like, 'No, we're not even close to being there yet.'
"I thought, 'Oh, my gosh. I just did it. I just had my own implicit bias moment.' So now I try to be aware of those things … I talked to (CMPD Chief Kerr Putney) about this, and I think we both agreed: You can't get rid of implicit bias. The key is awareness, training, learning … It is such a complicated topic. But that implicit bias piece—it is real." That's not an easy conversation to have with yourself. But we've perhaps arrived at a place and time in this city where the conversation can begin.