How a Fort Mill Pub Was Rescued and Transformed Into CB 450
An ex-federal agent, his designer wife, and her designer friend team up on a motorcycle-themed ride into a beloved bar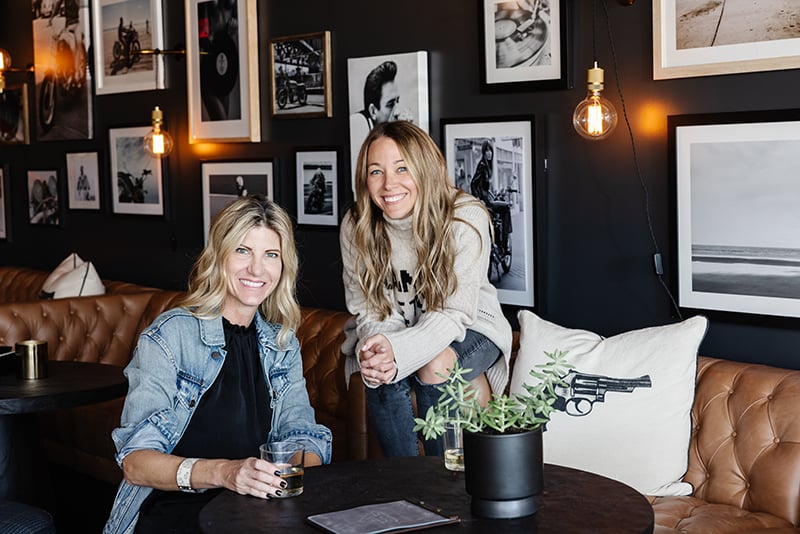 Kevin Kelly spent 20 years as a special agent with the federal Bureau of Alcohol, Tobacco, Firearms, and Explosives. He was enjoying his second year of retirement when the owners of The Tipsy Barrel in Fort Mill—a bar where he and his wife, Jacy Painter Kelly, loved to hang out—decided not to renew their lease. Kevin saw a chance to fulfill a longtime dream and rescue a beloved neighborhood pub in one stroke.
"I'm Irish, and I'm a cop. What else am I supposed to do?" Kevin says. "I've always had a thing for the service industry, and I like people having a good time."
Kevin wanted to create a neighborhood gathering place that incorporated his passion for vintage motorcycles, which meant he needed not just money and a business plan but a skilled interior designer. Luckily, he lived with one.
Jacy and her friend Kerri Robusto each operate their own design business but co-own another, 431 Designs, which takes on a project or two each year. "We love working together when the right project pops up," Jacy says. This was the right project. The design partners got to work after the Kellys finalized the lease for the 1,200-square-foot space in May, and the craft beer and wine bar CB 450 opened in November. Jacy and Kerri juggle up to 20 residential projects at any given time, but CB 450 was their first commercial job.
"This was an awesome one to pull Kerri into and work on together, even though I own it with Kevin," Jacy says. "She also works in commercial real estate locally, so she had a really great understanding of what needed to go into a project of this scope."
Guests can choose from 10 beers on tap, which include local brews from Amor Artis, Middle James Brewing, and Southern Range Brewing Co. CB 450 also has prosecco on tap, plus a curated wine menu and prosecco-based cocktails. Most days, you can find Kevin behind the bar slinging drinks and having a laugh with his regulars.
"We spend a lot of time in bars," Kerri says with a laugh. "We know what we like and how we like to sit and relax, and we wanted to see more soft seating and comfortable bar stools. It's definitely got a masculine vibe; we wanted it to feel swanky but not super feminine."
The design duo replaced the faux wood floors with polished concrete and painted the burgundy walls a charcoal gray. They left the bar where it was but added concrete countertops and resurfaced the front with glazed black tile. Opposite the bar, they added leather couches and round tables with gray plaid ottomans for additional seating, and a photo gallery of vintage motorcycles on the wall above.
Kevin named the bar after his 1974 Honda CB 450 Café Racer, a vintage motorcycle that became popular in London in the early 1960s. Racers would strip down their bikes to make them go faster and race from café to café. "Mine's still sitting in the garage, and I haven't caféd it out," he says. "My wife is more willing for me to open a bar than ride a motorcycle."
On the back wall, Jacy and Kerri mounted 12 vintage motorcycle helmets. "The bars we like going to feel curated and warm, so we wanted to recreate that without trying too hard," Kerri says. "We looked for things that fit with the motorcycle theme, but nothing too contrived. We wanted it to feel like it was created over time."
With four flat-screens, a retail area, and 15 additional seats on the patio, they hope CB 450 is a place where people can come for game day, a nightcap, or a spontaneous drink with friends. "It's just a golf cart ride away from Baxter Village," Kerri quips. "You can lie and say you're going to Lowe's and stop off for a drink."
TAYLOR BOWLER is the lifestyle editor.