How Can a Growing City Help the Unemployed?
Without reliable transportation and a place to live, keeping a job is difficult. How can Charlotte remove barriers to employment for citizens stuck in a cycle of poverty?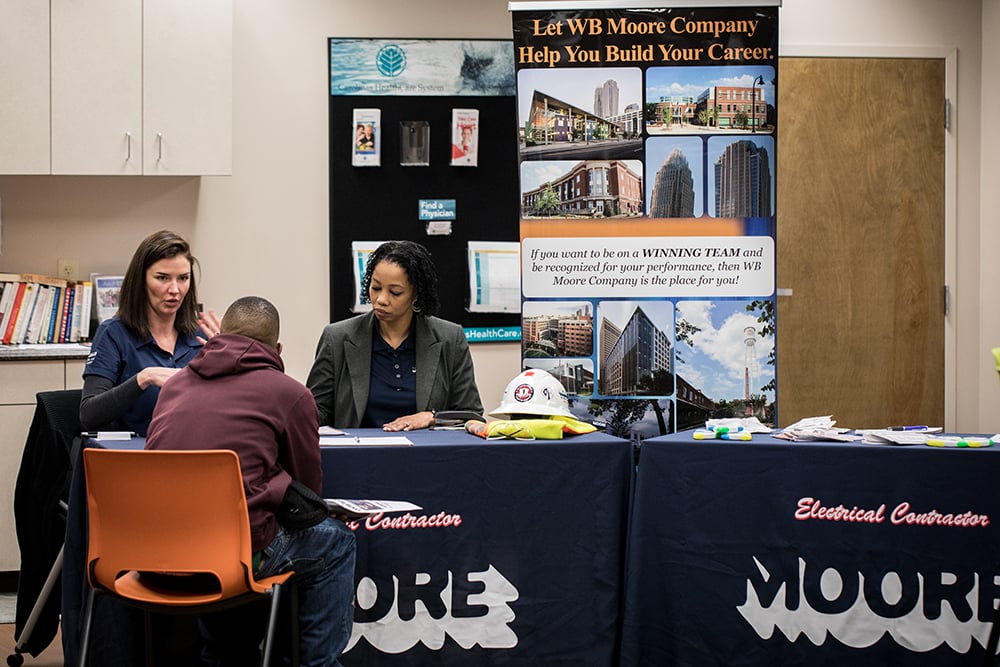 TRALETTA BANKS stands in front of the classroom staring at faces that looked like hers once did. It's not just that some are black women. There are plenty of men, black and white. And white women, too.
No, what's familiar to her are the looks of despair. Banks is teaching a class about community resources to help her students find jobs, access free WiFi, and more. Sitting in front of her are men and women who have submitted job application after job application only to get no reply or hear that they didn't have the skills needed.
Banks, 40, sees herself in those faces. Eight years ago, she was sitting in similar classes with that same look. In 2001, she cashed a check with a forged signature for a friend. It was for just $1,800, but it was a costly decision that led to a felony conviction for obtaining property under false pretense.
Banks and her class are a small fraction of the number of people in the Charlotte area with barriers to employment. They are often stuck in low wage jobs, making it impossible for them and their families to climb out of poverty. This cycle of despair negatively affects everything from education to crime rates in low-income neighborhoods. It is one of the reasons why Charlotte ranked last among 50 metro areas in a Harvard University-UC Berkeley economic mobility study. The city offers promise for professionals, but the working class falls further behind, leaving local agencies with the responsibility of finding employment for those too often perceived as unemployable.
One of those agencies is Charlotte Works, a nonprofit that serves as a workforce development board. During its 2016-17 program year, Charlotte Works aided about 32,000 job seekers here through its NCWorks Career Centers. That's up from about 22,000, a 45 percent increase, from its 2012-13 program year. Goodwill Industries of the Southern Piedmont has also seen a rise in people needing its services. The nonprofit, which offers job training and financial guidance among other resources, saw a 20 percent increase, from about 10,000 clients in 2016 to about 12,000 last year.
Many of these job seekers face multiple challenges, which make finding and sustaining a job difficult.
Charlotte Works sees these challenges every day. A criminal history or lack of a high school diploma are the most common. Yet there are others: a disability, a lack of childcare or stable housing. More than 20 percent of Goodwill's clients lack reliable transportation.
When they can find jobs, people with these barriers also face higher risks of underemployment, according to data from Charlotte Works. Underemployment means a person is employed, but is either overqualified for their current job or is working part time and seeking full-time employment.
The oft-cited economic mobility study focused a glaring light on how difficult it is to move up the ladder in Charlotte, embarrassing city leaders and turbo-charging power players to address the problems that Charlotte Works and other agencies have been wrestling for years.
"A lot of people think folks are just going to work themselves out of poverty with just a job," says Lisa Boyd, project director at NCWorks Career Center.
They ignore the fact that there's an immediate need for affordable housing and better mass transportation, with more cross-town routes helping people get to jobs efficiently rather than funneling buses through uptown. Low-income housing is moving farther away from the city center, and the Charlotte Area Transit System struggles to cater to its core riders who rely on buses.
There's a hierarchy of what people need—a place to live and a car, for example—before they can even focus on having a job. "Not everybody has the same opportunities," Boyd says. "We have to stop pretending that's the case. What we're trying to do here is level the playing field."
Plus, it's hard to focus on work when you're living out of a car or a shelter. There are pockets of high poverty zip codes throughout Mecklenburg County, and those areas aren't creating jobs.
***
IN RECENT YEARS, community workforce development agencies have shifted focus from helping people simply find jobs to helping them create career pathways. They help clients assess their personal situations, career goals, and obstacles to success. Today, many of these agencies, such as the Center for Community Transitions (CCT), Charlotte Works, and Goodwill, work in concert rather than in competition.
In November 2017, Charlotte Works announced a #Careers4All community campaign to focus on the unemployed and underemployed. The organization is investing $4.2 million in workforce development during the 2017-18 program year and expanding availability of training scholarships to moderate-income families in Mecklenburg County. Community and business partners, such as the Charlotte Chamber, are helping with referrals, advocacy, and coordinating supportive services.
Goodwill is also a key partner in workforce development. The 160,000-square-foot campus on Wilkinson Boulevard is a one-stop location for agencies that offer programs and training. The organization is also making bold moves to help people become more desirable employees.
Last June, Goodwill launched the Economic Mobility Collaborative with about a half-dozen partner agencies assisting with everything from healthcare to housing. The goal is to provide resources, expand social networks, and ensure quicker access to expertise for job seekers and other participants; according to Goodwill, it generally takes three to five years to go from unemployed to family-sustaining employment. The collaborative's program is designed around five pillars of stability: financial preparedness, individual and family, health and well-being, career progression, and skills development.
Shelly Cantrell, manager of the Economic Mobility Collaborative, says the collaborative is a holistic approach that puts participants on a path to stability in life and work. Each participant receives a personal coach, mentor, and service providers to help create a life plan and navigate hurdles.
A key part is including a client's family to help support participants bring about change in themselves and their loved ones. There are events for the whole family, and family members also have access to the client's personal coach. Children can participate in early childhood development programs while their parents are on Goodwill's campus.
"This is not just about one person in one family; this is about a collective experience," Cantrell says.
Success, however, often comes with its own challenges as participants hit the "benefits cliff." When income increases, eligibility for benefits, such as housing assistance, decreases. However, the pay increases don't always make up for the loss of benefits.
Then there's the challenge of workplace etiquette. Most community agencies require applicants to take a 16-lesson, 27-hour course called Working Smart to learn soft job skills. These classes teach more than how to dress and act in an interview. The training includes communication, problem solving, time management, and accountability.
Inside an NCWorks classroom, about a dozen men and women sit at tables reading a Working Smart module. Participants don't simply get a career counselor; they get an entire team of other job seekers who hold each other accountable throughout their time in the program.
Today's lesson is about workplace harassment. In this scenario, a store clerk has filed a complaint against a store security guard, and now human resources is involved. The security guard fails to attend the mediation, resulting in the clerk storming away angrily.
"How could the (clerk) have handled it differently?" the mediator asks the group. The men and women toss out suggestions about being professional, and not letting personal issues impact work.
"That's really hard to do," one man says.
He's right—and understanding the importance of professional communication strategies is one of the critical skills in the curriculum. Learning these protocols can help people keep their jobs, and even advance in their fields.
"Employers expect people to know unwritten rules, but our unwritten rules from the street are way different from rules at work," says Erik Ortega, CCT's LifeWorks program director. He helped create Working Smart in response to employers' demands that applicants have the skills needed to keep a job or advance beyond technical expertise.
"Employers expect people to know these things, and they've never even been introduced to them. That's where the disconnect begins," he says. "That's where the terminations happen. (Then) it's hard to find a job because you've been terminated too many times. Old behaviors come into play. It just leads down the rabbit hole."
Networking to build social capital—professional relationships that can help provide opportunities—is one of the soft skills taught through Working Smart. The Charlotte-Mecklenburg Opportunity Task Force report released last year, which offered recommendations to address economic mobility, identified the lack of social capital as a huge disadvantage for many people.
"We know it. We throw it out there," Ortega says. "We forget that for the people we're working with, that concept is foreign to them."
Attending happy hours after work, fundraising luncheons, and galas are common networking tactics for Charlotteans with salaried jobs. Professionals often have LinkedIn accounts—but many of Ortega's clients have never heard of the social media site. "We tell people you're not looking for a job anymore," Ortega says. "You're looking to meet people and promote your brand."
***
TEALEAZA ROBB felt like she had a criminal conviction on her record, even though she didn't. In 2014, she was two electives shy of graduating from high school when she moved to Virginia to help her ailing grandmother. Robb forgot about high school as she watched dementia slowly descend upon her only living grandmother.
"I felt lost," she says.
By the time she returned to Charlotte later that year, it was too late to re-enroll in school, she says. She was told to go to a charter school. That didn't work out either. She looked into getting her GED, but the programs charged a fee. Many wanted her to start her senior year from the beginning.
"I was angry," she says. "I felt like instead of helping me, they were throwing up obstacles for no reason. People could've given me straight answers instead of giving me the run around. It seems like people don't want to see you rise. Everybody deserves a second chance."
Robb's mother attended a job fair one day in 2016, and learned about programs offered at NCWorks Career Centers. The services were free, and Robb thought it was a scam. Reluctantly, Robb took her mother's advice and accepted an internship through the NextGEN program at NCWorks that September.
She now has her High School Equivalency Test (HiSET) credential and completed training to become a pharmacy technician. Her employer, Walgreens, scheduled Robb around her class times, and promoted her from cashier to the pharmacy department when she completed her pharmacy technician certification.
If her mother hadn't attended that job fair two years ago, things could have been very different for Robb.
"When you say you don't have your diploma, people judge you. They automatically think the worst of you," she says. "Not everyone drops out just to drop out."
Traletta Banks understands that despair and the feeling that no one cares. She needed a second chance after cashing that check. Her conviction overshadowed everything she did. She had never been in legal trouble before, but after the conviction, she was limited to jobs that couldn't pay the bills for her and her two young children. For a while, the family survived on child support and hourly wages. She went from making $25.50 an hour as a dental assistant before her conviction to less than $10 an hour afterward, she says. Banks and her children were homeless at times.
When she wasn't job hunting, Banks drove an unreliable 2004 Chrysler Sebring from one agency to the next, trying get everything from food stamps to medical care to housing. "I had to go to so many different agencies to get one thing," she recalls. "I cried many a day and night. It was extremely hard."
Banks still grimaces when she remembers the reams of paperwork and personal information required to apply for benefits. She networked on Facebook, asking virtual friends for job leads and advice. She worked her way up to a decent-paying job at a plasma donation center. She took advantage of the tuition reimbursement program at the plasma center and studied human services at Central Piedmont Community College.
It took her eight years to earn a two-year degree, but she did it. She eventually landed a fulltime job at CCT in 2016, where she interned the year before.
"I make enough to provide for my family. Now I can return the favor to others," Banks says. "It's the best feeling ever."
Standing before her class at Goodwill, which houses the CCT office, Banks takes the first 10 minutes of class to learn everyone's name.
She doesn't use the typical introduction approach. As each person shares a name and goal, Banks recites each person's name every time, starting with the very first person. If she messes up, the class fills her in, even though they, too, just met one another. Sitting in Banks' class, they aren't faceless applicants or case numbers.
One by one, they learn each other's names and their shared goal of finding a job—but, most importantly, finding hope.
Tonya Jameson shares stories of Charlotteans who struggle to survive in a city that offers opportunities for some and hopelessness for others. She was a rabble-rouser at The Charlotte Observer for 15 years. Reach her at tjameson11@gmail.com.