How Can LGBT Candidates Run For Office—and Win?
The next gay and transgender challenge: public office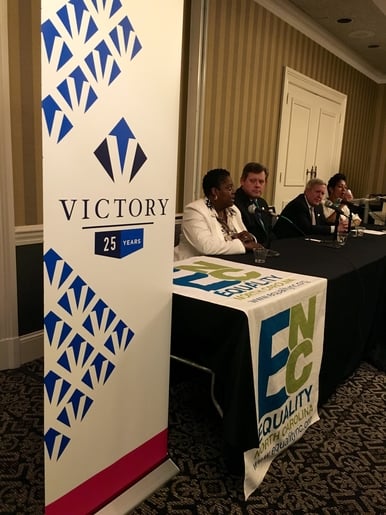 It's hard to imagine a generation ago what happened the other day at a table in a Sheraton Charlotte ballroom: a quartet of people discussing the importance of more openly LGBT people running for, and winning, public office. The Gay & Lesbian Victory Institute, a Washington organization that seeks to train and support gay and transgender public officials, used the panel discussion to kick off a four-day training session for prospective candidates. I'll be damned: There really is a gay agenda.
And no one in the room could miss the context: The still-unfolding reaction to North Carolina's House Bill 2, which (among many unrelated matters) prohibits transgender people from using the public restroom that matches their gender identities; and the recent massacre of 49 people in a gay nightclub in Orlando. The Victory Institute's mission is simple, corresponding to the old political adage that if you're not at the table, you're on the menu. "Representation matters," said Aisha Moodie-Mills, the organization's president and CEO. "We have to have our people at the table."
The organization's research shows, not surprisingly, that even the presence of one or two openly gay state legislators can curb the rash of anti-LGBT bills coursing through state houses all over the country. That's the rub, of course. States likely to pass such legislations are less likely to have openly gay legislators, and even a handful of gay North Carolina legislators wouldn't have kept House Bill 2 from passing, said N.C. Sen. Mike Woodard, a Democrat from Durham.
But—key point—"I think the conversation could've been different." The idea of a transgender person is alien to many lawmakers, especially from rural areas of the state, he said, and much of the fear surrounding the discussion stemmed from that ignorance. "How do we start reframing the conversation?" Woodard asked.
One way is simply to come out, then run for office. Attendee Jane Campbell, who's running as a Democrat for the 98th District N.C. House seat, went public as a gay woman when Congress repealed Don't Ask, Don't Tell in 2010, when she was a captain in the Navy. Campbell married her wife, Heather, in 2013, and before she retired from the Navy last year worked as the press director for the Department of Defense at the Pentagon—where she saw for herself the reaction of the brass to the new normal.
"I can't begin to say how proud I was, as a Navy officer, of how the military handled it," she told me. "A few months later, everyone was like, 'What was the big deal?'"
She and Heather moved to Davidson after her retirement. They already knew about their non-legal status as a married couple in North Carolina, thanks to Amendment One. When the General Assembly passed House Bill 2, she said, "I decided I could no longer stand on the sidelines." She faces incumbent Republican John Bradford in the general election; House District 98 is majority-Republican, encompassing Huntersville, Cornelius, Davidson, and much of the waterfront on the east side of Lake Norman. Campbell is hopeful but understands the challenge ahead.
Alongside Moodie-Mills and Woodard were LaWana Mayfield, the first openly gay Charlotte City Council member; and John Arrowood, the first openly gay N.C. Court of Appeals judge. (Arrowood was appointed to the court in 2007 by then-Gov. Mike Easley; he then ran for election in 2008 and 2014 and lost both times.) Once Mayfield gets rolling on this or any other subject, she's hard to stop, and she wanted to make a couple of things clear: If you decide to run for office, gay or otherwise, be prepared to campaign and serve hard; and have more to offer than your sexual orientation.
"You're not just running as a gay candidate," Mayfield said. "You still have to have a platform, and your platform can't just be, 'I'm gay.'"