How Can We Bridge the Community-Police Divide?
One year ago, a Charlotte-Mecklenburg Police officer shot and killed Keith Lamont Scott, and Charlotte erupted. Today, CMPD and the citizens it's supposed to serve peer at each other across a gulf of distrust that some members of both sides are trying harder than ever to cross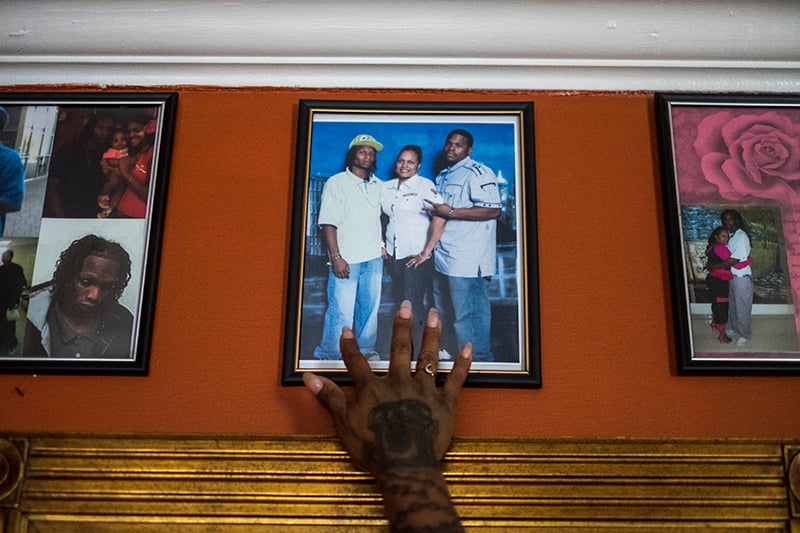 MEKO MCCARTHY SAT BEHIND THE WHEEL of her metallic blue 2005 Ford Mustang, which she'd pulled over at the intersection of Ideal Way and Atherton Street at the southern edge of Dilworth. Blue lights flashed behind her. It was 9:19 p.m. on Tuesday, May 30. The police officer, a white man, said she ran a stop sign. She said she didn't. It was a routine traffic stop. But there's hardly a black person in America who doesn't understand by now what can come of a traffic stop. So, while the cop was back in his car running her license and registration, McCarthy pulled out her smartphone and began shooting video of herself.
"Y'all, I'm at a bogus traffic stop," she told the camera in a video she later posted to her Facebook page. She explained that she'd seen the Charlotte-Mecklenburg Police car one block before, at Marshall Place, so of course she made sure to stop at the intersection; she's not stupid. Her 13-year-old goddaughter was in the Mustang with her. They'd driven through Chick-fil-A for dinner, then stopped at a Circle K, and they just wanted to be on their way. "Either it's a traffic stop or it's an investigation," McCarthy said in the video. "This is ridiculous."
It's a little less than two weeks later, and McCarthy, a 44-year-old mother and owner of a small financial services business, replays the video for me on her phone. We're in the non-air conditioned living room of her home on Barringer Drive on the west side, in a house she inherited from her mother. "That's another cop that just pulled up," McCarthy narrates as we watch. "She's gonna come to the window." We turn our attention back to the screen.
"How y'all doing? How are you, ma'am?" asked the officer, a white female. McCarthy didn't answer. "Can you do me a favor and pull up about 10, 15 feet?"
"He just told me to pull up right here." McCarthy's voice rose. "I don't wanna move, 'cause—uh, no. I'm not gonna move my vehicle. I'm staying right here. Nope."
"Ma'am, I just …"
"No, I don't want to. For my security, I'm not gonna move no car, and y'all pull out a pistol on me. … I will not move. You wanna call Chief Putney out here, you can call Chief Putney. I can also reach out to my attorney."
The officer was taken aback. "So you're resisting the fact that I'm asking you to remove everybody from danger's way … ma'am …"
McCarthy turned her attention to her phone camera. "Now she says I'm resisting," she said. "She just came up." The officer walked back to her car. "Can't even go nowhere and get no food," McCarthy muttered to herself. "I pull up, they're liable to start shooting. Nuh-uh. Won't get me like that. No, ma'am."
In her living room, McCarthy pauses the video to explain her apprehension. "I'm not gonna pull off and you be talking about, I'm trying to flee the scene. I don't trust 'em," she tells me. "I'm not pulling up in no dark area. So I stop right here under the (street) light. She asks me to pull up 10, 15 feet. That's in a dark area. No. No. I don't feel comfortable. I got her"—her goddaughter, Imani—"in the car with me. I gotta watch out for her safety as well as mine."
She restarts the video. A few uneventful minutes passed in the car. McCarthy sipped from her Styrofoam Chick-fil-A cup. Then the cop who'd pulled her over arrived at the driver's side window, citation in hand.
"All right, ma'am. I'm gonna give everything back to you here, OK?"
"Are you done?"
"Yes, ma'am, but what I wrote you there is a ticket for a stop sign, OK? You don't have to appear in district court …"
"Oh, I'm gonna go to court," McCarthy said with passion. "I want 'em to pick 12 for that." A jury trial, she meant.
"You have every right to. There's a sheet on there that explains everything …"
"Yeah, I'm not gonna pay no ticket. For what?"
The officer ignored this. "You have any questions for me tonight?"
"Absolutely not. You through conducting your traffic stop?"
"I am through conducting my traffic stop at this time, OK? You're free to go."
"I was free to go a long time ago." McCarthy tucked the ticket into her purse. "I was just appeasing you."
"Have a good evening, ma'am."
"You do the same." McCarthy's response oozed sarcasm. "Be safe out there. It's dangerous." She waited until the officer walked out of earshot, then unleashed a pungent stream of profanity in his direction.
In her living room, McCarthy laughs, then apologizes to me. "I'm sorry. I got mad," she says. "I got hot!"
Devoid of context, it does seem like an extreme reaction to getting pulled over for running a stop sign, even if you didn't do it. But circumstances shaped McCarthy's reaction as jetties guide a river, and the main but hardly the only circumstance is this: Six years ago, a CMPD officer named Michael Forbes killed McCarthy's son La-Reko with a TASER, and McCarthy still has to watch Forbes occasionally drive his police car past her house when he's on patrol.
***
KERR PUTNEY STRODE to the lectern, looking weary, brow furrowed. "Morning. Got a lot of information for you today," the CMPD chief said on a Wednesday morning in late June, at the start of a news conference packed with reporters. "Of course, it's quite timely, given the night we had last night."
In the last 30 minutes of the previous day, police had discovered three bodies, all of them victims of gunshots. One, 29-year-old David Lindsay, was a beloved barber who cut the hair of politicians and celebrities and did community relations work with police officers. His body was found in his car. Putney didn't specifically mention Lindsay during the briefing. Instead, he broke down some of the cold numbers, signposts of a sudden and disquieting rise in Charlotte's homicide rate: 46 as of that day, June 21, compared to 68 in all of 2016 and 44 in 2014. Of the 46, he said, 34 knew their killers. Thirty-four cases involved a gun. Thirty-four of the suspects were black, as were 37 of their victims; roughly half of those 37 were between the ages of 18 and 34.
Little, if anything, connected the killings. They weren't concentrated in one part of town. The only apparent common thread, the chief said, was "a younger group that's much more prone to grab a gun to settle a minor dispute." The department has continuing problems with repeat offenders, exacerbated by an understaffed district attorney's office and, Putney believes, the residue of the Obama administration's record number of commuted sentences for federal drug offenders. Of the suspects CMPD had arrested in the killings this year, Putney said during the June 21 briefing, 17 had prior charges.
Putney also announced a series of summer initiatives to try to improve conditions that contribute to violence, including a paid summer internship program to develop job skills for 30 high school students, and an outreach program with the city Community Relations Committee to teach conflict resolution skills to young people. "We want to give people the opportunity to understand what it takes to de-escalate situations," Putney said. He's spoken before about the growing necessity for police officers to serve as de facto social workers and community counselors as well as traditional crime fighters, and it was when he discussed this expansion of police work on June 21 that he let his frustration slip out.
"The truth of it is, we have always been more than law enforcement. … You still have to engage with the public. You still have to create meaningful relationships—the deeper the better," he said. "We're always at the tip of the spear. We're a profession that's having to fill a lot of voids, and then we're being crucified on the back end if a mistake is made."
***
PUTNEY IS ONLY the second black police chief in Char­lotte's history, having succeeded the first, Rodney Monroe. Since his appointment to the job in June 2015, Putney has talked freely about his own history of distrust of police as a child, and how he gradually overcame it by getting to know police officers and commanders as people, with the same flaws and impulses as everyone else. Through community forums and conversations, Putney has tried to take as many Charlotteans as possible along the same trying path, acknowledging the dismal history of police brutality, corruption, negligence, and racism—while still arguing that policing is, at heart, an honorable and necessary profession.
It's a complicated and sometimes contradictory position, a civic high-wire act, and he's trying to maintain it at a time unlike any in his department's history. Since CMPD was created in 1993 from the merger of the Charlotte Police Department and the law enforcement wing of the Mecklenburg County Sheriff's Office, the department has worked under some version of the "community policing" model, a strategy that embraces relationships with citizens as a way to solve problems and prevent, as well as solve, crimes. Putney was named chief in the midst of a highly publicized national wave of police shootings of black men. Almost immediately, he began hosting community gatherings for himself, his commanders, and the public to talk about the issue as a way to build trust between citizens and police.
Then, on September 20, 2016, came the police shooting death of Keith Lamont Scott.
In the days that followed, protests roiled Charlotte, one of them resulting in the shooting death of 26-year-old Justin Carr in front of the Omni Hotel uptown—by a 21-year-old black man who has confessed, police say. Demonstrators and police officers in riot gear faced off on the streets. Putney, besieged by calls for his resignation, waited several days to release dashboard and body camera footage of the Scott shooting. It was an astonishing turn of events for a police chief who, just a few months before, had won nationwide praise for his frank public comments after the deaths of two black men at the hands of police in Louisiana and Minnesota. At a time when CMPD was doing more than ever to strengthen its ties to minority communities, the same communities were—passionately and at times violently—acting out their distrust of and hostility toward the police. The Keith Scott shooting tore the scab off years of frustration. "We are part of an institution that has been designed to oppress us," a black Charlotte woman named Shartiera Wilkerson told City Council members during a ferocious public forum the week after the shootings. "I don't want to spend my tax dollars to fund my own oppression."
Early this year, after a spike in violence in several American cities, including Charlotte, some criminologists hypothesized a link to recent high-profile police uses of force. When citizens in minority neighborhoods lose faith in institutions such as police departments and the justice system, the theory goes, they're likelier to resolve matters themselves. The explanation seems to fit the sudden rise in Charlotte's homicide rate, with young people settling minor disputes with gunfire. It's only one piece of a complex collection of challenges for citizens and police in general, and Charlotteans and CMPD in particular. Putney insists he's doing everything he can to restore and earn the public's trust—but acknowledges that it would take only one more episode such as the Scott shooting to wipe all of the work away. "Our whole profession," he says, "is under siege."
***
WHEN I SPEAK with Putney in early June, he's a few days removed from some eyebrow-raising comments at a Rotary Club of Charlotte luncheon, in front of some of the city's most prominent political and business leaders. He told them the department has struggled with recruiting since the shooting of Keith Scott. "It does not look good," he said, then added that he understands: Rookie cop, at this time, under these circumstances, "is not a job I would want. That is the truth."
I don't even finish asking him about his remarks when he interrupts with an answer. "Here's where I am," he tells me. "I've learned a lot. I'm not going to be muted. I'm not going to be as measured. I'm going to be serious about what we're doing. I'm going to be bold in what we're trying to do as an organization. I'm going to model the behavior I want to see in our people. I'm going to be unabashed in how I try to show this community all phases and facets of this organization and how serious we are about connecting with our community.
"I'm not going to try to be perfect in everything I say. I know haters are going to hate regardless of what I say, and that's OK. I'm not doing this for them. I'm doing this to move the middle. I've got a lot of good people in Charlotte who are ready to do good things, and that's who I'm trying to connect with."
This all comes out without hesitation—unusual, I suggest, for a high-ranking public official in a major American city, even one with a reputation for candor. Putney snickers. "You ain't seen nothing yet," he says. "I'm gonna speak for who I am, what I stand for, what my experience has been. … Without us, those who are most vulnerable would be decimated. So I'm not going to worry about measuring every syllable that comes out of my mouth so it's palatable." He practically spits out the last word.
His attitude springs from the first few days after the Scott shooting. In daily briefings at the Government Center, Putney joined Mayor Jennifer Roberts, City Council members, and city department heads to field questions about the demonstrations and the city's response to them. The goal was obvious: presentation of a united front. But under those circumstances, Putney tells me, "There was a problem with the optics." He believes the briefings created a perception of him as a cog in a city government delivering mixed messages about the events surrounding the shooting and, especially, the reasons why CMPD wasn't yet releasing video footage. The perceived closing of ranks sent the wrong message to a community already inclined to distrust city leaders and CMPD.
"I should have gone to my foundation," Putney says. He joined what then was the Charlotte Police Department in 1992, as part of the city's initial embrace of community policing. Now, he says, he wants community leaders he's connected with in recent months to stand with him when necessary before the public to avoid any appearance of political posturing. He lays out the behavior he wants to model for the department: "Being genuine in your message, being true to who you are, connecting on a human level, because it's hard to hate up close." That last phrase might as well be his mantra.
Among the black community leaders and business owners working with him to try to "change the narrative"—another favorite Putney phrase—about CMPD is Shaun Corbett, whose Cops & Barbers community program, which fosters discussions and relationships between police and young black men, has won national attention. A more recent partner is 33-year-old Greg Jackson, who joined the thousands in the streets of uptown after the Keith Scott shooting. A few weeks later, he founded a community organization called Heal Charlotte. The group hosts events and youth camps and cooperates with CMPD on programs such as Summer of Opportunity, a YMCA program that gives teenagers in high-crime neighborhoods access to the Y for free on weekend summer nights.
Jackson tells me he speaks frequently with Putney and other CMPD commanders about community programs and conversations—which has led members of his family to label him "a fucking sellout."
"You gotta dare to be different, man. It's a generational curse that I don't want to be a part of. I don't want my children to inherit it," he says. "Keith Lamont Scott was the reason, and Justin Carr was the confirmation, that something needed to happen. Our organization, and a couple of other organizations—we're not afraid to have that open dialogue that's scary for most people."
Jackson says he marched with protesters "for about a week" after Scott's shooting. Then he wondered what else he could do. Since he founded Heal Charlotte, he says, CMPD has donated sporting goods and more than 200 books to the organization, and Putney came by to talk to Latino participants about the recent federal immigration raids in Charlotte. Jackson has taken part in protest reenactment training for about 80 CMPD officers under Major Mike Campagna, whom Putney chose to lead the department's community engagement efforts. When Jackson told Campagna that some residents in his condominium complex, Orchard Trace off North Tryon Street in University City, had misgivings about attending a CMPD Transparency Workshop at the department's Training Academy, Campagna surprised him by offering to hold it at Orchard Trace in July. (The workshops, another post-Scott shooting Putney idea, are compressed versions of the department's Citizens Academy, which covers the basics of CMPD's organization, operations, and tactics.)
"And it's not all daisies and roses. Sometimes we're butting heads about certain things," Jackson says. "Making an effort, that's where it starts at. Just like they want the community to make an effort, I feel like I've been making an effort, and that's why we're meeting each other halfway."
Those are the kinds of connections Putney says he's trying to make, and he hopes it's the start of a movement that spreads throughout Charlotte.
"Black lives matter? They matter to me all the time, and some of our most vulnerable people, right now, happen to be people of color," Putney says. "We're a big, growing city with lots of diverse opinions. But what we're really trying to do is get our message across that we're not the boogeyman. We're human, too. We have blemishes. We have frailties and faults. But ultimately, we're trying to do good things for a good city."
***
THE CHIEF'S ARGUMENT sells more easily to people who haven't lost loved ones at the business end of a police weapon. La-Reko Williams, Meko McCarthy's son, died the night of July 20, 2011, when his argument with an ex-girlfriend at the Woodlawn light rail stop prompted a 911 call. Officer Michael Forbes used his TASER to shock Williams twice, inducing a heart attack that killed him. He was 21.
Three years later, a jury in U.S. District Court awarded $500,000 to McCarthy and her son's father, Anthony Williams, to be paid by the city. But Forbes wasn't charged with a crime. After the civil trial, City Attorney Robert Hagemann told reporters that Forbes had "acted reasonably in a very difficult situation."
McCarthy says police had harassed her family even before La-Reko was killed. In 2005, she says, La-Reko, his older brother LaVic, a stepson, and a nephew were walking toward the Stratford Richardson YMCA on West Boulevard to play basketball when officers stopped "and messed with them." La-Reko was charged with resisting arrest. McCarthy filed a complaint with CMPD's Internal Affairs Bureau, which decided the officers had overstepped their bounds, and the charge against La-Reko was dropped. But the officers weren't disciplined, McCarthy says.
She's quick to add that she doesn't think all cops are bad or brutal. She knows and likes a few, and respects Putney, whom she said personally offered his condolences for La-Reko's death when they met after his appointment as chief. "There are some good ones. And I feel bad for them, because they put their lives on the line every day," she tells me in her living room. "And I know when they walk out the door and they kiss their wife and their kids, they do want to go back home. But the sad part about it is, you get the ones that make it so hard for the others who are there for a purpose. … It makes it look like, to an outside person looking in, 'Oh, he's just doing that for TV.'"
Putney says he and his commanders and officers understand the skepticism. Since 2004, CMPD officers have fired one or more shots at suspects 69 times, department records show. Of the intended targets, 46—two-thirds—were black. (The data include 16 cases in which police fired and missed.) The police shootings resulted in 22 deaths; 13 of the victims were black.
All 53 cases that resulted in death or injury were subject to review by the district attorney's office. Only one case was ruled legally unjustified—former Officer Randall Kerrick's fatal shooting of 24-year-old Jonathan Ferrell in September 2013. Kerrick's manslaughter charge was dropped after a 2015 trial resulted in a hung jury. The police shooting data don't include the TASER deaths of La-Reko Williams and 17-year-old Darryl Turner, who was killed in March 2008 after he caused a disturbance inside a north Charlotte Food Lion. Turner's parents won a $625,000 settlement from the city and a $10 million federal court verdict against TASER International Inc., the manufacturer. The officer involved, Jerry Dawson, was suspended for five days and given additional TASER training.
"So this stuff is way beyond Keith Lamont Scott," McCarthy says. She took part in the protests, too, and serves as a board member for the Charlotte-based police accountability organization SAFE Coalition NC. "Until they clean out the people that are there that are causing the problems, you cannot restore the faith. If they're not holding people accountable for their actions, it's gonna be hard to say, 'Let's do this Cops & Barbers; let's do these dog-and-pony shows.'"
It's rare for officers who shoot people to face official consequences—from their departments, the courts, or from citizen panels that review the cases. Prosecutors and the courts rely on a Supreme Court standard set nearly 30 years ago—in a case from Charlotte, Graham v. Connor—that justifies even lethal police use of force if the officer is found to have acted with "objective reasonableness" based on the circumstances at the time.
Twenty years ago, the city established an 11-member, volunteer Citizens Review Board after white CMPD officers killed three unarmed black people. The purpose was to help restore public confidence in police by having board members review CMPD decisions on whether officers complied with department use-of-force and other policies. But the board has virtually no independent power, and citizens who file appeals have to meet an unusually high standard of evidence to win a hearing.
Of the 78 appeals to the board from 1997 through 2012, only six made it to a hearing, and board members ruled in favor of police every time. Reforms in 2013 broadened the board's ability to obtain CMPD internal documents and question witnesses; of the 12 appeals since, all but one have earned an initial hearing, and four have resulted in evidentiary hearings, city records show. In late June, after an appeal by Keith Scott's family, the review board found "substantial evidence of error" in Putney's determination that Officer Brentley Vinson acted in accordance with CMPD policy when he shot and killed Scott. The board scheduled an evidentiary hearing for August. But as of press time, board members still had never ruled against CMPD. [Update: Read about what happened at the August hearing here.]
After the Keith Scott shooting, SAFE Coalition and other activist groups issued a list of demands that included further Citizens Review Board reforms, such as elected members, subpoena and investigatory power, and the authority to discipline officers. In late June, the City Council approved some changes, beefing up training and membership requirements and urging the mayor, council, and city manager to strive to reflect the diversity of Charlotte's population in their board appointments. But the more substantive changes would require legislative approval. Despite council support, bills that would have given the board independent powers died in committee this year.
"We wish it was a magic wand kind of situation," Robert Dawkins, SAFE Coalition's state organizer, tells me before the council vote. The organization supports the changes but wants more, he says. "We can train officers and keep coming up with policies, but until you change what's in a person's heart, you're still going to be at ground zero. That's what keeps leading to frustration in the community."
***
ONE OF THE GLARING IRONIES of the Keith Lamont Scott shooting: Of all the police killings of black people since Michael Brown in Ferguson, Missouri, in 2014, Scott's—the incident that nearly tore Charlotte apart—represents an unusually clear example of legally justified police use of force. Scott was armed. He held a Colt .380 semiautomatic handgun with a round in the chamber and the safety off, and he ignored multiple police commands to drop it. No one disputes that it was a terrible event that never should have happened. But many of its effects were beyond CMPD's, or anyone's, control.
The timing was awful. "Couldn't have been worse," Putney says. Police officers had killed Alton Sterling in Baton Rouge and Philando Castile in Minnesota in early July. An officer in Tulsa had shot and killed Terence Crutcher four days before, on September 16—and the city immediately released video footage, creating an unflattering contrast to Charlotte's hesitancy to release its far more ambiguous dashboard and body camera footage in the Scott case.
All of those shootings contributed to a nationwide argument over police use of force against black people, fueled by the Black Lives Matter movement that began after Ferguson. But one factor was unique to the Scott shooting—the victim's traumatic brain injury, suffered the year before in a motorcycle accident, and the effects of the medication he was taking for it. There's no way to know how the injury and medication affected Scott's ability to comprehend what was happening or respond to commands in the moments before his death.
"Officers described Scott, who was out of the vehicle and holding a firearm, as having a 'blank stare,' being 'in a trancelike state,' and looking 'like he just wasn't there,'" District Attorney Andrew Murray wrote in his November 30 report explaining his decision not to charge Officer Vinson. (The DA's investigation into whether Vinson committed a crime was separate from the CMPD internal review, the result of which Scott's family appealed to the Citizens Review Board.) "(T)his behavior is consistent with the known effects of the drugs prescribed to Scott, which also may include aggression and behavior abnormalities."
Putney and CMPD didn't call off their community forums after the DA's decision. If anything, Putney thought, they were needed more than ever.
***
LESS THAN A WEEK after Murray's announcement, the chief and officers from the department's Independence Patrol Division—in southeast Charlotte, bordering Matthews—convene a discussion in the resource center at East Mecklenburg High School. It's Tuesday, December 6. The day before, in Charleston, South Carolina, a jury deadlocked in the murder trial of Michael Slager, an officer who in April 2015 had shot an unarmed black man named Walter Scott five times in the back as Scott ran away from him. The jury vote was 11 to one in favor of conviction.
This is the uncomfortable conversation Putney wants to have tonight at East Meck—about the Slager trial, policing, and race. "There were 12 jurors. Eleven of them thought the officer committed at least manslaughter, if not first- or second-degree murder," Putney says, addressing a group of about 100. "Here's my question: The subject who was running away was a black man. What race you think that holdout juror is?"
The answer comes back, muttered, from the audience of both black and white people.
"White."
"White."
"White."
The crowd sits in groups of three or four at the resource center tables. At least one CMPD officer joins each group. Putney tells all of them to take five minutes to talk about their assumption that the holdout juror was white.
"I wanna get y'all's feelings first, see how y'all feel," Officer Kevin Baucom says at one table. Baucom is a 33-year-old community coordinator in the Independence Division. He's been a CMPD officer for 12 years. He's white and originally from Union County, a background reflected in a North Carolina country drawl.
Susan Jones, a 49-year-old white woman who inspects commercial buildings for the Charlotte Fire Department, wonders why Slager had to fire eight shots at an unarmed man who was running away. "Why that many times?" Jones asks.
"I don't believe that was justified in any way," Baucom responds. "Of course, you don't know nothing except what you see in the media and stuff like that. But I don't believe he posed a deadly threat to him."
"No, I don't, either," Jones says.
"That's my personal opinion from what I saw on the screen," Baucom says. "It'd be a different thing if he had seen a gun. … But nothing I've ever come across indicates that he saw a gun."
Someone else speaks up—Jamal Anderson, 42, who works as a barber in Matthews. Anderson, a beefy guy with a round, pleasant face, is the only black person at the table. "What threat was posed at that very moment for (Slager) to pull his gun at this guy running away?" says Anderson. "What was the threat?"
Well, Baucom replies, that's the issue. "If you don't feel like your life or someone else's life is in danger," he says, "you can't use deadly force."
And it's then that the conversation begins to dig toward its own core. Yes, Anderson concedes, that may be the law on paper. But you know it doesn't fall the same way on everybody. "In the black community, we don't feel like we have that right when we get stopped," he says. "I got four kids. Three boys, one girl—and I have to have this conversation. I have to let them know: What you think is right can be right, but to (police), they don't know. See what I'm saying? And it's hard to say that. I can tell my son to put his hands in place—'Don't move!' But at the same time, how do I know that's safe? I have to have this conversation."
And then he says it.
"I'm pretty sure nobody at this table has to have this conversation with their children."
Everyone endures an agonizing silence. Jones finally breaks it. This is part of the process, she says awkwardly, "us communicating with the other communities that are nonwhite." Putney tells the crowd to wrap it up, then picks up the thread where he'd left it.
"How many of y'all talked about race?" he asks. Slowly, a few hands creep up, tentatively, as if unsure they're permitted to.
"Well, what were the rest of y'all talking about?" Putney says, incredulously, to nervous laughter. "I can tell you, when I saw (video of the Walter Scott shooting), my heart dropped. When I saw that, I was disgusted. From what I see—and I've only been at this for 25 years—that is illegal."
And it's neither honest nor productive to pretend race wasn't a factor in the Charleston shooting; or in the jury deliberations that resulted in a juror deciding a police officer did not commit a crime when he shot an unarmed man five times in the back; or to dodge the discomfort that comes with any discussion about policing, minorities, disproportionate treatment, and black people dead in the streets at the hands of police. "This," the chief says, "is why we're here."
***
A FEW WEEKS before the Keith Scott shooting, CMPD began training for officers that centers on "implicit bias"—an unconscious prejudice against certain ethnicities that criminologists say contributes to police treating minorities with more suspicion than white people.
That training continues, and groups such as SAFE Coalition want it expanded to members of the volunteer Citizens Review Board. In June, when the City Council adopted changes to the board's requirements and terms, some council members insisted on it. LaWana Mayfield, one of five black council members, referred to the "disconnect" between police and the black community and said implicit bias training for the review board can help close the gap. The problems will persist without the introspection that implicit bias training demands, coalition board member and Charlotte-Mecklenburg NAACP President Corine Mack told council members. "We must be willing," Mack said, "to first examine ourselves."
Council member Julie Eiselt, a white woman who chairs the council's Community Safety Committee, says the city should remain open to more changes to the review board and city policy as Charlotte develops. "The conversations have been ongoing. They've been constant, which is great, because they need to be," she tells me. "It's not just a matter of flipping a couple of policy switches."
Putney says he wants his department to go even deeper. If CMPD has to operate as a social service agency in addition to fighting crime, so be it. The summer internship program, he says, serves as an example of the kind of police initiative he champions—introducing young people to employment and educational opportunities they wouldn't encounter otherwise, "so that the outcomes are economic and inspiring for people who have no hope," he says. "Those are outcomes I want to see. That's what I want to be my legacy."
And even with her conditioned distrust of police as an institution, Meko McCarthy says she's open to the idea of a department willing to change its ways. Her daughter, La-Meka, who's 29, was interested in a career in military law enforcement a few years ago, but found out she'd have to meet some training requirements through CMPD. "She said, 'I won't,'" McCarthy says. "If you can't go to the police and get no help, who you gonna call?"
The distrust and its effects, the failure and refusal to connect over the gulf of suspicion, ultimately falls on everybody, she says. Me, and you, and the police. All of us.
"I hate it, 'cause it puts their lives at risk, too," McCarthy says. "What if you get somebody who's been harassed so much, and you get that good cop who goes up and says something, and this is the time when this person says, 'They ain't fixin' to beat me up today.'? Bam—there's this good cop gone."
Her eyes narrow. "Because," she says, "everybody reaches their breaking point."
Greg Lacour is a contributing editor to this magazine. Read more of his work in the News + Opinion and #discussCLT sections of this website.