How Charlotte Collects Art
A local fine art consultant talks with pros about what they're seeing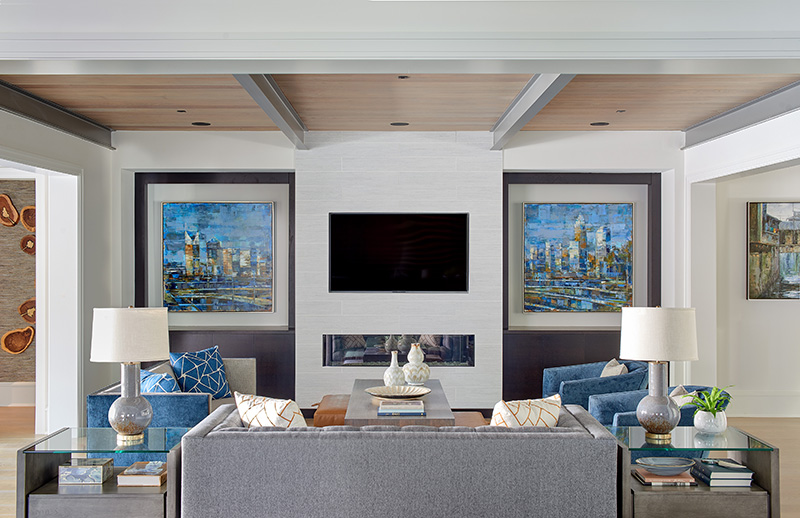 Ed.: Lauren Piemont spent several years in Charlotte galleries before becoming a freelance art consultant in 2019. Below, she shares what she's learned about the scene.
"What kind of art is Charlotte collecting?"
This question is just one window into the state of the cultural sector. I recently spoke to longtime gallerist Jerald Melberg, interior designer Amanda Swaringen, Charlotte-based artist Arthur Brouthers, and a local art preparator who will remain anonymous about what art patrons in this city buy and sell.
Charlotte's art scene has grown with the city, particularly in recent history. Melberg points to the opening of the Mint Museum's uptown location in 2010 as one major turning point "expanding the museum's reach" and influence. An institution on Randolph Road in Eastover, a few miles from uptown, suddenly had a physical presence in the city center. Until the 2000s, the Mint was Charlotte's only art museum. The development of the Levine Center for the Arts campus over the past decade—the Bechtler Museum of Modern Art and Harvey B. Gantt Center for African-American Arts + Culture opened in 2009, the Bechtler and the uptown Mint in 2010—drastically altered the landscape.
Melberg, who's operated his own gallery since 1983, says he's thankful the city is sophisticated and large enough to accommodate three art museums and support an art-buying market. "Everyone has a place and a role," he says. Otherwise, he says, he would not survive in a growing pool of fine art galleries. In the past decade alone, SOCO Gallery, LaCa Projects, and others have opened, but they don't pose a threat to one another. Melberg represents titans of art history like Wolf Kahn, Robert Morthwell, and Romare Bearden; SOCO Gallery in Myers Park sells out many of its contemporary art shows, which highlight mid-career and rising stars. Museums don't sell art like galleries do, but each provides a point of entry for the other. The addition of residency programs, including uptown's McColl Center and Goodyear Arts at Camp North End, offer more direct relationships for visiting and native creators.
Designers like Amanda Swaringen work with that network of local galleries. As founder of Carolina Design Associates, she helps her clients design their new homes, often from the ground up—and that includes the purchase of art. Swaringen frequently finds pieces at Anne Neilson Fine Art and Shain Gallery as well as SOCO and Sozo Gallery. As seen in the rooms that accompany this story, Swaringen's intimate relationship with clients allows her to find work by local artists that suits their personalities. She says about 75 percent of the art used in her rooms is local.
"Some people will say, 'Bring me art,' and then we pick it based on that client's personality and needs, and needing to mix the media in the home," she says. "Some clients are way more involved, and we sometimes actually send them to the galleries themselves to see what they like for options. When I first started in 2002, from what I was seeing, art was just more conservative and traditional in Charlotte. It has evolved into there being so many more artists, and the industry exploding. Galleries have expanded, too, especially during the past 10 years. I'm sure social media is also a major part for people finding new art and artists they like."
Still, Swaringen says, her team relies on the knowledge that exists inside of these venues: "We can't be as knowledgeable as a gallery, and we have to rely on the galleries to give us options that are great for a home. We work together to find the right fit."
Sources I spoke to for this essay describe Charlotte's art market as conventional and conservative, but there are signs of change. The art preparator, who installs dozens of works in private homes every week, says tonal paintings—which focus on color harmony in a light, neutral palette—are popular right now. Increasingly, buyers prefer abstraction to representational work. Swaringen says abstract work, in particular, is popular here. Still, my sources say, buyers still shy away from art with a political bent or socially challenging subject matter.
A "safe" market stunts local artists' growth and buyers' incentive to acquire their work. "In general, not just in Charlotte, people do not acquire art with their eyes," Melberg says, sharing a favorite adage. "They acquire it with their ears." A market that accepts only a narrow style has to look further to find it. To stay in business, galleries have to sell what buyers want. To expand, they have to guide buyers beyond their established preferences to new ones. It's a tough balance.
You won't find Charlotte-based Arthur Brouthers on a local gallery's roster of represented artists. He's achieved international recognition, having made appearances at Art Basel Switzerland and Aqua Art Miami during Miami Art Week. But he got his start with an exhibition at the Sozo Gallery in 2012. "I think gallery representation is important," he says, "because it is a way to move up in the art world."
But he's at his career midpoint, and he no longer needs to display his work in local galleries. Brouthers represents himself in Charlotte and maintains representation at galleries in New York and Dallas. In Charlotte, he uses his marketing background to attract collectors and place work in group shows, while his out-of-town galleries secure chances to exhibit abroad. This means several local venues at a time can expose varying audiences to his work, and he can build relationships more freely with collectors.
Breaking the confines of a conservative market requires "hanging in there and doing what you want instead of worrying about what other people want to see," he says. "If you stick with it, it turns into a trend."
Our challenge as a city is to retrain our artistic eye with a focus on honing personal taste. How? Go out and look. Look at the greats of art history, contemporary artists of international acclaim, your local galleries' offerings, and always note what local artists create. The more art you see, the more you begin to understand what you see, and the more readily you can identify quality—and most important, what speaks to you. Art is many things to many people, but the most thrilling thing it can be is a personal message.