How Charlotte Got Liquored Up
Thirty-five years ago, after multiple votes, it finally became possible to order a mixed drink in a Charlotte restaurant. Here's the story of the backroom deals that made it happen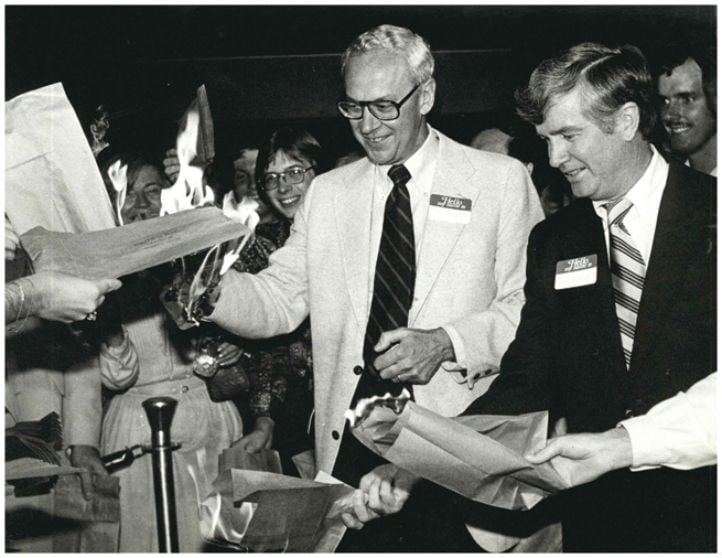 September 8, 1978—It started like any other election-watch party. Chamber of Commerce members and big-name developers schmoozed with local politicos in the ballroom at the Sheraton Center Hotel. As the results poured in, showing an overwhelming victory for their side, the crowd became giddy. By the end of the evening, they were cheering as they set fire to brown paper bags.
The flaming bags were symbolic—the end of a tradition that made many businessmen cringe when entertaining out-of-state clients and kept convention hotels and chain restaurants wary of setting up shop in Charlotte. Mecklenburg County voters had, for the third time in less than 10 years, voted to approve liquor-by-the-drink sales, each time by about a 2-to-1 margin. This time it was destined to stick, ending a decade-long battle between Charlotte's business community and much of the rest of North Carolina.
"I've been waiting for this day for 20 years," Jim Catlis, owner of Central Avenue's Little Italy restaurant, told The Charlotte Observer. An exuberant Bill Veeder, then the chamber director, predicted a convention hotel boom: "I've heard all kinds of names tossed around—Hilton, Holiday Inn, Hyatt House—but I don't know anything for sure. Take your pick."
A few blocks away, at First Baptist Church, about 50 preachers, deacons, and churchgoers licked their wounds and predicted doom for the city.
"If the people insist on bringing this poison on themselves, that's their problem," said a dejected Henderson Belk. A member of the prominent department-store family and the old-line-Charlotte First Baptist Church, Belk had led the dry defenses.
"I'm convinced people want Charlotte to be another Atlanta or New York," said Kannapolis preacher and Baptist lobbyist Coy Privette.
Privette was right, though wanting to be Atlanta or New York meant different things in different parts of the state. In 1978, Charlotte was at the tail end of the textile bust and on the cusp of the banking boom. The Johnston Mill, the last major textile mill in a city built with mill money, had closed in 1975. Downtown, once a busy grid of department stores, offices, and, of course, churches, had seen shop after shop flee to suburban strip malls until Tryon Street was desolate after dark and the bulk of business on Trade Street was illicit.
But in the boardrooms of the uninspired mid-century office towers, people with big ideas—and big corporate wallets—were making big plans for the city's future. A series of local bank mergers had already made Charlotte a headquarters city, and it would continue to grow through the interstate banking push in the 1980s and the later emergence of behemoth Bank of America. The Charlotte Chamber of Commerce had an outsized stake in city politics. Two of its former presidents, Stan Brookshire and John Belk, controlled the mayor's office from 1961 to 1977. The Chamber of Commerce aggressively sold the city to Rust Belt and Northeastern companies looking to relocate or expand. Their efforts came to a head in 1978, when IBM built a branch headquarters amid the forests off I-85 that would become University Research Park.
The Chamber had plans for downtown, or "uptown" as it would soon be called, too. A Civic Center opened in 1973 at the corner of College and Trade (it became the first Charlotte Convention Center, which was demolished in 2006 to make way for today's EpiCentre). Hugh McColl's North Carolina National Bank had supported residential revitalization of Fourth Ward. More ambitious plans—for grand hotels, fine restaurants, even a "Convention Boulevard" spanning the abandoned tracks where today's light rail runs—fell through. A big roadblock was the lack of liquor sales.
It's all a little hard to imagine in 2013 Charlotte, where you can't walk half a block uptown without bumping into one or seven sidewalk signs advertising drink specials. But 35 years ago, state law prohibited restaurants (and the handful of "bars" in existence) from selling liquor. Establishments could sell beer and wine, but patrons who wanted hard alcohol had to bring their own bottles in paper bags. Waiters could sell "set ups" of ice and mixers. Bottles had to remain in the bag at all times, and drinkers were supposed to do all their pouring under the table.
"It was the biggest local issue for the Charlotte business community," Charlotte lawyer James H. Carson remembers, sitting in the study of his high-rise condo in the Eastover neighborhood. As a young state representative in the late 1960s, Carson helped lead the earliest pro-liquor-by-the-drink attempts. "You'd have these Northern businessmen coming down, and they'd say, 'Would you like to get a Manhattan before dinner?' Well, you'd have to go back to Manhattan to get it."
Brown bagging was one of those odd rituals accommodating the often conflicting and always confusing patchwork of local and state alcohol laws, especially in the South. Prohibition ended in 1933, returning regulation of beer, wine, and liquor to the states. States could stay dry—and a handful did until the 1960s—allow statewide sales, or opt for the most common solution, passing the decision to cities and counties. As early as 1933, the North Carolina Legislature gave local areas the option to vote on beer and wine sales. Mecklenburg quickly approved the option. State-owned ABC liquor stores were a tougher sell. Mecklenburg County voters rejected the stores in 1937, then approved them in 1949. But mixed-drink sales stayed off-limits.
Starting with Georgia in 1964, though, liquor by the drink spread across the South. When South Carolina passed a statewide referendum in 1973, ushering in the era of the Myrtle Beach minibottle, North Carolina was the only Southern state where the ban remained.
It wasn't for lack of trying. As early as 1966, the Chamber of Commerce and the Mecklenburg delegation of state legislators threw their full weight behind a bill giving counties (or at least Mecklenburg) the local option of selling liquor. Among Chamber of Commerce leaders, only W.T. Harris, whose Harris Teeter grocery stores sold no wine or beer until bought out by the Ruddick Corporation in 1969, took a principled stand against it.
A few simple numbers help explain what Charlotte was up against in Raleigh. One million Southern Baptists. Five hundred thousand Methodists. Those two groups alone made up one-third of the state's population. Under Editor Marse Grant, the weekly Biblical Recorder sold 100,000 copies, topped only by the daily papers in Charlotte and Raleigh.
Grant's Recorder carried several anti-liquor stories in each issue—drunk-driving tragedies, young lives destroyed, drunken muggers on dark and dirty city streets. The newspaper characterized liquor as "evil," bartenders as "drug pushers," and defeating liquor by the drink as "the most urgent mission cause at home or abroad." To help in the fight, Christian Action League lobbyists tallied committee and floor votes, inviting the faithful to voice their disapproval to representatives who voted against the league's stances. It was effective—so effective that one state senator joked that his Tuesday mail read like a second edition of the paper, as preachers reflected the paper's themes in Sunday sermons and urged their congregation members to write Raleigh.
Religion was the biggest force aligned against the Charlotte business community's quest. But so was Charlotte's big-city image in the legislature. The eastern tobacco farmers had little love for "The Great State of Mecklenburg" to begin with, but even less after the delegation came out in favor of a tobacco tax. Urban issues didn't play so well in a state dominated by rural interests.
"Most of the Republicans were from really rural areas where the Baptist Church is the dominant force," says Carson, who in 1967 became one of the first Republican state representatives from Charlotte since Reconstruction. "I had more in common with the Democrats from Greensboro, Raleigh, or Winston."
Some in Charlotte and other cities didn't do much to help the cause, making fun of the drys with a bit of big-city smugness. Famed photographer and Grandfather Mountain owner Hugh Morton campaigned statewide on behalf of the North Carolina Travel Council.
Pro-liquor, he created a mock fraternal organization with the humorous title "Loyal Order of the Holders of the Bag." Some frustrated wets hurled around words like "stupid," "backward," and "archaic." The Chamber of Commerce was so forceful that the Mecklenburg delegation had to ask them not to send a bus of businessmen to lobby in Raleigh because some undecided legislators thought Charlotte was taking too big a role in the bill.
"We tried every trick of the trade," says Parks Helms, a Charlotte Democrat whose efforts for liquor by the drink in the General Assembly during the late 1970s would prove crucial. "But we just couldn't get it out of the Legislature."
Despite support from the larger cities in the Piedmont, Mecklenburg had to tread lightly and seek support outside of the cities. Some rural legislators, particularly those from counties with a lot of tourism, also supported liquor by the drink. With that in mind, Mecklenburg legislators courted pro-liquor lawmakers from Moore County, home to golfing mecca Pinehurst, to introduce a pro-liquor bill. The strategy worked, and in 1971 the General Assembly passed a bill allowing local-option elections in Moore and Mecklenburg. The measure passed with 59 percent of the vote in Mecklenburg, but it was an empty gesture. Before the first ballot, the Christian Action League and an impressive set of local allies, including country music star Arthur Smith, filed a lawsuit to block it on the grounds that it gave Moore and Mecklenburg counties an unfair monopoly on mixed-drink sales. The N.C. Supreme Court agreed with the league. No drinks were mixed.
While support was overwhelming in Charlotte, the names on the 1971 lawsuit show that some influential opposition remained. It also showed a split between the old Charlotte and the new, as well as between the city and the small towns that surrounded it. Smith, the former mill worker turned country music star, spoke against liquor at rallies and on his WBTV variety show. Privette was a preacher in Kannapolis, where the mill town culture was bowed but still strong. Henderson Belk's family department stores had been thriving in Charlotte since before the Anti-Saloon League shuttered the town's 20 or so watering holes in 1904. Anti-liquor was definitely Old Charlotte.
But there was plenty of anti-liquor sentiment left in the rest of the state too, and Privette and Grant knew that. In 1973, they pushed for a statewide referendum to "let all the people decide." The Recorder and Christian Action League organized $1-per-member fundraising drives at churches throughout the state. On paper, they raised more than the wets. Charlotte tapped John J. Ryan, the recently ousted head of Southern Bell Telephone, to lead a pro-liquor-by-the-drink group called Citizens for Choice and Control. An Irish Catholic with a New York City accent, Ryan didn't play well outside of the cities. The wets carried Mecklenburg, Orange, and Wake but lost every other county. The drys carried 70 percent of the vote statewide.
But pro-liquor legislators bounced back quickly from the statewide shellacking and returned to their old legislative games. One underhanded tactic trumped all—and everyone interviewed for this article, even strong supporters, remember its sneakiness in vivid detail. In the 1974 short session, state Sen. Mike Mullins slipped a statute overturning the liquor-by-the-drink restriction into a local bill to preserve trees in Mecklenburg County. A common courtesy in the General Assembly was for outside legislators not to review bills, like a tree ordinance, that would affect only one county. The bill sailed through the Senate. In the House, though, retired schoolteacher Jo Graham Foster had recently become the only anti-liquor voice elected from Mecklenburg. She caught the evasive and buried language, and the bill was voted down.
"It said something like, 'This legislation will implement Chapter 18 of the ABC code,' which covered mixed beverages," Privette says.
"Now, the law requires that the title of the bill reflect the content of the bill. That probably came about because of what that senator from Mecklenburg County tried to do."
Several turns off I-85 on two-lane Kannapolis roads and down a long narrow driveway, Coy Privette sits in a wood-paneled office with a framed photo of Ronald Reagan hung prominently over a long office table. Privette, now 80, built a career fighting vices of all sorts—liquor, lotteries, and pornography—for the Christian Action League, in the General Assembly, and on the Cabarrus County Commission. Vice also ended his public life in 2007 when his involvement in a prostitution scandal came to light.
He speaks more quietly now but has kept the conviction of a preacher-politician, switching from past to present and referencing the Bible and his pocket copy of the N.C. State Constitution.
In the 1970s, Privette had a well-rehearsed conversion story. As a teenager in Statesville, Privette helped tend bar at the Boulevard Tavern, he said. A patron was drinking beer heavily one Saturday afternoon.
"He just kept stacking up the empty glasses and made a pyramid out of them. The guy left about 5 o'clock in the afternoon, got in his car spinning his wheels, and ended up on Salisbury Road."
A few hours later, Privette said, the man crashed head-on into a car carrying an elementary-school principal and his wife, a first-grade teacher, killing them both.
"His speedometer was stuck at 80 miles an hour. Two of the finest citizens of the county lost their lives that day. That's the day I quit [the bar]."
In the campaign, Privette and Grant alternated between such stories and statistics about consumption and drunk driving. "We had to keep some people on the issue; we're not voting to abolish ABC stores in North Carolina; we're voting on the expansion of the sale of liquor," Privette remembered.
But not everybody stayed on the issue. Bill Hensley, a Charlotte public relations man who was tapped to lead the final successful campaign in 1978, remembers threatening phone calls and letters from dry folks.
"This was an emotional issue for them," Hensley remembers. "Their campaign was based on religion; ours was based on lifestyle and what it was going to do for the economy in the region."
The statewide referendum and tree-ordinance attempt were serious blows to the wets. But by 1977, they were willing to try again. Attitudes were changing. For the first time since Prohibition, a majority of Southerners admitted in a national Gallup Poll to occasional drinking. The national media caught wind of North Carolina's reluctance, including one New York Times writer who reported with mild disgust on the faux-highballs some Charlotte restaurants were making to create the illusion of a cocktail: Bloody Marys with sake rather than vodka, for instance.
In his second term in the House, Charlotte lawyer Parks Helms took charge of securing the liquor-by-the-drink bill. What happened next is a tale of legislative maneuvering and some old-fashioned political horse-trading. The bill passed the Senate late in the session, but Helms knew it would be a harder sell in the House. He moved to adjourn, which pushed consideration of the bill to the following year's short session.
When the session opened in June 1978, Helms started making deals. A Nash County representative wanted a bill outlawing brown bagging in areas without liquor by the drink. Helms traded that for a yes vote. George Miller from Durham wanted an extra $10-per-gallon tax on liquor sold to restaurants. "That's one of the reasons why it costs more for liquor you buy in a restaurant than liquor you buy in the store," Helms says.
"You'd have these Northern businessmen coming down, and they'd say, 'Would you like to get a Manhattan before dinner?' Well, you'd have to go back to Manhattan to get it."
The day before the final vote, they were still two votes short. Helms's daughter was graduating from high school the next day, but he would have to miss that to push through the bill. In a last-ditch effort, Helms, Sen. Craig Lawing, and Rep. Ben Tison set out to round up the missing votes. They identified Betty Thomas from Cabarrus County and Jack Pugh from notoriously dry Asheboro (which approved beer sales only in 2008).
"Obviously it was very risky for them to vote for liquor by the drink, for big cities," Helms says.
That night, Lawing, Thomas, and Pugh gathered in the bathroom of a Hillsborough Street hotel room, Helms says. When they came out, Pugh had votes for money for his hometown's N.C. Zoo (which had opened two years earlier), his son was first in line for a superior court judgeship, and the Mecklenburg delegation had their deciding liquor-by-the-drink votes. Betty Thomas got something that she wanted too, though Helms couldn't remember what.
"It got them both beat in the next election," he says.
From that point on, it was a matter of when, not if, the first drinks would slide across the bar. The vote in Mecklenburg was almost a foregone conclusion, but the campaign was still hotly contested.
"The smartest thing that we did was get some preachers to come out for us," says Bill Hensley. "One of them came out with a line, 'They sell it by the gallon; why not sell it by the ounce?' That really caught on. It made it easy for us to win."
When all was said and done, about 100,000 in Mecklenburg County voted, a huge turnout for an off-year September referendum. Across the county, pro-liquor voters won in a landslide—68 percent to 32 percent. The drys carried rural and working-class precincts like Paw Creek and Cornelius with 60 percent of the vote, while the wets carried the suburban precincts to the southeast, such as Sharon School, with more than 85 percent of the vote.
Local officials scrambled to put the law in place as quickly as possible. And so it was that on the Tuesday morning before Thanksgiving, an ABC truck pulled around to the back of Benedictine's restaurant in the Foxcroft neighborhood. The driver rushed a bottle of Smirnoff vodka to the bar, where bow-tied tender Kevin Johnson had mixers prepared. Johnson whipped together a Bloody Mary and at 8:04 a.m. hurriedly handed it to 23-year-old waiter Hank Stoppelbein. By that evening, pictures of Hank taking the first sip splashed across the pages of most newspapers in the South.
"This is right up there with Washington crossing the Delaware," the huddled reporters from The Charlotte Observer, The Charlotte News, and Time would write—and TV stations would report—attributing the quote to Stoppelbein. Now an insurance salesman near Nashville, Stoppelbein says reporters misquoted him that day.
"Some of those lines I never would have come up with," Stoppelbein says now. He thinks a reporter probably phrased the line as a question and, stunned by the glare of TV lights and flashing cameras, he offhandedly agreed. "I've had maybe one Bloody Mary in 30 years since."
Hyperbole aside, the day was historic for Charlotte. With the vote, the city—always focused on the future—shook off some of the baggage of its Southern past. It bolstered the city's restaurant scene and made Charlotte a competitor for national conventions. For a city desperate to be taken seriously on the national stage, it was a crucial victory.
"I've done a lot of things that I felt better about," Helms says reflectively. "But (liquor by the drink) probably had a more important influence on the quality of life and the growth and the development in Charlotte and North Carolina than any of the other things that I did."