How Charlotte's Richest and Most Powerful Roll
And how the connections they make might lead to making a difference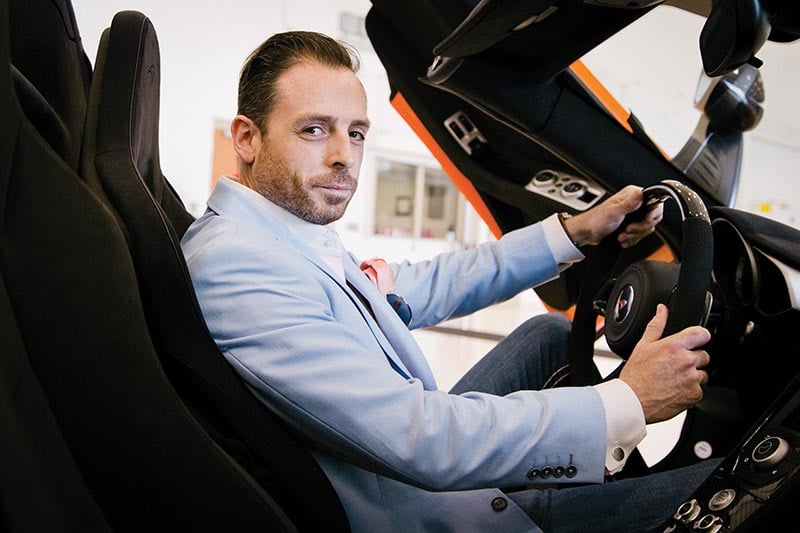 A CELEBRITY CHEF, an event planner, a professional football player, a former CIO, and two car dealership owners named Ryan walk into an airplane hangar.
Private jets are staged the same way cars are in a showroom, with the floor buffed to a mirror-like sheen so that each plane appears to have an identical mate below it. In front of the planes is a row of supercars, from Ferrari to Rolls Royce, in matte black and bright orange, lined up like a sushi appetizer. It all looks and feels as if this is a Bond movie, but it's actually happening on this Friday in April not far from Charlotte Douglas International Airport.
Twenty-seven men and women listen in on a conversation about a craft beer delivery service, and which beers are right for which person. The attendees are invited to sample the offerings, most of them IPAs, and to mingle. Some opt to take photos inside the cars, while others get a private showing of the jets.
Almost all of the people here, whether they're in suits with matching pocket squares, dresses, sweaters, or fleece pullovers, have the same wide-eyed expression. This is the life some of them have already, and this is the life others in the room are still aspiring to—but, yes, it's still jarring to hear someone say, "That's actually pretty affordable" when presented with the option to rent a private plane to Las Vegas for five figures.
It's lavish and a little surreal. But it's part of Charlotte. And at the center of it all is a sharply dressed Brit who moved to the city from Atlanta in February 2015.
Geoff Deller, a financial advisor with Janney Montgomery Scott, calls them luxury experiences. Since the inaugural gathering he organized in fall 2015, he's arranged meetings everywhere from yacht clubs to exotic car dealerships. He's organized airplane tours, sailing excursions on Lake Norman, and rides in Ferraris and Lamborghinis. He's also provided wine and cheese pairings from a master sommelier and culinary demonstrations.
Behind the glitz and wealthy sheen, though, the gatherings are something every professional in Charlotte does at some point. This is networking among the city's elite, but it's still networking.
Everyone at the April luxury experience—whether it's Panthers linebacker Shaq Thompson, chef Kevin Winston, or Ryan Moreno and Ryan Wildrick of Metrolina Auto Group—has a few things in common. Most are transplants to Charlotte. They're all interested in finer things such as food, wine, and cars. And they have just as much trouble meeting new people and making friends in the business of adulthood as anyone.
"It's about putting like-minded men and women together to share an experience," Deller says. "Doing something they wouldn't normally do, irrespective of wealth level. Just have some fun, and they get to make some new relationships. It's a nonthreatening environment because people want to get together."
Deller's experiences, named Luxury Experience Charlotte, take the awkwardness out of charity functions and cocktail parties. There's no pressure to attend. He doesn't try to sell anything to attendees. And the events leave plenty of room for talking and mingling. Conversational topics at the April gathering range from Asheville breweries to toll lanes on Interstate 77.
Rather than exchanging cards and going their separate ways after an event, people form smaller packs and develop friendships. Some go on snowboarding trips or golfing or take in concerts together. Others have created fruitful partnerships or helped each other on nonprofit initiatives. That's the untapped power of events such as this, Deller says.
The fact that wealthy people hang out with each other isn't noteworthy. But here, the combination often leads to something bigger. They're not just here for fast cars and airplanes. Often, the people at Deller's experiences wind up joining forces to find ways to help people who can't be here, and to help the city. It's not lost on them that they are the top earners in a city in which it's harder to move out of poverty than any other city in the country, or that the distance between high and low incomes was the cause of much of the tension that led to protesters marching through Charlotte's streets last fall.
Sure, this flashy meeting is an opportunity for the wealthy to enjoy their wealth. But for many, it's a place to meet like-minded people who want to redefine the idea that wealth is power.
***
ALAN DOUGLAS put a lot into his personal appearance that April day. He's an event planner, and every little detail counts, down to the choice of a fedora hat with a real wood brim. He's outgoing and personable, and he can't get over the fact that he spent his Friday in an airplane hangar.
When I meet him again seven months later in November, he's just a few miles away, but in a far different place. The Movement Center is a new facility that sits among boarded-up shopping centers on Freedom Drive. Its clean lines and bright pops of red suggest a new time and a new place, and represent much of Charlotte's promise as a growing city. A multimillion-dollar bet by Movement Mortgage on the west side of town, the center is home to organizations such as UrbanPromise, which helps develop children into leaders, and the Harvest Center, which serves the homeless with hot meals and shelters. It's also where Douglas decided to relocate his office in late 2016.
A Johnson & Wales graduate, Douglas left a comfortable educator position with Novant Health, where he taught the company's networking system to doctors and nurses for eight years, to go full-time with his own event planning and catering business in 2014. He used his connections at Novant to get started, picked up a couple of weddings here and there (although he told himself in the past that he'd never do weddings), and leaned heavily on the city's banking crowd for private events and company functions uptown.
Douglas saw an opportunity to make his mark on the event planning scene.
"Down South, people don't value event planners yet," Douglas, a Colorado native, says. "There's this idea that people can do it themselves. They always have this feeling that their mom can do it, or their cousin can do it. But if you go to New York or L.A., they go right to paying a professional. Here, we're slowly trying to grow out of that old way of thinking."
He quickly outgrew his original office, and when the opportunity came during the fall of 2016 to jump into the Movement Center, he thought it'd be a good fit.
"I would never have had a business on Freedom Drive even two years ago," Douglas says. "But you're seeing this whole area transition. The Movement Center is committed to helping transform the neighborhood without moving the people who have historic roots in the neighborhood."
Douglas operates his catering business out of the Harvest Center's kitchen. His team volunteers there, cooking about 800 meals twice a week at breakfast and lunch for the individuals—most of them homeless—who come through the organization's doors. The Harvest Center's goal is to create a stable community and gathering place for people who are homeless, unemployed, or in poverty, and to provide them with not just hot meals, but also with transitional programs and job training. Douglas sees firsthand the juxtaposition between Charlotte's elite and those who struggle day to day just to find their next meal.
Douglas, who has a growing company and now a comfortable six-figure salary for himself, believes executives and the wealthy should spend time at places such as the Harvest Center and volunteer. The income disparity and poverty rate in Charlotte—which has jumped from 10 percent to 18 percent since 2000—are right in front of them. Wealthy people, Douglas says, need to understand that poor people want the same things for themselves and their kids that those living in uptown high-rises and on Lake Norman do. But unlike those riding in Aston Martins or sailing on the lake, the folks who come through the Harvest Center have daily challenges such as paying utility bills and getting to work.
Giving is about more than providing clothes or donations and then saying, "We helped." For Charlotte to make its next big jump as a city, Douglas argues, those with power need to help rebuild and invest in communities without power. In many ways, he sounds like a long line of rich Charlotteans, dating back to when Hugh McColl and Ed Crutchfield were running booming banks, who look to reinvest in the city.
"Statistics indicate that children born into poverty in Charlotte are likely to stay in poverty," Douglas says. "There are so many brilliant people out there who are homeless, but they don't know any other life than the one they have. Some of these guys haven't even left Charlotte. Think about being 22 years old and never leaving the city you were born in. I can't even imagine that. … I do the ritzy stuff, which I love, but the ritzy stuff helps me do the other things I love—and that's helping people."
The "ritzy stuff" includes Deller's luxury experiences. Douglas attended his first in April, and he was blown away by the opulence. He has clients who can afford private jets and can order $1,000 bottles of wine, and he admits that he hopes his business will be successful enough for him to do the same.
But it means nothing, he says, if he can't help the city he and his business call home.
***
SCOTT SEESE IS one of the most understated men at the event at Davinci Jets headquarters. An e-commerce and banking executive for more than two decades, Seese has seen his share of exotic cars, jets, and cocktail parties. He now focuses much of his attention on overseeing and serving on the boards of charitable organizations, as well as the being the lead investor for a Charlotte company called Ping, which is developing the world's smallest tracking device. He's lived all over the world in his former CIO and senior executive roles with American Express, eBay, Bank of America, and General Electric.
Deller's April event allows Seese to meet people he's never met in town, and he seems genuinely thrilled to make connections in the room. He's able to talk about any topic with fluency for hours at a time, and hold his own on everything from technology to music.
These days, he's traded in boardrooms for playrooms, spending more and more time with his wife and daughter. He lived in Charlotte from 2004 to 2010, and something drew him and his family back to this city. He settled on Lake Norman, opting to commute to and from New York in his role as CIO for global consumer, merchant, and channels technology with American Express. He retired from that job in 2016 to begin what he calls the "next season" of his life.
Seese sees Charlotte as a city in transition. And with that boom comes growing pains, many of which have played out on a national stage in recent months.
"For our city and our moment and our time it's about losing the focus on the pronoun," Seese says. "Everybody goes first to the pronoun—you, I, them, we, us—and it's divisive. Because there's a thought that the problem is the pronoun, when the problem has to do with structural things. You get on a path, and there's no access to opportunities. You get on a path, and there's no access to housing. If we can come in with that access, it'd bridge us better together."
Scott works with the Guatemala Project and, in particular, Wakami—a company that goes to Guatemala and rebuilds villages with clean water, housing, and the potential to grow. Wakami then teaches residents to create bracelets and other accessories to make money for themselves.
The Guatemala Project's aim is to develop some of the poorest communities in the country through infrastructure, educational initiatives, schools, and economic development. That's where Wakami comes in. The bracelets are earning potential for citizens in the villages, and are sold in stores all over the world and online.
He also helped start the Year Up organization, a group that partners with corporations to give young adults access to resources, experience, and job training.
Seese struck up a friendship with Deller and made the drive down from Lake Norman to the airplane hangar off Billy Graham Parkway to see what the luxury experience was all about in April. The two now regularly meet for lunch.
At a lively meal at Red Rocks in Birkdale Village in October, when Seese started discussing one of his organizations, Deller immediately thought of another person he wanted Seese to meet.
Melissa Bodford is a cofounder of uBack, a mobile app that allows charitable organizations to connect with donors and receive donations in a matter of seconds. Deller wanted Seese and Bodford to connect, so that the Guatemala Project and Year Up could be included on the app, making it easier for them to connect with potential donors.
By being a maestro for putting individuals with similar interests together, Deller helps connect those people in hopes of a fruitful business partnership­—and, in some ways, he's making it easier for them to create lasting change.
***
DELLER OFTEN PAUSES in mid-conversation.
"I want to connect you to someone," he says, bringing in one of the other guests at the event.
He's constantly in motion, and his exquisite suits and accessories, from timepiece to cuff links, belie his ability to relate to others. He's not standoffish at all, and he says hello to all of the people in the room—and thanks them, repeatedly, for attending.
Deller moved to Charlotte in February 2015 after commuting weekly from Atlanta for a year, and like anyone else new to a city, he wanted to make friends.
While in English boarding school in 1997, Deller joined a group called Young Enterprise. He was 16 when he and three friends started a company called Club SMS. It was one of the first to organize direct marketing campaigns through SMS in the United Kingdom. It went from an idea by a bunch of teenagers to a full-blown company with venture capital money in just a few years. They all ended up leaving the business as 20-somethings in 2002.
He moved to Georgia in December 2008, and in 2010 he started organizing meetups for some of his investment clients. They talked for years about the supercar excursions he put together as client appreciation events. He saw room to create a similar event in Charlotte, but with a twist. It wouldn't just be wine and cheese and cars this time around (although the cars would be part of it). This time there'd be three components—cars, boats, and wine and cheese.
Around a dozen events and more than a year after his first event in October 2015, Deller has met his goal. He's made new friends, and those friends have made new friends, as well. Attendees keep coming back, and more and more latch on.
Some people attend the gatherings like this out of a sense of obligation, a sense that they should do this for their careers. Not Deller. He's here because he craves personal interaction. You get the feeling that even if someone else had built these luxury experiences, he'd be here anyway.
It's hard to quantify the importance of getting people in a room together, regardless of their wealth. Deller, a man who grew up in a boarding school and having conversations in dormitories, still believes in the value and lasting potential of a handshake. He relishes the idea of making that first greeting between two people and seeing what—from simple friendships to business relationships to maybe even societal change—can come of it as a result.
"As long as people keep coming," Deller says, "I'm going to keep putting them on."
Martin Rickman spends most of his time editing basketball stories at Dime on UPROXX, but when he's not doing that, he's trying to find the best way to avoid I-77 in Charlotte between the hours of always and forever.