How Chef Jenny Brulé Built Davidson Ice House
The concept was inspired by her daughters' differing preferences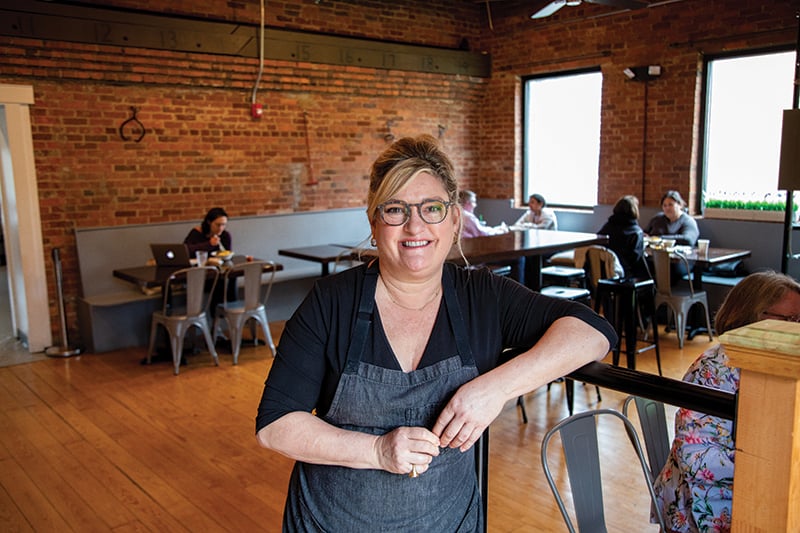 Jenny Brulé is a classically trained chef, cookbook author, and host of a weekly television segment on WCNC. But for years, the 51-year-old single mother of four struggled to make dinner for her family. Fifteen-year old Tess is a vegetarian; identical twin sister Mimi eats only meat and cheese; 20-year-old Camille is a pescatarian; and 22-year-old Claire doesn't eat dairy.
"I was constantly making meals where I would put out lots of small dishes and they would compile them into meals, whether it was a rice or sushi bowl or a burrito or even a pizza," she says. "I thought, 'I'm not the only mom that must do this.'"
This nightly struggle inspired the concept for Davidson Ice House, which she opened in 2018 in what was once the town's actual ice house. The 98-year-old building has its original pine floors and exposed brick walls. Today the counter-serve restaurant specializes in healthy, build-your-own bowls and burgers with toppings like firecracker pimento cheese, kale slaw, and chickpea salad. "There's no more meat and potatoes," Brulé says. "Everything is much more curated now with big, bold flavors."
Each ingredient that passes through Brulé's kitchen is nutrient-dense, and her team makes everything in-house, like the sauces that customers drive out of their way for: tangy apricot, spicy jalapeño and parmesan green sauce, and lemon tahini. And while it's generally health-conscious, the restaurant has a reputation for their French fries and crunchy mushrooms, too.
The author of Learn to Cook 25 Southern Classics 3 Ways: Traditional, Contemporary, International came by her love of cooking early. Both her mother, a retired minister, and her father, an international executive, took leaves of absence in their 50s to attend culinary school in Paris. Brulé later graduated from Baltimore International Culinary College and did post-graduate work in recipe development at the Culinary Institute of America. She says cooking has always consumed her; she once met an astrologer who told her she starved to death in a past life, so she's spent every lifetime since trying to feed people.
But Brulé put her culinary dreams on hold for a few decades to raise her family. "I've always been ambitious, but I always put my husband's career and my kids first," she says. "Now the kids are old enough that I can focus more on me."
These days, she compares running Davidson Ice House to having a fifth child. "It's a blessing and a curse to have this to focus on," she says. That's because six days after Brulé opened her restaurant, her husband of 25 years left her. "I had to decide, was I going to get a pizza and drink a bottle of wine and hide under the covers, or was I going to fight to keep myself together and make the restaurant a big success?"
She chose to fight, but she didn't always win.
"I would go in the office and cry, or I'd offer to cut onions because I could cry while I was cutting them," she says. "(The girls and I) moved five times in 10 years to two continents in three countries and three states. With each move, they only had each other in the beginning. I'm really fortunate that all four girls are so close."
Brulé talked a lot about her girls—and her divorce—during the casting session for the Food Network competition show The Ultimate Thanksgiving Challenge, which she appeared on last fall. She didn't win. But she and her fellow contestants keep in touch through group text, and several have plans to come to Davidson and eat at her restaurant.
Her oldest two daughters are out of the house now, but when all five Brulé girls are under one roof, the Mama Chef still cooks multiple meals to make everyone happy. This time, though, she can shrug off the stress. "I'm stronger than ever, focused on the restaurant and my daughters," she says. "For the first time, I feel untethered, so I can be totally who I am."
MICHELLE BOUDIN is a reporter for NBC Charlotte and a frequent contributor to this magazine.