How Close is Charlotte to Ending Homelessness?
Two years ago, city leaders set out on a mission to end chronic homelessness by the end of 2016. It was an ambitious goal—one very few cities in the country have even considered. So, how close are we?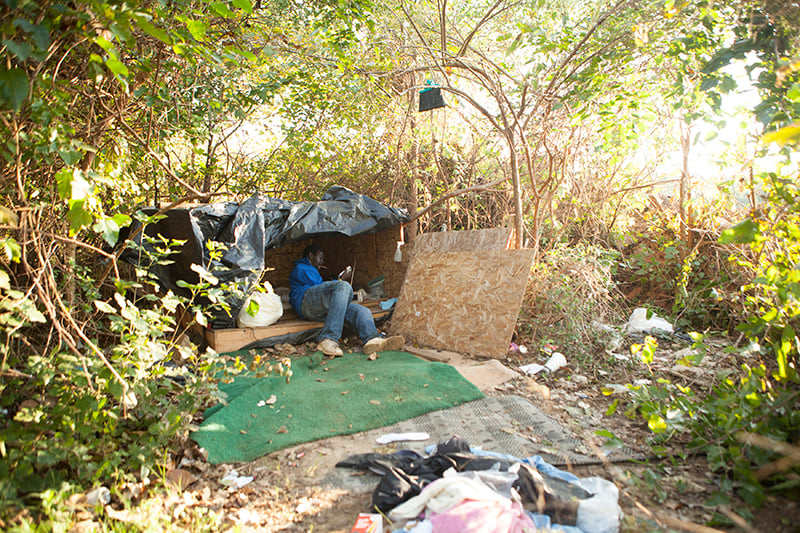 IN A LARGE WAREHOUSE about a mile and a half northeast of uptown, Hadarii Jones surveys the stacks and rows of furniture that will be given, free of charge, to people who need it. At least 15 couches of varying sizes sit in the middle of the warehouse, surrounded by lines of armchairs 12 rows deep. Off to the right are bookcases, shelving units, small tables, entertainment stands, televisions, lamps, and framed artwork. Mattresses and box springs line the back wall and side walls in piles at least eight feet tall. The furniture, ranging from design floor chic to dorm room comfy, has been donated from households all over the city. Ikea donates items, including beds, once a week. Electrolux provides window air conditioning units, the most-requested item during Charlotte's humid summers.
Jones, a tall man with stick-straight posture, strides through the narrow passageways between the furniture, keeping an attentive gaze on his coworkers at the loading dock. He started out as a truck driver for the Crisis Assistance Ministry Furniture Bank five years ago, picking up donated items to bring to the warehouse and delivering them to the people who choose them during "shopping trips."
Since then, Jones has received several promotions, and he now oversees daily operations at the furniture bank and the Free Store. Only four full-time staff members work in this division of the Crisis Assistance Ministry, so he relies heavily on volunteers to help organize and sort furniture. The group serves an average of 40 households each week. Jones helps coordinate when the trucks go out, deals with caseworkers, processes donations and ensures items are in good condition, and serves customers. Last year, his coworkers named him employee of the year.
The warehouse is just a few blocks from the Amtrak station where Charlotte's train tracks converge, in the part of the city that links growing uptown to gentrifying NoDa. This area has storage centers, surface parking lots, and industrial brick buildings, not construction cranes and yoga studios.
Jones grew up not far from here in the Belmont neighborhood. As a child, he would step out of his mom's house, and the first thing he saw were towers rising into the sky.
"We're a mile away from uptown, and so you could see the skyscrapers, but it seemed like it was worlds away," he says. "It was so far away from where we were."
Given his upbringing and job, Jones knows more than most about the issues of poverty in Charlotte and how the city has changed over the past three decades. He has watched the opportunity gap in the city widen; it now ranks last out of the country's 50 largest cities in terms of upward mobility. That disparity sticks in his mind.
"I really feel like we have a responsibility, especially as native Charlotteans, with the outcomes in the city," Jones says.
Jones is part of an unprecedented union of groups trying to eliminate one of Charlotte's most intractable problems: chronic homelessness. It's a crazy, ambitious goal to do in any timeframe—only a handful of cities have come close to succeeding at it—and our city has tried to accomplish in just two years. The groups started in January 2015, targeting a completion date of the end of 2016, or the end of this month.
What does it take to make progress against a problem as large and as obdurate as chronic homelessness? It takes a lot of work, forcing people to relearn what they think they know. It takes groups who are willing to come together—it turns out Charlotte has a lot of those groups. Local and federal government organizations, nonprofits, the police department, and the biggest corporations in town all signed on to help with this goal, through funding, coordinating, collaboration, publicizing, and more.
It also takes hundreds of volunteers and workers, the kind of people who will go out in the city before dawn on a cold winter morning, the kind who can't fall asleep at night because they're thinking about what more they can do tomorrow. It turns out Charlotte has a lot of people like that, too.
As Jones says, "The city will go how we go."
***
BEFORE DAWN one morning in January 2015, 287 volunteers bundled up, split into groups, and trekked through and around uptown. Clipboards in hand, they walked along the city sidewalks, looked behind cement pillars under overpasses, checked hospitals and soup kitchens, and hiked into wooded areas off main roads until the sound of traffic faded. They met people sleeping in doorways of historic churches and leaning on bus benches with their legs stretched out, plastic bags lined up beside them. They met people in wheelchairs resting under awnings and people with thick, rough blankets draped over their heads to block the cold.
As they met these people, the volunteers and workers with the Urban Ministry Center introduced themselves and asked each individual his or her name. They chatted and counted and took notes. After three days, they had identified 516 chronically homeless people.
Center city is a popular place for homeless people, in part due to its proximity to resources including the Men's Shelter, the Urban Ministry Center, and the Homeless Resource Center. It's also popular because it's close to police and security guards. But in 2014, the homeless population began to jar some of the neighborhood's residents and nighttime visitors. A decade earlier, the city placed dividers on bus benches to discourage people from lying down and spending the night there. Police tried to crack down on aggressive panhandling. Residents complained about car break-ins and about coming home to find someone urinating on their doorstep.
In July 2014, Charlotte Center City Partners and the Homelessness Task Force proposed "disrupting" the situation. The nonprofit downtown development group and Urban Ministry Center had counted 150 people over three days sleeping within a one-block radius of the intersection of Trade and Tryon streets. CCCP requested that the city temporarily remove some benches from the area to help shift homeless people off the streets and toward getting services. While some uptown residents supported the plan, it met heavy criticism from community members who found it disrespectful to homeless people and said it ignored the lack of support and funding for housing and other social services programs. The city quickly tabled the controversial proposal. The coalition, convened by Center City Partners, continued meeting with nonprofits, corporations, city and county agencies, and others to find real ways to address homelessness. The organizations asked each other what would happen if they dreamed as big as they could. In the end, 26 groups signed on to a lofty goal: to functionally end chronic homelessness in Charlotte within two years.
They began that January 2015 week with the Urban Ministry Center's three-day tally: 516 chronically homeless individuals. By the end of March 2015, 37 had been housed in transitional or permanent housing across the city. By the end of the year, that number was 210. By the end of May 2016, 323 individuals had been housed. The number was 428 at the end of September.
That's a significant improvement in what for decades appeared to be an unsolvable problem.
"We can end chronic homelessness," says Michael Smith, president and CEO of Center City Partners. "And you know the results have been staggering."
***
HOUSING IS A BASIC human right. That's the fundamental tenant of the successful strategy known as Housing First that's being used in Charlotte. At first, it seems obvious—of course everyone should have a place to live.
But accepting that principle means accepting you don't ask people to earn their housing through good behavior. It means housing is not a reward for getting sober, getting a job, or seeing a caseworker on a prescribed schedule. It means if someone doesn't keep a perfect record, you don't take away his housing. Having a place to live is a right one earns just by being human.
"It was one of those ideas that you realize how obvious it should have been," says Emily Crow, philanthropy manager at Bank of America, one of the initiative's corporate partners. "When you have someone who's unemployed, what you ultimately have to do is connect them to work. So 'let's give that homeless person a home' is kind of revolutionary, but it really shouldn't be."
Housing First moves people directly from the streets or shelters into housing, and has minimal eligibility criteria. It takes an aggressive approach to offering support, but residents are not required to participate in the services provided.
The Urban Ministry Center, which serves as project manager of the chronic homelessness initiative, implemented the Housing First model in Charlotte. Executive Director Dale Mullennix says that, rather than prescribing a regimen, the social workers and counselors ask residents: What do you need? The individual controls his own life.
Under federal definition, a chronically homeless person is an unaccompanied individual who has been continually homeless for one year, or for four episodes over three years that total 12 months, and who has a disabling condition. If you can figure out a way to effectively serve this population, you can free up a lot of other resources.
Nationally, chronically homeless individuals are about 10 to 20 percent of the total homeless population, but they use 50 percent of the resources, according to national studies.
A 2014 study by the University of North Carolina at Charlotte found that residents of Moore Place, the city's first permanent supportive residential facility based on the Housing First philosophy, had decreased hospital bills by 70 percent, or $1.8 million, after living there one year. The study also found a 78 percent reduction in arrests and an 84 percent reduction in jail stays among the residents.
The best proof so far of the Housing First model's success is the state of Utah, which used it to get close to a "functional zero" end to chronic homelessness throughout the entire state in 2015. Other cities, including Phoenix, have used the model to end chronic homelessness among their veteran populations.
Despite these successes, Housing First remains controversial. Some critics believe that if Charlotte does so much for its homeless population, word will get out and that will only encourage more homeless people to move to Charlotte. The Urban Ministry Center says that's not so—the chronically homeless population tends not to be transient, given the serious mental and physical health conditions that usually accompany the situation. Staff members at the center say experts have found that people experiencing chronic homelessness were most often living in and around the same community before they became homeless.
Other critics don't want tax dollars and resources going to people who aren't required to do much in return. But the groups behind Housing First say it's the most respectful and most effective approach. The housing retention rate at Moore Place is 90 percent.
The effort also includes groups that work with specific populations, such as one that houses chronically homeless people who are HIV-positive. One caseworker, Teresa, who asked that her full name not be used due to the sensitive nature of her work, says she encounters a lot of barriers from landlords. Her clients sometimes have criminal backgrounds or do not look or act like the typical renter.
Although not all her cases are success stories, "there's more laughter than tears," Teresa says. "It's hard to build those relationships, but once you're in, it's the greatest feeling because they confide in you. They become that person that will go the extra mile because they want to please you."
***
ABOUT ONE DAY every week, an officer assigned to the Charlotte-Mecklenburg Police Department's Central Division walks down to Wells Fargo Plaza around lunchtime. Amid the suit-clad businesspeople on their breaks, he takes his place in line at a hot dog cart. Usually, the officer is joined by three or four homeless individuals who spend their days in uptown. The officer buys hot dogs for everyone in the group, and then they all sit in the plaza and chat and eat together.
"That's not driven by me or anyone else," says Mike Campagna, who before being promoted to major in October was the Central Division captain and the officer's boss.
"That's just him saying, 'Yeah, this is the right thing to do.' We have a lot of that going on, and it just takes a while to make that shift."
Campagna, a Charlotte native, learned about Housing First when he began volunteering at the Urban Ministry Center in 2013. He says he'd decided to make a personal commitment to volunteer the same number of hours each month as he spent in worship at his church. Eventually, he became a part of the center's outreach teams, visiting homeless camps and talking to homeless people on benches, trying to get to know each person. Campagna moves comfortably in his dark blue uniform. But he enjoys wearing civilian clothes when he volunteers and talks to the homeless. Even his own officers don't recognize him.
"Just changing out of the uniform, and people completely lose that connection," he says. "And in this context it works."
With 80 officers in the Central Division, Campagna says he emphasized trying to increase the number of positive interactions they have with the homeless.
He shares a story of two officers who picked up a homeless man who was "in bad shape" and, after some discussion, agreed to go to a detox facility. The officers spoke to the man's parents on the phone, drove him out to the facility, and helped him check in.
"One of the challenges in being a police officer is that we don't interact with our homeless populations except in negative circumstances," Campagna says. "Making sure that they can find those opportunities to have those positive interactions, like hot dogs, or just stopping and talking to people, checking on how you're doing, that does help, I think, in the long term."
Just as the people behind the initiative feel a responsibility to care for this population and improve the city, the residents who receive the results of their work feel a responsibility, too. They search for ways to give back despite the challenges.
***
SHAWN COLLINS, a lean 36-year-old with long dreadlocks, doesn't have a steady job, but he is the self-appointed "ambassador of the hall" at Moore Place, located off of North Graham Street about a mile and a half from the I-277 loop and near the furniture bank.
Collins makes it his business to know everyone in the three-story, yellow-and-white building, which is set up like a dormitory. Behind the guard stand at the main entrance is a common area with vending machines. Heavy doors at both ends of the room lead to long hallways with efficiency apartments, 120 total. The smell of old cigarette smoke lingers beneath the harsh scent of industrial cleaner. During the day, the hallways are mostly quiet. Collins spends much of his time walking from room to room, visiting his friends and making sure no one starts trouble. If there's a fight, he tells people to take it outside to the building's courtyard and reminds them to appreciate what they have.
"We be rocking and rolling, but you got to have respect for the building," he says, swaying back and forth on his heels.
Collins has 206 tattoos—"as many tattoos as you got bones in your body"—covering his face, neck, and arms. He says they are remnants of his old life, and he doesn't want to be judged on them. Beneath the inked dollar signs, crosses, and "Fa$t Money" above his eyebrows, his skin is luminous. Collins became chronically homeless after getting out of jail in 2009, following a long period of time committing crimes and using and selling drugs. He still has run-ins with the law—records show arrests in 2014 and 2015—but he says he has stayed clean and is determined to keep from falling back into his old life.
Collins is most proud of his closet. It's a small part of a small apartment—just one room plus a bathroom—and is about three feet wide and three feet deep. Instead of clothes, it's filled with toys. The closet is the playroom he has created for two of his sons, ages one and five, who live with their mother. The closet has blocks, trucks, and two pairs of giant green Hulk fists the kids can put on. All of Collins' clothes sit folded in neat piles in the main room on top of a table and a small chest of drawers. When his five-year-old wants to see his dad, he asks to visit "the magic closet."
Collins says he changed his life for his kids. He appreciates the closet, the TV that plays their cartoons, the drawers where he keeps books he wants to read to them someday. Although he doesn't have a job, a regular place to be, or much money beyond the few dollars he makes at a car wash now and then, he says he tries to be grateful. Between the Moore Place residents and his young children, he has a lot of people to care for.
"God put me in this building for a reason—to take care of all these people," he says. "I'm not miserable—I got responsibilities."
Another Housing First recipient, Geraldine King, lives in a small apartment in a two-story complex off W.T. Harris Boulevard in east Charlotte near a Walmart. She keeps the boxy TV up loud and the shades drawn as she lounges on her two-cushion couch. The 50-year-old started her first semester at Central Piedmont Community College this fall, taking four classes a week. She hopes to eventually get a job in the medical field. Like Collins, King was incarcerated and relishes now having a place of her own.
"I plan on taking advantage of every opportunity I can," she says of CPCC. She's usually the oldest person in her class, though her short ponytail, smooth skin, and tank top make her look a decade younger.
While King was in prison for possession and distributing drugs, her case manager told her she qualified for the MeckFUSE program, which is run by the county and targets people who are cycling between the criminal justice and homeless shelter systems.
"Only thing I have to do is follow the rules and I can stay here forever," King says, gesturing to the one-bedroom apartment with an overstuffed chair and three calendars on the walls.
Without this apartment, King says, her recent achievements would have been impossible. In the shelters or on the street, there was nowhere to study and nowhere to keep her belongings. "I got tired of carrying my stuff!" she says. Now, she doesn't mind hauling her backpack to school, because she knows she can leave it at home at the end of the day and nothing will happen to it.
"There's nothing like having a key," she says.
Geraldine King, 50, plans on taking advantage of the opportunities she's been given by the Housing First program,
which moves people directly from the streets or shelters into housing.
***
IT'S LIKELY THE GROUPS behind this initiative will not reach their deadline of eliminating chronic homelessness by the end of this year. They know that now. Although they have housed 428 people since the 516 were counted in January 2015, it's a fluid population. There were about 300 chronically homeless people in Charlotte in the summer of 2016. Some of the group members talk about how they can always push the deadline back, it's a moving target, there's still time. But they all acknowledge that even if they housed every single chronically homeless person they counted during their three-day survey almost two years ago, there will be more who need services now. And there will be those who don't support the Housing First approach, despite the progress made.
They also acknowledge that providing housing doesn't solve everything. Collins at Moore Place still doesn't have a regular job. King has no guarantee of employment after graduation, and says her food stamps were recently cut off. Still, they now have something that many of us can't imagine doing without—one place all to yourself, to keep your things and to spend the night.
At the end of this year, there won't be a giant party where people applaud and throw confetti and wrap up the effort. There won't be a night you walk through uptown and don't see anyone lying on a bench or under a bus shelter. There will be no press release announcing mission accomplished. Because there will always be someone out there carrying all her worldly possessions in a shopping cart. There will always be someone who is in prison, or the hospital, who has no idea where to go once he gets out. There will always be someone who drags a few tarps, scrap wood, and a shopping cart into the woods to make a shelter, tucked in behind some trees just far enough that you won't even notice as you drive by.
EMILY ETHRIDGE is a native Charlottean who recently returned after a stint in Washington, D.C. You can reach her at emilyve@gmail.com or on Twitter: @EmilyVEthridge.
Ebony from Christopher Nalley on Vimeo.