How Felix Empanadas Has Navigated COVID-19
The former food truck brings Argentinean cuisine to Optimist Hall—then quickly kicks it to the curb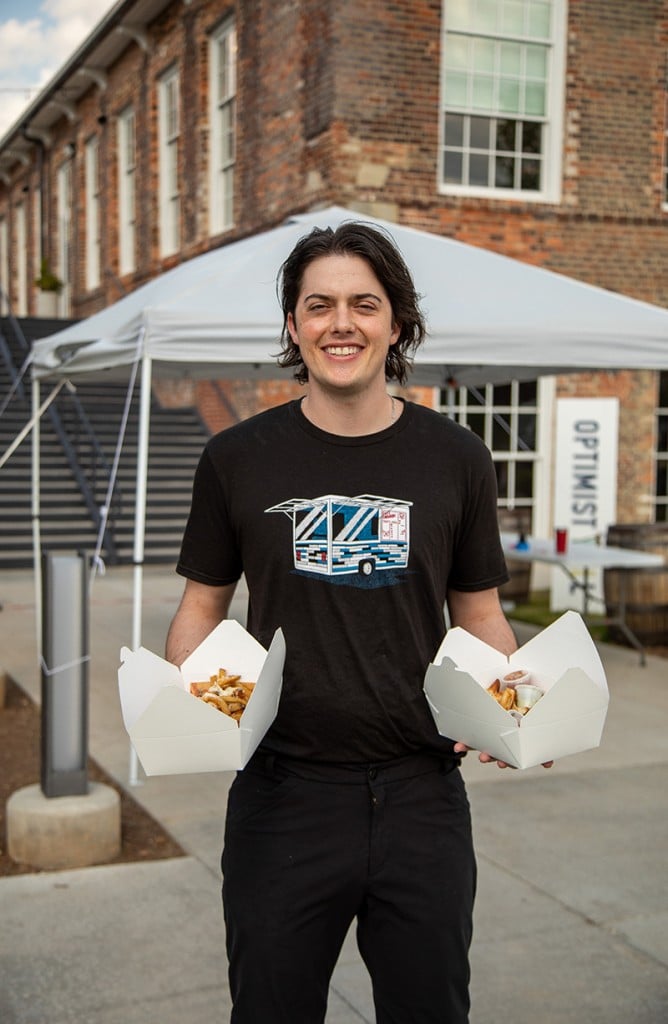 FELIX GODWARD'S EMPANADA TRUCK has drawn lines of hungry customers since he began to anchor parking lots across Charlotte in 2017. Godward uses recipes and techniques he learned from his Argentina-born mother to create sweet and savory fried turnovers for breakfast, lunch, dinner, or dessert. You can usually follow the sound of Argentinean hip-hop and the irresistible smell of warm empanadas to his kitchen on wheels.
In early March, Godward opened his first brick-and-mortar location in a stall in Optimist Hall. He built an expanded menu of empanadas with breakfast and dessert options and other traditional Argentinean dishes like solterito salad and arroz con pollo soup. Then, less than a month after opening, COVID-19 forced Godward—and virtually every other restaurant in Charlotte—to halt counter service and switch to curbside pickup and delivery orders.
At press time, each of Optimist Hall's restaurant tenants offered daily curbside pickup. Godward served an abbreviated menu of savory empanadas with two dessert options. It's not the communal dining experience OH regulars are used to, but it's an efficient operation in the age of COVID- 19. Just place your order online and drive to the designated roundabout, where you wait as an "OH Ambassador" brings your boxed and bagged meal. The smell of the empanadas hits you as soon as you open the box, and each stuffed pocket looks like an artfully wrapped, edible present.
If you bother to put on pants and get into your car—and you have a family at home to feed—spring for the dozen empanadas for $35 (individual empanadas cost $3.50; he sells six for $19 and three for $10). Choose any combination from the following: pulled pork chorizo; steak; chicken; bacon, date, and goat cheese; pepperoni pizza; and cheese pizza—and don't forget a few Nutella banana 'nadas for dessert. The steak and chicken varieties are simplest, with seasoned meat and vegetables folded into a golden, flaky, handheld pocket with a braided edge using a method called repulgue.
The bacon, date, and goat cheese empanada is made with the same Argentinean pastry dough, milhojas, but it's triangular rather than semicircular. The pepperoni empanada is just as fun for kids as a traditional pizza slice.
The limited menu also has truffle, parmesan, and garlic fries ($4.50), sea salt fries ($3), and bottled craft sodas ($3) in flavors that include Jarritos Mango and Moxie Cola. When Godward reopens with his full menu, look for new empanadas like lobster corn n' chive, Shepherd's pie, and guava n' cheese.
---
Don't leave without trying: The bacon, date, and goat cheese empanada ($3.50). Each bite is equal parts fruity and salty. You can reheat this one for breakfast if you don't devour the entire dozen in one sitting.