How Heist Brewery Became a Leader in Charlotte Beer
How Heist went from an afterthought in the city's craft beer scene to producing the best beer in town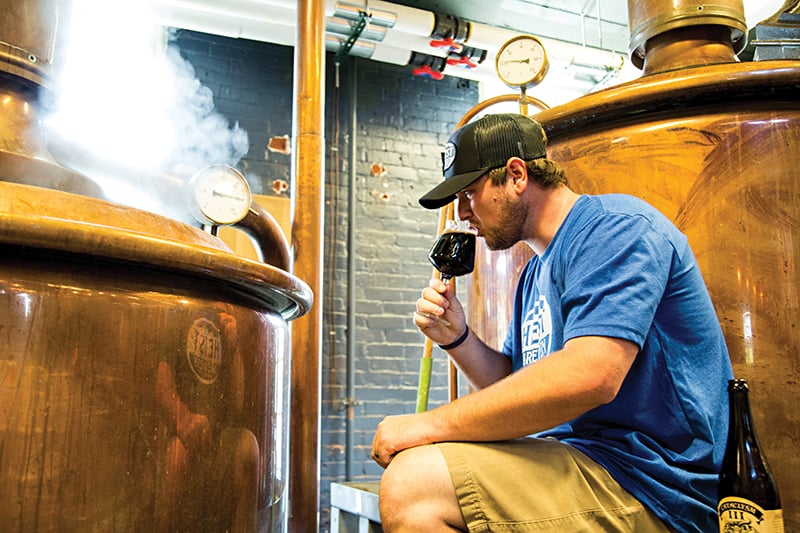 JUST BEFORE 7 A.M. on a Saturday in late February, Spencer Farrell jumps on top of a chair in front of 100 or so people outside Heist Brewery. Some of them have been here since the place closed at 2 a.m. A firepit still burns on the patio.
Everyone is here for the release of Heist's Cataclysm III, a Russian imperial stout brewed with Ugandan and Madagascan vanilla beans and aged in Whistle Pig Rye and Jefferson Rye bourbon barrels. It's one of the most highly anticipated beers in some time for Charlotte's exploding craft scene.
Farrell, the general manager at Heist, rings a bell to get everyone's attention, surveys the crowd, and says, "OK, first off, this is ridiculous."
Camping overnight for a beer release is nothing new in the craft beer world. But here, such a scene is validation for a brewery that just a few years ago barely registered a blip in the Charlotte craft beer community.
***
WHEN KURT HOGAN opened Heist Brewery in the growing NoDa neighborhood in 2012, the goal was to use the brew house as a research and development facility. There, the brewers Hogan hired could experiment with different styles in small batches. Those that didn't work would be cast aside and those that did would go into Heist's rotation. The idea was to compile the brewery's best beers, so that when it opened a production facility one day, it could hit the market strong.
Early reviews of Heist were positive—but more for a strong cocktail program and unique dishes such as pork belly corn dogs and duck flatbread.
The brewpub's beer was a different story. The styles lacked character and were mediocre at best, especially considering what other breweries in town were producing. One Yelp reviewer called it "downright awful … not just passable bad, like undrinkable bad." Hopes of starting a production facility and going to market quickly faded.
"I was getting some feedback from friends, I was seeing it online, bartenders and servers were telling me things. So it wasn't a surprise, but it was tough as a business owner," Hogan says now. "I had to try and breathe some life in here and get that spark going. And that's when I hired Eric."
***
ERIC MITCHELL WAS a recent Auburn University graduate in 2013, when his wife got a job in Charlotte. He had a degree in hospitality management, but his first love was brewing. He'd been a home brewer for years. So when they moved here, Mitchell started knocking on the doors of breweries, looking for a job.
"I didn't care what I was doing. I told people, 'I'll scrub the floors; I'll be your janitor,'" he says.
Hogan was intrigued by Mitchell—but more for his degree than his desire.
"He came in with a hospitality management degree but wanted to work in the brew house," Hogan says. "I had no idea of his (brewing) capabilities, but saw his résumé and told him, 'You can lend a hand back there all you want, but would you be open to helping us out on the floor managing?'"
Hogan then laughs and adds, "He agreed to that, but within a week it was evident that he was not a floor manager."
"I took the job wanting to prove I could make good beer," Mitchell says. "I don't think it's a secret that before I got here, there was a lot of room for improvement."
After impressing Hogan with home brews he brought in, Mitchell asked for a shot to brew for a month—even offering to pay for the ingredients. It wasn't long before Mitchell became the pilot brewer (meaning he was brewing most of Heist's small batches), and he was promoted to head brewer in early 2014, just six months after arriving. The quick rise shocked even him.
"Oh, I was terrified," he says, laughing. "I immediately called the one person in the industry who I knew best and said, 'Help.'"
That would be Josh Johnson. Mitchell and Johnson home brewed together at Auburn. Johnson left his job at Monday Night Brewing in Atlanta to come here to help teach his old friend everything he could about the production process. Johnson spent 10 months working at Heist before going back to Monday Night Brewing.
"Honestly, without him, I don't know if I'd still be brewing here," Mitchell says.
After Johnson left, Heist hired Alexa Long as an assistant brewer. Scott Worthington soon came on, as well. It was then, Hogan says, that he saw things come together.
"With Eric as head brewer, Alexa brewing small batches, and Scott coming on to learn, it was the dynamic I always wanted," he says. "Egos aside, just cranking out awesome beers, having fun—this is what I had been searching for."
Long left to become the head brewer at Legion Brewing in Plaza Midwood in 2015, and Worthington moved up to lead assistant brewer at Heist. He and Mitchell have brewed a number of impressive beers in the past two years, including Cataclysm and Brockwell, an English mild ale that won a bronze medal in the 2016 World Beer Cup. But one beer has caught the attention of craft beer fans across the country—the hard-to-spell yet delicious Citraquench'l.
***
CITRAQUENCH'L IS a New England-­style IPA, a style that has become quite popular because of its juicy hop flavor. These beers have a hazy, cloudy look to them and were first made popular by Northern breweries such as Hill Farmstead, Treehouse, and Trillium. Mitchell had long been a fan of the style and decided to try brewing it "really because I got tired of trading for them," he says, laughing.
He actually first brewed the style about two-and-a-half years ago, calling it Whirlpool Willie. The feedback from Heist patrons was less than desirable.
"People were like, 'What is this mess? This doesn't look right; it's an unfinished beer,'" he says. "So I was like, 'OK, Charlotte—not ready for this style. Check.'"
Using an almost identical recipe, he decided to give it another go in March of 2016. This time, the city was ready for Heist's hazy treat.
"Everyone was drinking it and was blown away," Hogan says. "Almost instantly, word of mouth spread, and it was about that time I told Eric we needed to get this product out the door."
Soon, Heist started canning Citraquench'l, and people lined up on the release day. And while Mitchell has brewed other great Northeast-style IPAs such as Blurred is the Word, Not From Concentrate, and Thirst, the crown jewel is Citraquench'l. On BeerAdvocate.com, it currently ranks as the top-rated beer in North Carolina, and in the top 10 among all American IPAs. (Currently, plans are to release the next batch of Citraquench'l in the late summer or early fall.)
And that production facility Hogan envisioned five years ago? Heist Brewing and Barrel Arts—which is on a 2.3-acre site in North End and includes a 22,000-square-foot production facility (complete with Heist's own canning line), 3,200-square-foot taproom, butcher shop, and beer garden with wraparound patio—is scheduled to open in October, with brewing starting in mid-July.
"It's humbling and terrifying at the same time," Mitchell says. "It puts a ton of pressure on you when you see a line for Citraquench'l or even with Cataclysm. My immediate reaction is, 'God, I hope they think it's worthy of waiting in a line for nine hours.'"
Matt McKenzie is a freelance writer based in Charlotte. He covers the beer scene for this magazine and has weekly posts, updates, and events listings on this website. Reach him at mattmckenzie8@gmail.com or find him on Twitter: @Matt_McKenzie1.