How I Learned to Stop Worrying & Love the Black Jeep: A Charlotte Tale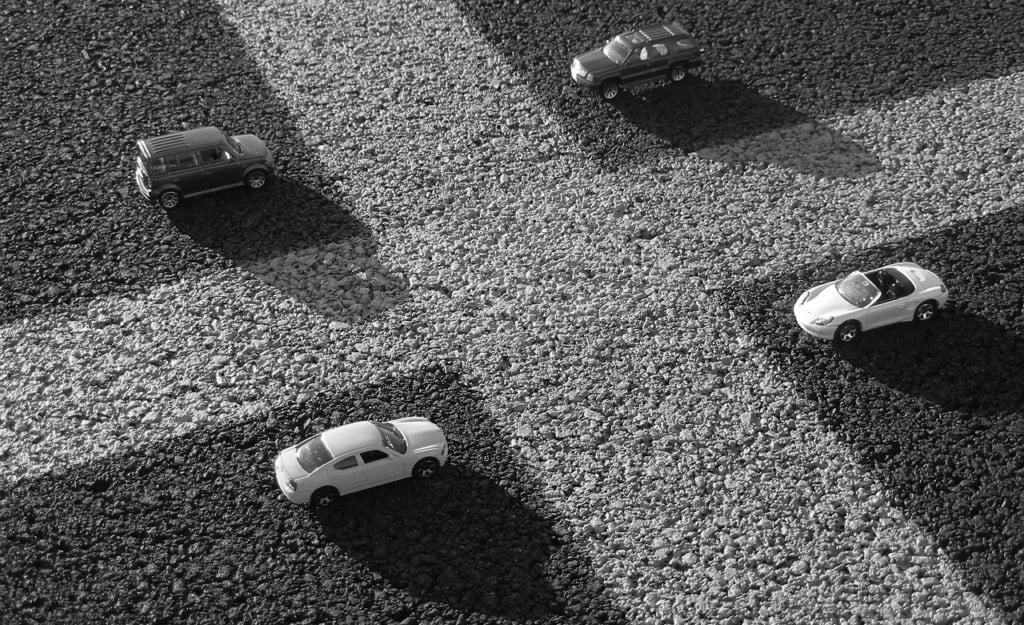 FOR MANY MONTHS, I fought a silent battle. I work from home and often take a break around 10:30 a.m. and travel to my local coffee shop for my daily dose of caffeine. Last year, I began to notice that a large Black Jeep would frequently be parked there … irregularly. I say "irregularly," because it's not that it was over the line or double-parked; it was just simply not in a spot, as though they had pulled up as close as possible to the front doors and then shifted into "P."
Now, here, the parking lot on weekdays is almost always half-empty, even barren at times. There were days I observed that even when the closest-available legitimate spot was open, the Black Jeep did not yield to basic etiquette. It boiled my blood. Did this person believe that they, through their own brilliance, discovered a previously unclaimed and unmarked parking space?
These encounters began to really rattle me. I began to take its presence as a cosmic premonition. If I ran into the Black Jeep parked in the not-spot, it was going to be a bad day. On the very rare occasion, maybe once or twice, I actually saw the Black Jeep in an actual parking spot, those were the days I could expect blessings to rain down from on high.
Soon the Black Jeep wasn't just an omen; it was a symbol. When my health insurance passed me around, taking me on and off hold for 72 minutes and then unceremoniously disconnected the call, that was the Black Jeep. When I am running 20 minutes behind and CDOT has closed three major throughways and allowed construction to cut down the remaining route to one lane without an accommodation for bikes: That's the Black Jeep.
I'm a Charlotte native who is experiencing some serious claustrophobia as of late. The metro area grew from 1.6 million to 2.2 million in only four years, with vacancy rates at a historic low. So when someone is ignoring empty pre-existing infrastructure and space, it grinds on me. I've seen my local touchstones torn down for condos and private institutions, and I find myself asking time and time again, "If there is already an empty spot, why not just try parking there first?"
My fury at the Black Jeep isn't so much about the fact that someone has the audacity to desecrate the authority of two, painted white lines. It's about someone coming in and building a new space when there are existing ones just sitting there, ready and waiting to be activated.
***
IT WAS JUST a few weeks ago I found myself renting a car for the first time to drive to Ohio for a convening of creative fellows. On the day of the rental pick-up, I handed my license over to the desk clerk and she excitedly mentioned that it was my birthday only a few days away. In the hectic week preparing to leave town, I told her I honestly had almost forgotten.
"Well, how about this," she said with a wink, "since it's your birthday, I am going to upgrade you from a regular full-size to what we call a 'recreational class' at no charge. Just take this paperwork, and hand it to the gentleman through the sliding double doors."
I did as she said, handing my voucher to the attendant. We were immediately in motion, powerwalking past the line of white mid-size sedans and taupe economy vehicles. "Let's put you in something fun for your big trip," he mused, quickly pivoting around a dark, luxurious silhouette. With a quick scan, beep, and carbon-copy rip, he was gone. Would you even believe the irony which now sat shining before me? It was a black Jeep. And for the next week, it was my Black Jeep. I'm a big believer in karma. And puns. So clearly, this was car-ma at it's finest.
As I climbed into the soft leather of driver's side I laughed at the visual inside my head of myself, a full grown adult, sitting atop a massive upside-down baby, their soft peachy butt cheeks pressed against mine. I began searching for the keys: you know the black plastic thing with the long silver metal part sticking out. To me, a car is defined by the existence of such a key, but this Jeep's entire start-up process flew in the face of everything R.Kelly's remix to "Ignition" had taught me about vehicles. The Jeep knows you, no need for the pesky formalities of turning a key—oh, heavens no! You need only push a button: one of the many useful, wonderful, easy buttons, all of which concern themselves with your comfort and convenience. I soon familiarized myself with each one of them: sunroof, GPS, Bluetooth, seat warmers, seat coolers: The sheer technological luxury of it all was surreal. This wasn't a car, it was a spaceship, and if anything bad happened to it, it was on my head. I caught myself having the thought, You might want to be careful where you park it.
I proceeded to drive this marvel of human engineering the 7.5 hours to Akron, Ohio. There I heard from tactical urbanists, creatives, and city leadership about the problems they were facing, and it was as though I had entered the Upside Down. Inversely to Charlotte, Akron's population has been shrinking and without the ability to attract middle/high income residents, locals find it difficult to incubate new growth. They actually had to shut down their Innerbelt Highway because of the lack of use (though I am pleased to share it will now be reimagined as a greenscape, thanks to a grant from the Knight Foundation). It was a trip of shifting perspectives, of gratitude for the challenges we are given to overcome. And it was a black Jeep that got me there and back again.
***
MANY OF YOU may be wondering why I haven't spoken directly the owner of the Black Jeep parked irregularly at the coffee shop.
After all, Charlotte may be a war zone of construction, but a coffee shop is still a small battlefront. There have been days when it is just the two of us, each ordering our respective "usual" from the ever-patient barista.
So yes, I have met the enemy, and he is us: I know who he is, and he is just a person. He owns a small business, he is probably trying his best, and he obviously enjoys the pleasures a great cup of coffee like I do. This can't be about getting one guy to respect my belief in the unspoken social contracts of parking lots. For me, the Black Jeep now serves as a simple reminder we should all be aware of the space we are creating and how it affects other people. Because Charlotte, the truth is there is a Black Jeep that dwells within all of us.
We all make excuses for our behavior, and we all lose ourselves in selfish actions sometimes because we perceive them as harmless. I understand feeling like you have finally discovered a place for yourself in this city and not wanting to examine it closer. But is there really not enough space for us all, or is that just something we tell ourselves? I don't have the answer, but the Black Jeep reminds me of this important question. It's easy to forget that everyone you meet is fighting a battle. But at least in this case, it's also just as easy to park in a marked space next time.
Rebecca Henderson is a writer, designer, and performer humbly resigning herself to circling the parking lot a few more times before giving up.