How Kounter in Rock Hill Honors the Friendship Nine
Chef Rob Masone brings something new to Rock Hill's culinary scene—without losing sight of the past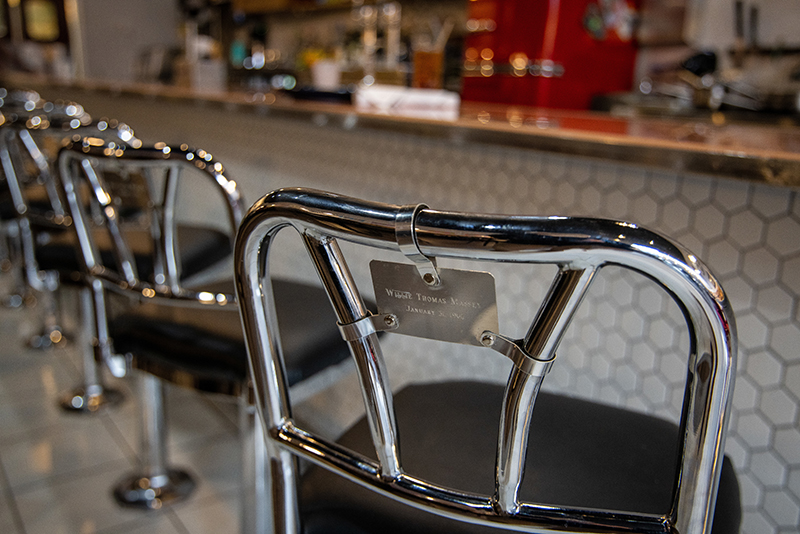 The interior of 135 E. Main St. in Rock Hill is nearly gutted, but relics of its long history as a diner remain: A painting on the wall advertises phosphates and sloppy joes. Tucked behind the long bar is a cardboard box labeled "Historic lunch counter." Then, underlined twice, "NOT TRASH."
On Jan. 31, 1961, several young Black men—many of them students at Friendship Junior College—sat down at McCrory's Lunch Counter, the counter I'm standing next to, and placed their orders. Ten were charged with trespassing and breach of peace; one opted to pay a fine. The remainder, the Friendship Nine, chose to serve 30 days at the York County Prison Farm. Their choice was part of an emerging "jail, no bail" strategy that allowed civil rights groups to invest limited resources elsewhere. For many today, a month of hard labor—plus solitary confinement and food rationing—at a South Carolina prison challenges the imagination.
"We want to enhance this building and keep the history and really expand people's minds on what happened here," says Rob Masone, a Rock Hill native and owner of catering company Kre8. He's at the helm of a project to reinvent the historic restaurant and bring an "elevated yet approachable" dining experience to Rock Hill's culinary scene, which he describes in one word: "Ready." Masone's menu riffs on diner standards: The "lamb-orghini" lunch sandwich features orange-scented ricotta and forest mushroom cream, while dinner entrees include shrimp and grits, bacon-wrapped meatloaf, and spaghetti-o's with lamb meatballs. Developers J.D. Yearwood and Justin Mueller leased the restaurant and a 6,000-square-foot event space, and Masone will operate both. The event space will be called The Gathering Space and the restaurant, which Masone opened in December, is called Kounter.
When I talk to Masone and Yearwood, both white, it's clear they're committed to honoring the Friendship Nine. They will restore the counter's original barstools and pink laminate surface. Masone intends to educate his staff so they can then educate customers. Historic placards will hang in the building's foyer, open to the public, and if all goes according to plan, a mural will adorn the exterior of the event space.
Masone, 40, has had to learn a lot about the Friendship Nine. Growing up in Rock Hill, he says, he never learned more than the contours of their story. Reverend C.T. Kirk, who organized the town's recent Black Lives Matter protest, had a similar experience. "I had been raised in Rock Hill for almost 30 years before I even knew who the Friendship Nine was," he says. Kirk believes Masone's goals to preserve and educate are important first steps in recognizing these local heroes. David Williamson, one of the Friendship Nine, visited Masone and gave his blessing, rubbing his fingers across the pink counter.
It can be hard to imagine a world in which students are sentenced to hard labor for ordering a hamburger. But for many, their struggle is painfully present, as activists demand recognition of Black people as people and bail policy once again makes headlines. The bare space creaks with history and possibility. What does it mean to truly honor the Friendship Nine? How could Masone, Yearwood, and Mueller make the historic building not just a memorial but a venue for the ongoing civil rights struggle? These questions used to be beyond a chef's ken, but Masone occupies a space where the lunch order is less important than what happens next.