How self-distribution could decide the future of Charlotte craft beer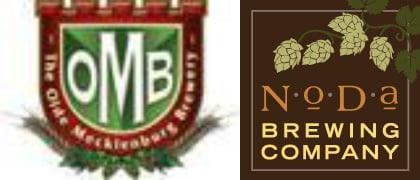 It's a good time to be a craft beer lover in Charlotte and, well, North Carolina in general. Breweries are popping up at a record pace, and the product is better than ever and – more importantly – more available than ever.
That growth, though, is in serious danger, along with a number of brewery-related jobs – as soon as next year here in Charlotte.
The issue at hand involves distribution of local craft beer. As it stands, the law allows for North Carolina breweries to self-distribute up to 25,000 barrels a year. After that point, a brewery must sign with a distributor, which would then take over all aspects pertaining to distributing the product, including marketing and sales.
Currently, there's a bill in the N.C. House that would change that level from 25,000 to 100,000, providing more freedom in local breweries' growth and distribution. House Bill 278 passed its initial reading and was referred to the Committee on Alcoholic Beverage Control, where it currently sits. By law, a bill has to make it out of committee and "cross over" (in this case make it from the House to Senate) by April 30 in order to remain eligible for consideration.
However, I'm told by two people in Raleigh who didn't want to be named, with confirmation from several local people in the craft beer industry, that H278 is as good as dead. What's more, it looks like this bill never had a chance to start with.
Representative Donny Lambeth (R – Forsyth), the primary sponsor of the bill, said he has not heard anything from the committee about the bill (which meets the first and third Wednesday of every month), adding, "I suspect leadership does not plan to move it."
As it stands right now, no Charlotte brewery has reached the current barrel limit on a yearly basis. But it's no secret local breweries are pumping out beer about as fast as you can order one. In the last year alone, the Queen City has seen facility and brewing capacity expansion from Birdsong, Olde Mecklenburg, NoDa and Triple C – with the first three moving to new buildings (NoDa's will open in late August) and Triple C growing onsite.
Given the enormous demand, there's a good chance both Olde Mecklenburg and NoDa will hit the 25,000-mark by 2017 – if not sooner. And that's where some tough decisions will have to be made.
"The future for us, when we really put pen to paper, is pretty scary," says Suzie Ford, who co-owns NoDa Brewing Company with her husband, Todd. "We'll do 15,000 barrels easily this year and with our new facility opening, I think we'll hit 24,999 next year."
That exact number is significant because Suzie and Todd's point is clear: As long as the current law stands, once NoDa hits 24,999 barrels of beer in a year, they won't brew any more than that.
"When you sign with a distributor, it's 'till death do you part' and my understanding and interpretation is that we'd have to turn everything over," Suzie says. "We couldn't just keep Charlotte if we wanted to and give away areas outside of Charlotte. It would be everything, and we do not want to, and won't do, that."
If NoDa went with a third-party distributor, Suzie says it would likely result in the elimination of nearly 10 jobs – from delivery drivers to sales people to other roles that are key in getting the brewery's beer to accounts.
"The fact is, it would be impossible to find new positions for those people," she adds. "And we're realistic with them in what's facing us, and that is a huge part of our reason to stay at 24,999 barrels – because we don't want to lay these people off.
"We built ourselves with our employees. We have the community to thank for loving our beer but just as much we have great employees selling the beer, serving the beer, making the beer, delivering the beer – and we owe it to them to not turn over the business and, in turn, our livelihood. I mean, this is what we're being rewarded for from having success? Having to essentially turn your business over?"
Olde Mecklenburg's Ryan Self shares in that frustration, and for good reason – as director of sales at OMB, his job is potentially at risk.
"If the cap doesn't get changed and our hand is forced, you won't need a sales manager," he says. "My job was born here in Charlotte and grown here as well. And the same is true for most of our sales guys. Right now, customer demand has grown so great that we're growing faster than we can. But I can't hire somebody just to fire them within six months. Basically, we potentially have seven months to figure out a plan."
And that plan is where it will affect consumers the most. Suzie Ford says NoDa will essentially have to annualize the brewery's growth and then divide it by 12. So there will still be NoDa beer, but not as much as there could be – or that they'd like to have. The same goes for Olde Mecklenburg, which, in January, invested $130,000 in order to expand into the Triad area.
"There could be consumers losing access to the product," Self says. "We couldn't sell to certain markets because it's too inefficient. If the cap limit doesn't get changed, the company will reach a point where it can't grow anymore; it would be just about cutting margins. Next year, at that point we'd have to start corralling our business. Then we have to figure out what we do – do we pull out of South Carolina? Do we pull out of certain cities like Greensboro?
"In the end, we'll have no choice. That's what's at stake. It's not about politics; it's about whether you get local beer or not. And all we ask for is allowing it to be our choice to make. Because we don't think (third-party) distributors are the bad guy. We're just saying if our two businesses are to merge, let us make the choice. We just want to exist autonomously."
Concerns over the small amount of North Carolina breweries' self-distribution is actually not a new issue, as Red Oak Brewery in Greensboro has been beating this drum for quite some time.
In fact, I was able to find five other bills in the last eight years introduced with the intent on increasing small brewery distribution limits. Here's a recap:
H1630 (2007) – Passed first reading, died in Commerce/Small Business/Entrepreneurship Committee
H1017 (2009) – Passed first reading, died in ABC Committee
S424 (2011) – Passed first reading, died in Rules/Operations Committee
H1193 (2012) – Passed first reading, died in ABC Committee
781 (2013) – Passed first reading, died in Rules/Calendar/Operations Committee
Sense a theme? No bill involving this subject has made it out of a committee and crossed over. So it's not much of a surprise the same is likely the case for 278, and Suzie Ford says that's sad.
"From the second it was introduced, everyone said 'It's not going to make it,'" she says. "And that's a defeatist attitude. We want to prove everyone wrong who says, 'You can't do it past 25,000 barrels.' Because we believe we can.
"We have a really good infrastructure built, talented employees and a great product. And OMB is right there with us. We've both aligned ourselves in the same fashion to go past 25,000 and then move way past that."
While this bill is likely to die, voices are beginning to be heard on the subject. And because of that is where NCbeerjobs.com comes in. That Web site, which popped up last week, labels H278 as a "misguided attack on North Carolina jobs and workers." There is no author and the site's hosting creator is listed as private through GoDaddy.com (denials have also been made through Daniel Hartis' excellent piece for CharlotteBeer.com), but it does refer to the MillerCoors plant in Eden, so it's not too hard to figure out what representation is behind the site. Both Ford and Self were incensed by the site when they first saw it, for many reasons – most of which are summed up in another excellent piece, this one by Jonathan Wells at Creative Loafing.
"For me, it kicked in my mom instincts that someone was trying to hurt my family," Ford says. "It's trying to prey upon people and their fears. It's so anti-small business, and makes no sense. Trying to say we're going to hurt jobs at MillerCoors in Eden, North Carolina? How absurd is that? They're not being honest.
"It shows that someone is scared, and they shouldn't be. If we continue to self-distribute past 25,000, their business isn't going to change. That's what I don't know how to get people to understand. It's not like we're with (a distributor) currently and we're going to pull back our business from them – they don't have our business now. So how is that going to affect them?"
Adds Self, "It's very telling that there's no contact information. If you're thinking the things you're saying are right, why would you not put 'To learn more, click here,' or something like that? The fact that they didn't, to me, means this is a shadow website."
The N.C. Craft Brewers Guild has issued an informative response through ncbeerjobs.org, which presents their facts vs. fictional claims on H278 and H625 (another bill introduced involving contract brewing and other things – don't hold your breath on this one moving forward either).
When Thursday comes around and H278 is quietly put to bed, all won't be lost. Expect another bill to be introduced – and next time, more local breweries to be involved. The hope is with more education, voices will be heard ahead of time instead of everyone rallying at the last minute.
"All we have is the public at this point," Self says. "We need to make sure the public gets involved enough that they make the phone call to their elected official. If you're a fan of Olde Mecklenburg or any other local brewery and care about the open market, speak up. This isn't a Republican or Democrat thing; it goes across all party lines.
"Make that call and say, 'I don't appreciate that you're not supporting House Bill 278 and this will affect how I vote in the fall.' Don't be afraid or think it's wasting your time. Right now there are laws that will cause jobs to be lost, and it will be that way unless public opinion changes."
Ford echoes the need for the public to take action (Jonathan Wells also took the lead here, pretty much writing a script for anyone to use for emails/phone calls to elected officials).
"No one's giving us a chance," she says. "I just wish the underdog could win for once, and at least see this bill make it to the next round and have a fighting chance. It's important for your elected officials to know you support 278, your local breweries and craft beer, and you want to see the cap raised. If you do, they'll know that and will be educated and see that this needs to change."