How the Sausage is Made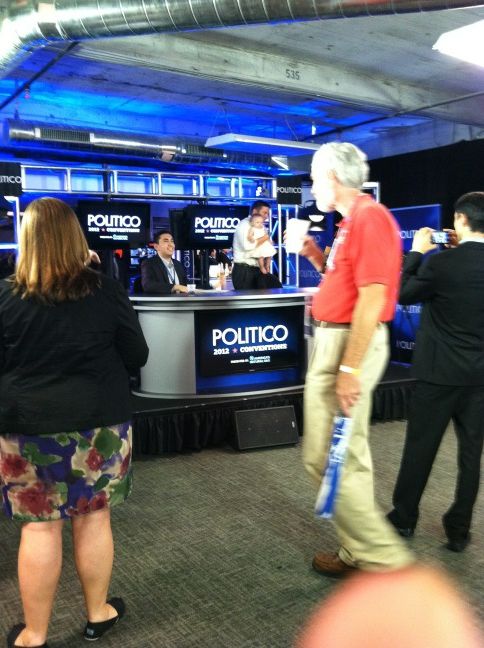 Walking into Politico's party on the fifth floor of Packard Place last night, the first thing I spotted was an enormous Coke vending machine and billboard. "Coca-Cola's Impact on the U.S. Economy and Jobs," the sign blared.
This was no ordinary beverage sponsorship, used to provide a roomful of journalists with rum and Coke. Other sponsors, their names inscribed on tables and signs, included America's Natural Gas and BAE Systems, one of the world's largest military contractors.
Welcome to the murky world of press and politics at the DNC.
Schmoozing between lobbyists and journalists is such an integral part of the festivities this week you have to blink hard (and put down your cocktail) to notice it. Lobbyists were invited to the media welcome party Saturday night at NC Music Factory. They showed up again last night at Politico's soiree, including a high school classmate of mine who road-tripped down from Washington, D.C. with other buddies from his K Street firm, FaegreBD Consulting.
"Let me know if you need a quote," he said, handing me his card.
He joined the rest of us journos as we scarfed down chicken satay skewers and pulled-pork sliders. Much of the crowd was young, 20-somethings barely out of the frat party stage, clustered around high-topped tables sipping vodkas-and-cranberry from plastic cups. People lined up to pose on the stage Politico uses to film its live television broadcasts. The soundtrack matched the crowd, with Matt Nathanson crooning "Come on Get Higher" in the background.
Even the drinking had a taste of the Beltway. One journalist friend ordered the BAE Systems "countermeasure," comprised of Johnnie Walker Black Label, "sweet dry vermouth," a dash of orange bitters, and a twist of lemon. "It was delicious," he admitted.
By 9 p.m., the party was winding down. The tipsy hordes grabbed bottles of cranberry and orange juice and crowded the elevator. "This young lady has her breasts on my chest," someone yelped.
And to all a good night.