How to Cook Up a Chocolate Garden
Five plants to bring the smell, taste, and rich color of chocolate to the garden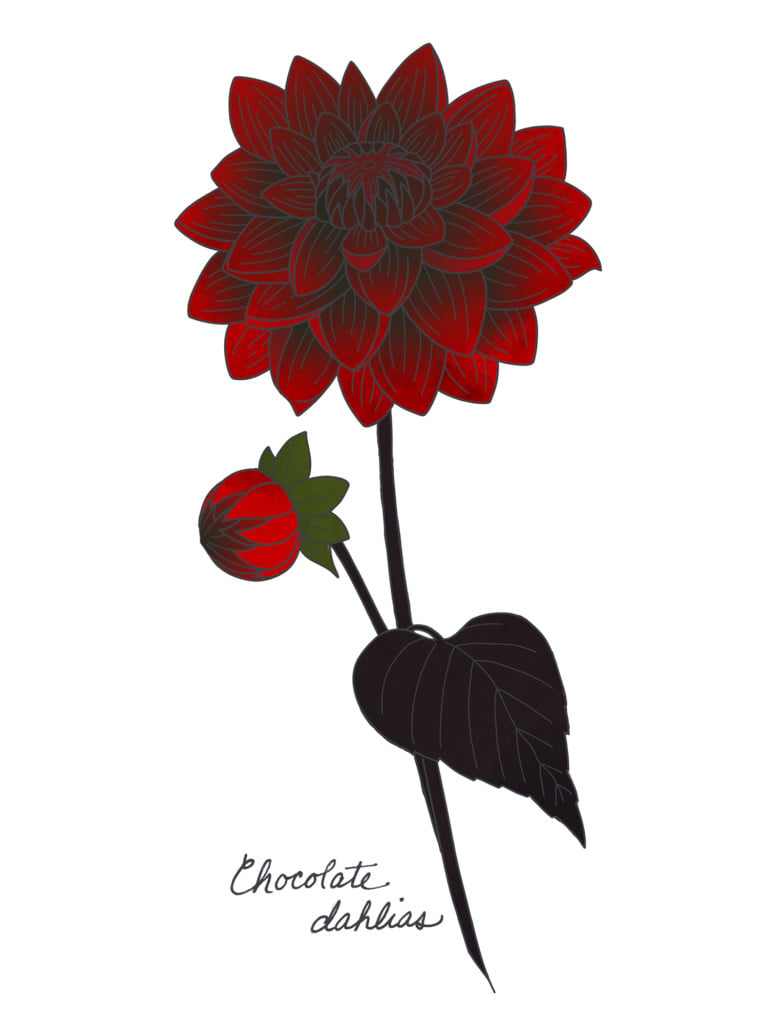 YOU MIGHT NOT be able to grow fudge or harvest bonbons, but it is possible to choose plants that smell like cocoa, have a delicate chocolate flavor, or add the rich, dark color of your favorite candy bars to your garden. If you crave a garden Willy Wonka would admire, try these five plants. Beware the chocolate vine (Akebia quinata), though. Despite its lovely chocolate scent, Jane Henderson of Commonwealth Farms in Concord cautions, "It's known to be an invasive exotic plant."
To add another dimension to these sweet gardens, consider putting down a layer of cocoa mulch. Made from the discarded hulls of cocoa plants, it has the unmistakable scent of chocolate. Your garden will look and smell delicious.
Illustrations by Melissa Washburn.
---
Chocolate dahlias
(dahlia Karma Choc)
These small "dinner plate" dahlias' dark red, nearly-brown blooms measure up to six inches in diameter. Although Henderson warns, "They aren't as prolific as some other dahlia varieties," meaning they don't produce as many flowers, the rich color and edible petals make them a farm favorite. Chocolate dahlias will thrive in gardens or containers, as long as they are planted in full sun.
---
Chocolate cosmos
(Cosmos atrosanguineus)
Stop and smell the dark brown, almost black, flowers on this tender perennial. The blooms have a faint chocolate fragrance. Chocolate cosmos flower from summer to fall, and make excellent cut flowers. Grow in full sun.
---
Chocolate daisy
(Berlandiera lyrata)
With its bright yellow petals, the perennial daisy might seem an odd choice for a chocolate garden, but its rich cocoa fragrance (unique to the aster family) is a chocolate lover's dream. Chocolate daisies bloom from summer to fall, and are a favorite of butterflies and bees.
---
Velour frosted chocolate violas
The new "velour frosted chocolate" varieties of viola are distinct from their colorful counterparts. Their petals, in shades of chocolate and caramel, have a rich fragrance. The flowers, which grow best in full sun, don't taste like chocolate, but they are edible and make an excellent dessert garnish.
---
Chocolate mint
(Mentha x piperita f. citrata 'Chocolate')
Henderson compares the flavor of this perennial herb to an Andes Mint. Grow chocolate mint in full sun or part shade, and use the leaves fresh or dried. Unlike other mint varieties that tend to be invasive, "Chocolate mint is a little better behaved," Henderson says, and won't take over the garden.