How to Entertain: Inside a Dazzling Cocktail Soirée in NoDa
Capote's grandest affair inspires this intimate party. The experts share what it takes to plan one of your own.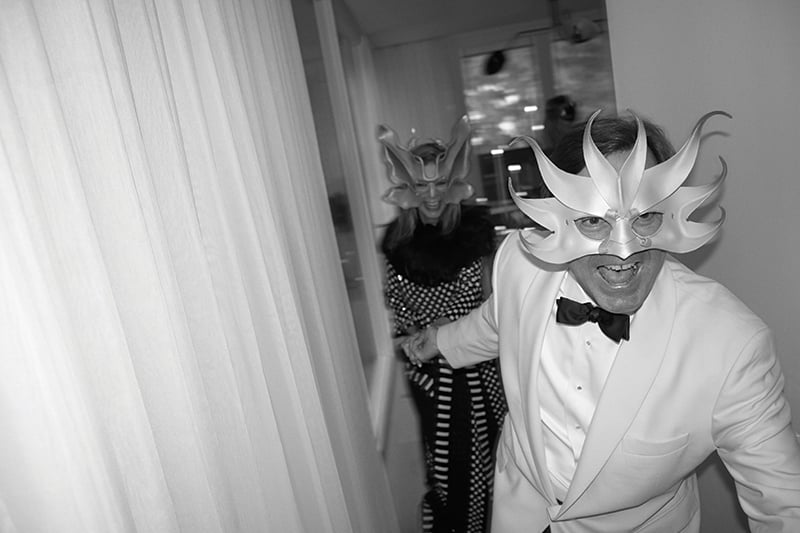 In November 1966, novelist Truman Capote threw what newspapers would later describe as the "Party of the Century." It was a small masquerade ball, with just 540 people in the grand ballroom of New York's Plaza Hotel. Lauren Bacall and Frank Sinatra were among those invited, and they waltzed into the party with faces partially obscured by elegant masks.
Capote's black-and-white ball has inspired plenty of grandiose celebrations in the five decades since. But as much as we'd like to host such an extravagant affair—Charlotteans would love nothing more than to boast about attending the Party of the Century—the truth is, this city is just not that kind of place.
That's why, as inspiration for our entertaining issue, we scaled Capote's ball to a more Charlotte-appropriate cocktail party. Myers Park-based stylist Scott Newkirk, who has worked with COACH, Calvin Klein, and T: The New York Times Style Magazine, created an intimate gathering that speaks to this city's desire to dazzle its guests, without requiring a hotel ballroom or 500 A-List guests.
"I've always been enchanted with that ball," Newkirk says. He chose it as a starting point for this themed party, because he senses the elegance from that era in today's Charlotte. "It's very alive here," he says. "There's just this spirit of joy that is here. People can live in a city that's not Manhattan and still come alive."
Newkirk turned to trusted partners to create simple hors d'oeuvres, cocktails, and décor that are easy to replicate in your own home. "If you invite your friends, you're halfway there," Newkirk says. "People are always looking for a reason to get together."
NEXT: HORS D'OEUVRES
Hors d'Oeuvres
Extra-Long Grissini​
Tin Caviar Blinis
Grilled Stone Fruit Crostini with Whipped
Goat Cheese and Thyme Syrup
Oysters on the Half Shell with Mignonette
Cheese, Charcuterie, and the Works
Steak Tartare with Rye Crisps
Cheese Wafers
Smoked Deviled Trout with Pickled Cucumbers and Dill
Warm Petit Ham and Poppy Seed Rolls
Mini Grilled Cheese Sandwiches
Avocado Toast with Pickled Onions
Pickled Quail Eggs
Find recipes here.
---
Catering: Sarah Wrenn
Copain Gatherings/Noble Food and Pursuits
"We had—as I've been taught it's called—a cocktail supper," Wrenn says, "meaning that everything can be eaten relatively neatly with your hands, so you can get on with what you're really there to do: Have a good time, without having to fuss over making a plate and finding a seat." Wrenn, who is the creative sales director for restaurateur Jim Noble's Copain Gatherings and Noble Food and Pursuits, created a high-low mix of hors d'oeuvres for this party, with all ingredients easily found in local stores. "I love a grilled cheese as much as I love a raw oyster," she says. "It is not about how fancy the food is, but about knowing what tastes good."
NEXT: COCKTAILS
Cocktails
House Negroni​
3 dashes Regan's orange bitters
1 oz. Campari​
1 oz. Cardinal gin
1 oz. Carpano Antica vermouth
Stir together in a mixing glass with plenty of fresh ice and strain over a single large cube in a rocks glass. Express the oils from an orange peel and drop it in the glass.
---
Barrel Rested Martini
1 oz. Bordiga Vermouth Rosso​
2 oz. Cardinal barrel rested gin
Stir in a mixing glass with fresh ice, and strain into
a chilled Nick and Nora or Coupe glass. Express a
lemon peel and garnish with a lemon twist.
---
Cocktails: James Yoder
Not Just Coffee
Yoder is best known for the kind of morning buzz you'll catch at one of the five locations of the popular coffee shop he co-owns with his wife, Miracle. But he's long dabbled in cocktails, and the Dilworth location has a bar program that is led by Ben Garrett and focuses on gin and Italian amari-forward drinks. For our party, he created three cocktails, each made with Cardinal gin, a spirit distilled in Kings Mountain and available at North Carolina ABC stores. Each drink has a slightly different take on the gin's botanicals, but all are elegant and easy for the home bartender to make while tending to guests. Yoder recommends Cocktail Kingdom, an online shop, to stock your bar with the right tools. He sources his vermouths, bitters, and wines from Assorted Table Wine Shoppe in uptown's 7th Street Public Market.
NEXT: DÉCOR
Décor
Styling: Scott Newkirk
Perry Poole Architects/Tabor
Newkirk has thrown parties in this space before, so he knew all it needed was a crew of stylish friends. "I didn't have to depend on any decorations," he says. Instead, he relied on his guests, who arrived in their best formal wear. But Newkirk says you shouldn't feel obligated to request black tie: "This could just as easily have been after work or a more casual Saturday evening."
The touch of mystery comes primarily from the collection of masks he bought on Etsy. They mark a welcome departure from the cheese-and-chardonnay-in-the-kitchen parties that many of us fall back on when we entertain in our own homes. "Giving a party a theme creates some extra curiosity for people to be there," he says. "People in Charlotte are gung-ho for doing that sort of thing. You just have to go for it. Don't be afraid of a theme."
---
Floral: John Lupton​
John Lupton Events
Lupton chose the lush, tropical monstera leaves to complement the home's clean and modern design aesthetic. The Charlotte-based event planner frequently travels throughout the South to produce parties and sources floral arrangements and décor from around the world. These monstera leaves originated in Peru.
NEXT: VIBE
Vibe
A SAMPLING OF THE PLAYLIST
"Hat and Beard" – Eric Dolphy​
"Solo Dancer" – Charles Mingus
"Wrap Your Troubles in Dreams" – Nico​
"Them There Eyes" – Ella Fitzgerald and Count Basie
"Divino Maravilhoso" – Gal Costa
"The Girl from Ipanema" – Astrud Gilberto and Stan Getz​
"Femme Fatale" – The Velvet Underground
"Wave" – Peter Duchin​
"Light My Fire" – Peter Duchin​
"Paint It Black" – Gabor Szabo​
"Under My Thumb" – The Rolling Stones
"Mellow Yellow" – Donovan
"Rumble" – Link Wray
"Summer Wine" – Nancy Sinatra and Lee Hazelwood
"Tomorrow Never Knows" – The Beatles
"Taxman" – Junior Parker
"Shoo-Be-Doo-Be-Doo-Da-Day" – Stevie Wonder
"Dr. Feelgood" – Aretha Franklin
---
Playlist: Jay Kenney
Cream Puff Records
Yes, it's easier to plug in an iPhone and play your favorite songs, letting one track bleed into another for the rest of the night. But Jay Kenney, who runs Cream Puff Records, loves the thrill of the hunt that vinyl offers. "I try to match the people and vibe of the event," he says. When we asked him to create a playlist for this party, he turned to jazz great Charles Mingus for atmosphere and Astrud Gilberto for character. "Peter Duchin played at the original party, so I had to have him on there, as well," Kenney says.
---
ABOUT THE HOME
Architect Perry Poole envisioned this home, which he calls NoDa House, as a modern mill house inspired by the far simpler structures that lodged mill workers in Charlotte a century ago. Poole used the completion of the 2,400-square-foot NoDa House to launch a new architecture, design, and building collective this summer, with a philosophy rooted in 20th century modernism. The result is striking—intentionally understated with a restrained material palette—and the first in a series of case studies to prove Poole's perspective and approach can work in an architecturally conservative city such as Charlotte. His team has already begun work on its latest venture, a modern home in Selwyn Park.