How to Wear Fall's Most Versatile Trend (VIDEO)
The neckerchief is back—here are eight ways to wear it plus a video showing you how to tie three of them.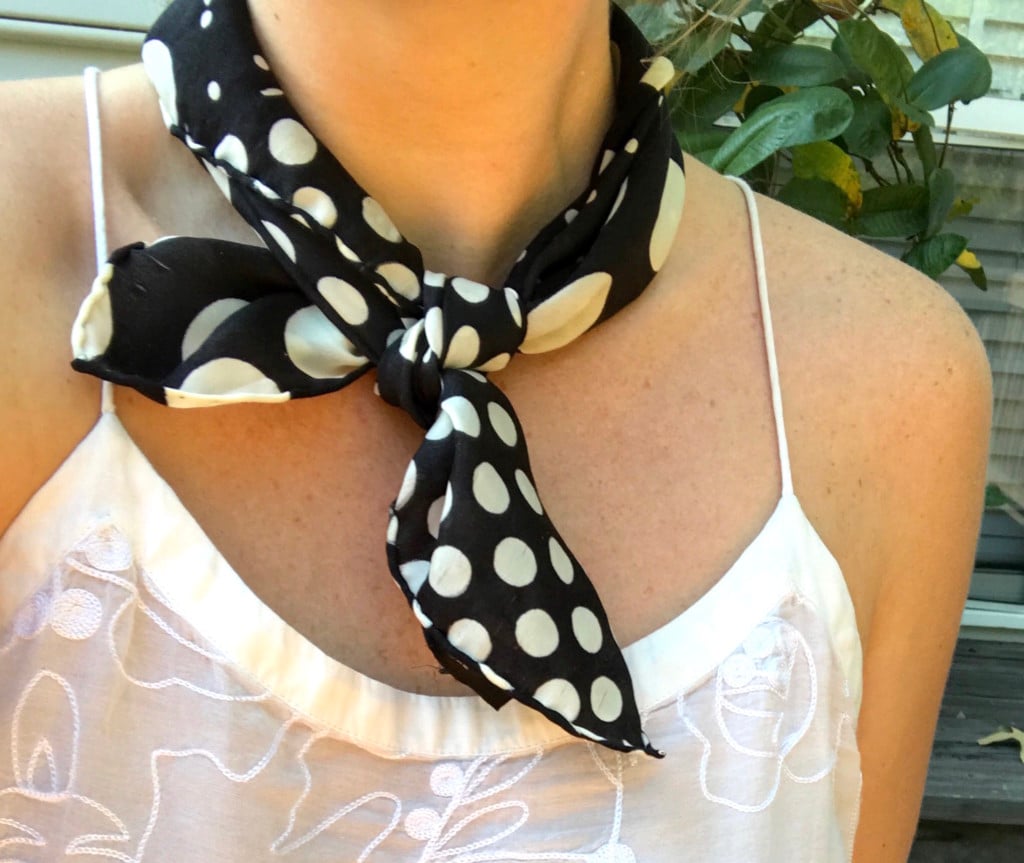 When you think of a neckerchief, it's likely your mind pictures a woman from the '50s or '60s, complete with a pair of cat-eye sunglasses. And you're not wrong. Smaller neck scarves elicit a retro feel reminiscent of the times women waved their men off to war. Well, as most trends do, this one has returned to the modern age, providing today's woman with the ability to feel classy and sassy at the same time.
The best part about neckerchiefs is their versatility—anyone can customize the look to match their style. Plus, the accessory is packed with personality, making it an easy touch with a big payoff.
To help us learn how to style the neckerchief trend, we enlisted Jordan Dollard, personal stylist and owner of clothing and accessory boutique Elsa Fine. Located in Plaza Midwood (at 1222 Central Avenue, sharing the shop space with home furnishing store TUFT), EF not only has curated duds on-deck, but the store also offers personal styling: Dollard consults with style-weary clients, agrees on a budget, and shops for the best pieces for each client's closet.
If you're worried about matching your neckerchief with your outfits, Dollard says, "Have fun with it! Your classic bandana can go with just about anything, so if you're just stepping into the trend, start there (with any color). When you're ready, look for fun options at local boutiques, and check fast-fashion spots like Zara and H&M. They always have good, inexpensive options to use."
(For the record, EF currently sells two styles: a rust-red block paisley pattern and a blue checkered one.) Dollard also says to start with basic outfits, like a white tee and denim, to ease into the trend.
To get comfortable with the new look, she says, "Play around with it at home in front of the mirror, and wear the styles around the house at first."
8 Ways To Wear a Neckerchief This Fall
First thing's first: Dollard highly, highly recommends cutting the neckerchief square in half, from opposite corner to opposite corner. By doing this, you will lessen the amount of fabric you're using, thus making it look less bulky. Plus, then you can share the other half with your "fashion girl best friend," as Dollard says.
Boy Scout Tie: Roll both sides of your neckerchief into a long rectangle, wrap around your neck, loosely tie the ends together, and have the ends hang down the middle of the collarbone. (See example in the video below.)
Twice Wrapped: Roll both sides as indicated above, wrap it twice around your neck, and tie it just off to the side under your left or right ear (your choice!). You can also do this tying method with the scarf just folded in half instead of rolled into a rectangle, so a small portion of the bottom hangs below the knot. (See tutorial in the video below.)
Cowboy Style: Fold the square shape in half, from opposite corner to opposite corner. Tie the two other corners at the nape of your neck and let the neckerchief hang down, covering your chest. (See tutorial in the video below.)
Anklet/Bracelet: Wrap the scarf around your wrist or ankle a few times and tie off for a bold take on these classic accessories.
Purse Pizazz: Tie around the strap of a purse or tote bag to add a little color to your accessories. (See example in the video below.)
Bun Fun: Wrap multiple times around a top knot for a fresh take on the simple hairstyle.
Headband: Tie like a headband with the knot at the top for a Rosie the Riveter look.
Denim Accessory: Tie on a belt loop or hang out of your back pocket to dress up your jeans.
Be sure not to tie the knot too tight, or it may look strained. Instead, use a simple box knot (how you tie your shoes), and make sure the scarf is steamed out after each wear so the fabric doesn't look wrinkly the next time around. Though the stylist doesn't have absolute don'ts for rocking the trend, she says she tries to be thoughtful of other cultures and their use of clothing throughout history.
Below, Dollard shows us how to tie her favorite styles listed above in an exclusive video created for Charlotte magazine.