How We Eat Now: 24 Charlotte Dining Experiences You Need to Try
Dining out has never been about only food. Service and atmosphere are just as important. Here are fine dining restaurants, wine bars, food stalls, and food trucks that offer more than great meals. Each comes with a story, a novelty, or an element of surprise—an experience that goes beyond food. This is how we eat in 2020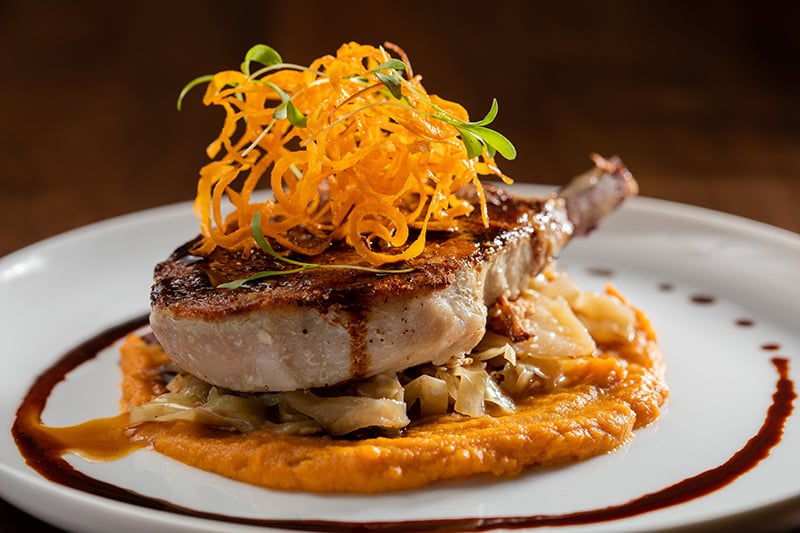 1. Award- Winning Favorites
Charlotte hasn't earned a James Beard Award yet, but three semifinalists came close last year. Here's where you can find those chefs and their inventive dishes
Kindred
Every meal at the Davidson restaurant starts the same way: with cloud-like milk bread, an appetizer with such a following, Kindred made T-shirts. The subsequent dishes are just as beautiful, and they've earned chef and co-owner Joe Kindred a James Beard nod for the past four years.
Try this: Flounder crudo is lightly cured and balanced with sweetness from pomegranate seeds and blood orange pieces.
The Yolk
Greg Collier was a James Beard semifinalist for his menu at now-closed Loft & Cellar. But Collier and his wife, Subrina, had bigger plans, starting with The Yolk's move from Rock Hill to 7th Street Public Market. This year, they'll open Leah & Louise, a Memphis-style "juke joint," at Camp North End.
Try this: Shrimp & grits—made with gooey Gouda cheese, jerk seasoning, and scallion pesto.
The Stanley
Beloved Heritage chef Paul Verica opened The Stanley in 2018 with his son, Alex, as sous chef. The Elizabeth restaurant was a semifinalist for best new restaurant last year.
Try this: Like most farm-to-table restaurants, The Stanley's menu is constantly changing, but if Heritage farms pork chop is on the menu, order it. —Emma Way
---
1205 Thomas Ave.

Bruce Moffett had a big 2019—he opened two restaurants and released his cookbook, Bruce Moffett Cooks: A New England Chef in a New South Kitchen. NC Red's ambitious menu merges the cuisine of his first home in New England and his current home in the South with dishes like Nashville hot chicken and a lobster roll. But it's the details—like smoky and sweet corn pudding on the "fixins" menu—that have defined his 20-year career as a Charlotte restaurateur. —E.W.
---
There aren't enough tables in Optimist Hall for diners to sit alone. That's not a design flaw, explains Erik Johnson, co-founder of White Point Partners, the Charlotte real estate investment firm that created the food hall. It's an intentional nudge for friends and strangers to sit together.
"We knew we wanted community seating, because I think food is one of the things that ultimately brings people together," Johnson tells me on a Monday in November as we sit in spindle-back chairs at a reclaimed wood table.
The long tables are about more than community, though—or at least about more than the foodies who sit around them today. Optimist Hall's décor tells a story of the mill workers who sewed pantyhose and weaved gingham there for decades.
Those stories are in the details of the 147,000-square-foot food hall created by White Point and Atlanta-based Pace Properties. Next to Spindle Bar, an old trash can that used to collect nylon scraps is now a planter. A decades-old sticker on it reads, "WAREHOUSE." Forest green pendant lights, which the construction crew found in the building's crawl space, hang over tables. The hardwood floors are chipped, uneven, and "imperfect," Johnson says with a smile. "And it will always be imperfect, because (the building) evolved over 125 years."
As Optimist Hall closes in on six months, with more than half its tenants open, Johnson says White Point wants the project's second phase to better document the building's history. Since it acquired the former mill and began construction in 2014, it's collected spools of nylon, old emergency exit maps that once hung on the brick walls, and aluminum sheets shaped like legs that were likely used as models for pantyhose. Johnson and co-founder Jay Levell hope to display placards about the hall's history in the wing with Archer Paper and, soon, Botiwalla, an Indian restaurant from the group behind Chai Pani in Asheville, and Mezeh, a Mediterranean restaurant with more than a dozen locations in Maryland and Virginia.
"It's meant to be history that you can look at," Johnson says. "Have a drink and go, 'Oh, that's really interesting.' It's not meant to be a lecture."
The space is still meant primarily for food. Optimist Hall had only a few tenants when it opened in August: a coffee shop, an ice cream stall, a pet store, and two Asian-inspired dining options, Bao and Broth and Zukku Sushi. Lines were long, tables were crowded, and dinners were limited to Chinese or Japanese food.
Bao and Broth chef and owner Larry Schreiber was known for his menu—in particular his bao buns—at Good Food on Montford, another Moffett Restaurant Group restaurant. But his ramen wasn't a hit at first at Optimist Hall. "Yelp hates us," he says. "I stopped looking at it, but obviously there's always some truth in what's said."
After the rocky opening, Schreiber lowered his prices and stopped making broth in batches. Now, the stall makes everything to order. When I ate there in November, the ramen broth was frothy and rich, and the bao buns had been steamed so recently, they stuck a bit to the paper bag. "We've come full circle since day one," Schreiber adds.
Optimist Hall has more variety now with the recent additions of Papi Queso, Ava, Suarez Bakery, El Thrifty, and more. When full, it will have 19 stalls, a taproom, and eight larger areas for restaurants, retail, and nightlife.
There will still be lines. Sometimes a dish will be too salty. And tables will remain crowded—full of strangers and neighbors and food. —E.W.

If you like Optimist Hall, don't forget about these other hall-like experiences:
7th Street Public Market
This nonprofit food and retail incubator hosts some of the best dining options in the city while supporting small businesses. Vendors include Orrman's Cheese Shop, Hazelnuts Crêperie, Zia Pia Imports + Italian Kitchen, and It's Poppin' Gourmet Kettle Korn (belated holiday tins, anyone?).
Latta Arcade/Brevard Court
Latta Arcade's dominant feature is its glass ceiling, which drenches the space in natural light. But don't overlook the dining options here and along adjoining Brevard Court. Get a cheesesteak from Clover Joe's, build your own pizza at Zablong, or assemble your ideal salad at Crisp.
Camp North End
Camp North End isn't a hub for dining yet, but it will be. Leah & Louise will be the first restaurant to open in 2020 in the north Charlotte venue—along with three food stalls (Bow Ramen, Bleu Barn Bistro, and Wentworth & Fenn) and two popular local breweries (Free Range and Heist).
Gibson Mill Market
Nearby Concord will get its own food hall soon, too. This year, Gibson Mill Market will open and host about a dozen vendors.
---

100 North Tryon St.
Come for the drinks and stay for the food at this wine bar, restaurant, and retail shop. Cicchetti (pronounced "chee-KEH-tee") means "small dishes" in Italian, i.e., Venice's version of Spanish tapas. The restaurant's design and layout is a nod to a bacaro, a neighborhood gathering spot in Venice where locals enjoy glasses of wine and small bites in the late afternoon.
Shop the shelves and purchase a bottle at retail price, or sip it in-house for a $10 corkage fee. The small plates, which include polpette (meatballs) and lattine e patatine (tinned seafood and chips), are meant to be savored—and shared. "We want to encourage people to sit, slow down, relax, and breathe," says wine director Briana Cohen. "We're doing it the way they do in Venice, with small tastes of wine and great food, stretched over a few hours." So order another glass and linger as long as you'd like. —Taylor Bowler
---
5. Get in Line
These Charlotte foods are worth waiting in line for
Baklava Sundae, Yiasou Greek Festival (at Holy Trinity Greek Orthodox Cathedral each September)
A dozen glazed doughnuts, Reigning Doughnuts
Quarter chicken, Price's Chicken Coop
The Cookie Jar, The Batch House
Soup dumplings, The Dumpling Lady
Cheeseburger "all the way," Brooks' Sandwich House*
* Brooks' Sandwich House temporarily closed in December due to co-owner Scott Brooks being shot and killed opening the store.
---
2216 Freedom Dr.
Veteran restaurateur and North Carolina native Jim Noble (Rooster's Wood-Fired Kitchen, The King's Kitchen) makes plain that Noble Smoke, the barbecue restaurant he opened on Freedom Drive in July, is only partly a nod to the past. Like its rural forebears, Noble Smoke slow-cooks its meats over wood coals. Unlike them, it serves a variety of barbecue styles in a refurbished industrial brick building in one of America's fastest-growing big cities.
Sunlight pours through the floor-to-ceiling windows at the entrance and bathes the modern wood-and-steel tables and open kitchen. This isn't some humble roadside hut with paper plates; Noble Smoke is high-ceilinged and spacious, with nearly 11,000 square feet and a 36-tap bar with proprietary selections from the on-site Suffolk Punch Blendery. In a squat building just next to the main, a former tractor-trailer garage, is another Noble concept: Bossy Beulah's, a fried chicken sandwich shop named after Noble's great aunt and her after-church Sunday chicken tradition. Noble has said he wanted to marry the old-style North Carolina smokehouse with modern-day Charlotte, and he succeeded, not just in his building but with his food. Noble Smoke's pulled pork is worthy of the old pit masters, and the Texas-style brisket is moist and tender enough to pass the cut-it-with-a-fork test.
Sides like delightfully crusty mac and cheese and tangy collard greens beat just about anything from a traditional BBQ joint, as does the banana pudding, with hints of caramel and chocolate and Heath bar crumbles (!) sprinkled on top. —Greg Lacour
---
8470 Bellhaven Blvd.
When news broke last September that Clark Barlowe was selling Heirloom, his farm-to-fork restaurant in Mountain Island Lake, many in Charlotte's dining community were stunned that the 32-year-old chef and restaurant owner would step away from one of the city's most remarkable culinary successes. Barlowe had opened Heirloom five years before, and reservations were still hard to come by on Saturday nights. Why leave it all behind and move to Eugene, Oregon?
It's hard to blame him when you hear his reason. Barlowe's longtime love Gracelyn, whom he married in early November, recently completed her PhD and accepted a job in Eugene. "She's always been so supportive of me, and this is her dream job," he says. "So it's my turn to be the supportive one."
They'll head west in late spring or early summer, leaving Barlowe enough time to hand Heirloom to its new owners, Scott and Linda Murphy and their son, Patrick, and take a few months off. The restaurant will continue to operate as Heirloom and serve a locally sourced menu, but on December 20, Barlowe hung up his apron for the last time.
"It's weird to accomplish your goal at 32, because this was my goal at 17 when I started in this industry," he says. "This is very much an expression of me. It's myself as a restaurant. That's my great-grandmother's mixing bowl sitting on the wall, there's family artwork everywhere, and the kitchen table that we ate on as kids is table 12, where people sit every night."
Every day at 4:15 p.m., the staff sits down for a family-style meal before dinner service. They review that day's tasting menu, discuss any special occasions, and note any dietary restrictions. These servers and cooks will stay on after Barlowe's exit, and this ritual is one of the things he'll miss most.
Barlowe was just 27 when he opened Heirloom as the farm-to-fork movement was emerging in Charlotte. Paul Verica opened Heritage Food & Drink a year before Heirloom, joined soon after by Tim Groody at the original Fork! and Cassie Parsons at Harvest Moon Grille, which Barlowe credits as the original locally sourced restaurants. But Barlowe would become the most vocal advocate for local ingredients and their suppliers. He wasn't in it for the Yelp ratings or the accolades (although he appeared on the January 2015 cover of Charlotte magazine); he wanted to change the way we think about local food.
"Now everybody has something 'local' on their menu, but that doesn't make it a local restaurant," he says. "When you start looking at things with a skeptical eye, it gets a little squirrelly. (A restaurant) might have some local ingredients, but 90 percent of their food could be from Sysco. I think people hold restaurants to a higher standard once they come here."
Every ingredient that's passed through his kitchen came from a North Carolina farm, producer, or small business. His menu changes every day depending on what's available. So each night, his food tells a different story. "It's showing people these moments of time and place," he says. "I liken it to the springtime, when you see everything blooming. Then you come into the restaurant and see red hummus, or violets rolled into pasta dough. Those are the things I saw on my way here. You come in and eat it, and two weeks from now that will be gone. So we're providing that moment."
On his days off, Barlowe is usually in the woods, hunting for new ingredients. He grew up in Lenoir, where his father often took him foraging in the woods of Caldwell County. He got his formal training at Johnson & Wales and worked in internationally acclaimed restaurants from Napa to Spain. He's even appeared on the Food Network's Chopped and Beat Bobby Flay. But those formative experiences, foraging for wild berries and hickory nuts in his own backyard, were—and continue to be—the basis of his culinary prowess.
His interest in wild mushrooms motivated him to lobby for the legal foraging and serving of wild mushrooms in North Carolina restaurants, which, until 2016, violated state regulations. In 2016, he became the state's first licensed chef and forager; Barlowe says it's one of his proudest accomplishments to date.
Once he settles in Oregon, he wants to make wine and forage in his new surroundings, but he's in no big rush to jump into another restaurant. "I want to see where I fit into the local food scene," he says. "I want to do another restaurant project that has some social impact. By only sourcing from North Carolina, there's an economic impact of what we've done. If I do another restaurant, it will be more of that."
In the years since he opened Heirloom, a number of chefs have knocked off dishes from Barlowe's menu, and restaurants including BLT Steak, Pure Pizza, and 300 East now serve wild mushrooms. Evoke used Heirloom's tagline, "locally sourced, globally inspired," and another restaurant in Roxboro called itself Heirloom. But Barlowe did it all first.
Five years ago, Charlotte magazine predicted he would transform the city's food scene. That ambitious cover line ran beside an image of an earnest young chef in a gray apron and what would become his signature beige cap. He held a plate of foraged greens, an invitation to discover wild and sustainable food.
That talented young chef was daring us to reimagine the North Carolina dining experience. And he succeeded. —T.B.
---
6902 Phillips Place
When Aix en Provence and Le Cochon D'Or abruptly closed their doors last June, diners learned the news in an email newsletter that offered no explanation or any mention of where co-owner and celebrated restaurateur Patrick Garrivier would go next. Then, in October, the French native announced that he'd joined the management team at Upstream, the upscale seafood restaurant in SouthPark.
"Obviously, it was a big decision, a sad one," Garrivier says of the restaurant closings. "But you get to a point where you just can't operate anymore. We were a small, individually owned restaurant. It was very sad, but I found a new home."
Garrivier manages day-to-day operations while chef Sam Diminich leads the kitchen staff. "I look at how guests are greeted and taken to the table, if we pull out chairs for ladies, and how the wait staff explains the menu," Garrivier says. "The level of service should match everything else."
Don't expect Garrivier to transform Upstream into a French brasserie, though. Look for more of the Asian-inspired flavors Diminich has infused into the menu since he took over as executive chef in 2018. Garrivier says the pork belly salad is a new favorite, and the grouper is his pick for best entrée. "I've worked in Italian restaurants, but never this type of food, Japanese and Asian," he says. "It's produce I've never seen before. I learn something every day with Sam."
Diminich, who was trained in French cuisine, takes a farm-to-fork approach to his menu. "We get oysters that are harvested daily, so that part of the menu is written for me," he says. "We go through the produce list on Monday, and that's the week's menu—that's the genesis. Whatever is fresh, that's what I'm serving."
Sushi is a bit more calculated. "It takes decades to hone that craft," Diminich says with a smile. But it also lends itself to the hands-on dining experience he and Garriver want. "Everything is designed for demonstration," Diminich says. "We do a lot of interactive presentations here, like sauce poured tableside, or when the Korean fried chicken lettuce wraps come out, you can build your own, and it's meant to be shared."
Upstream, which celebrates its 20th anniversary in the Phillips Place complex this year, is a rare example of a restaurant that has adapted to the changing culinary landscape while maintaining its identity as a seafood restaurant that gets it right. "Our clientele (in Charlotte) is so much more knowledgeable than they used to be in the gastronomical sense," Garrivier says. "Twelve years ago, it was just steak and potatoes and pasta. Now there's more opportunity to introduce more ingredients and elevate your game." —T.B.
---
9. Food Trucks
These culinary aces have taken their food to the streets
What the Fries founders Jamie Barnes and Gregory Williams serve burgers, too, but with toppings like lobster mac and cheese, a basket of fries counts as a solid meal.
Try this: steak and shrimp hibachi fry topped with bok choy, carrots, scallions, and house-made yum yum sauce.
Jon G's Barbecue owners Garren "Jon G" Kirkman and his wife Kelly serve Texas-style barbecue and brisket at pop-ups and breweries around town. In 2019, the Barbecue Bros. rated fare from their truck as the number one barbecue in Charlotte.
Try this: Cheerwine hot links and jalapeño cheese grits.
Holy City Waffles founder Malia McPherson lets you create your own dessert on a stick; choose your waffle, glaze, toppings, and drizzle, or try one of their weekly specials, like cinnamon roll or maple bourbon bacon.
Try this: The "Cinnamon Roll," a buttermilk waffle with cinnamon sugar and vanilla glaze. —T. B.
---
4620 Piedmont Row Dr., Ste. 170B
Chef Bill Greene is a culinary artist who takes as much pride in his presentation as his flavors. Each drizzle of tomato jus is thoughtful and deliberate. Desserts come garnished with vibrant flowers, and tapioca pearls sparkle on a plate of big eye tuna tartare.
At Peppervine, the restaurant he and his wife Anita opened in Piedmont Town Center last March, Greene combines seemingly unrelated ingredients and cuisines—lamb belly with kimchi porridge, smoked butternut squash with miso, ricotta dumplings with beef cheek—so his guests can experience flavors from around the globe. The menu changes daily, so no two visits are alike.
Two mainstays, though, are the pimento cheese scones, baked to order and served with sorghum butter and pepper jelly, and the warm Japanese milk bread—a.k.a. elevated King's Hawaiian rolls. Savor a tray of these with a glass of wine, and prepare for a masterpiece. —T.B.
---
230 North College St.
"If you have lasagna here, it's like my mom made it," says Luca Annunziata, executive chef at forchetta, which opened in uptown last July. The carbonara is what you'd eat in Rome, and the fagottini, a crepe stuffed with mascarpone, Parmesan, herbs, and lobster, is a taste of Annunziata's hometown of Naples. —T.B.