I Can See the Future
Or I can just make stuff up, which is much more fun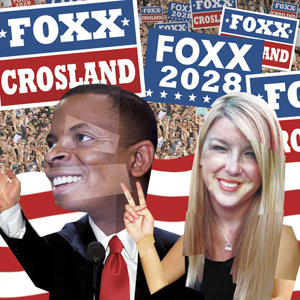 When I heard the idea for this month's cover feature, "Where Are They Now?", I thought it sounded entertaining—like a class reunion where you get to make fun of the popular kids who got fat and had eight illegitimate children. Turns out, that's not how it works. However, it did make me wonder what today's important Charlotteans might be doing in twenty years.
The hardest part was determining who is important. I knew who was important to me, but I'm guessing most people don't consider the guy at the Chick-Fil-A drive-through window to be the city's most noteworthy citizen. Food is inherently important though, so Frank Scibelli, who owns Mama Ricotta's, Cantina 1511, and Big Daddy's, made the top of my list. After all, the only thing that may have affected Charlotteans' waistlines more than Scibelli was the invention of fried pickles. Unfortunately, by 2020 science will have probably convinced the restaurateur that feeding people large portions of pasta, margaritas, and cheeseburgers is actually killing them, and a tragic backlash will occur so that by 2030, Scibelli's restaurants will be serving things like — God forbid — fruit.
For my next choice I focused on the city's epicenter. Which made me think of EpiCentre. Not because it's actually the focus of the city, but because it's the same word. That led me to Afshin Ghazi, the creator of the nightlife-complex-turned-Gastoniaoutpost. I wondered what Ghazi might be doing in twenty years. Then I shuddered, imagining massive complexes with names like "Core" or "Nucleus" where drunk girls in short skirts flock to ride mechanical bulls. Suddenly, 2030 seemed like a good year for the apocalypse — especially if Big Daddy's is serving fruit.
After picking a restaurant owner and entertainment venue developer, I thought I should try to sound a little intelligent. Mayor Anthony Foxx is my third choice. Unfortunately, my wisdom, while infinite in many, many, many areas, ends abruptly at city politics. Foxx is the mayor of the state's largest city, so that means in a few years he could be governor, right? And then maybe after that president? That's how it works, right? So, here it is: vote Foxx/Crosland 2028. (Did I not mention I'd be VP?)
After the mayor, I started running low on options. I tried thinking of someone whose name I heard a lot. Scott Clark came to mind. I didn't know who that was, but for some reason I subliminally associated him with Law & Order reruns. Turns out he owns some car dealerships and approximately 37 billion commercial advertising slots. By 2030 I'm assuming most of us will be getting around using our space suits the ant people gave us, so things aren't looking good for Clark. Based on his ability to get his name out there, though, I might be willing to give him a place on the Foxx/Crosland campaign.
As I tried to think of a fifth, I realized I hadn't chosen any women. I wanted to pick myself since I'm curious what I'll be doing. But in an effort at modesty, I decided not to. So, I picked the closest thing: Brooklyn Decker. I'd like it if in twenty years Decker had finally succumbed to
the toils of humanity that make the rest of us look like normal people, but after seeing her Sports Illustrated cover, I realized Decker isn't normal at all. By 2030 she and Andy Roddick will have probably produced a super human race of ridiculously hot tennis players who will make Maria Sharapova look like Billie Jean King.
You may have your doubts about my predictions, but I'm usually spot on with this kind of thing. I predicted that in 2010 BP would have a major oil spill that would result in an environmental disaster of epic proportions. OK. That's a lie. But, I did predict that Spencer and Heidi wouldn't last, so there's that. Look for my follow-up in the August 2030 issue — that is, if I have time to write it from the White House.