I Sat at the Bar with Carrie and Brody from 'Homeland'…Sort of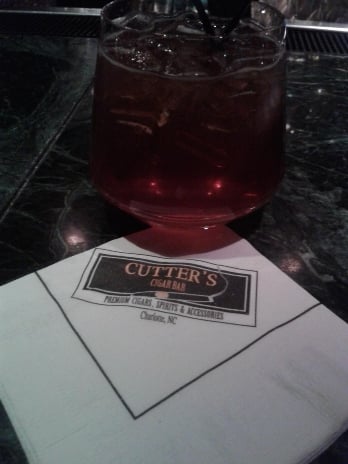 After attending a great fundraiser tonight (featuring Carolina Panthers players)—the Fourth Annual Take A Slice Out of Cancer event at Villa Francesca—I stopped by Cutter's Cigar Bar. I grabbed the last empty seat at the bar for a nightcap, and while Cutter's drink menu is several pages long—filled with dozens of scotches, whiskeys, bourbons, cognacs, and more—my attention turned to the cocktails section where I was intrigued by the Spiced Apple Bourbon. Since I have a newfound love for spiced apple cider this fall, I wondered how this drink would be, which is made of cinnamon/vanilla-infused Makers Mark, apple cider, and ginger ale. I made the perfect choice.
So, I'm at the bar chopping it up with bartender Sam and a few other people I didn't know but who were very pleasant. Then, the two guys on the end start asking Sam to take their pictures and they each hand him their phones. As they're posing, I hear talk of Homeland, the hit Showtime television series that's filmed in Charlotte. I ask, "What did you say about Homeland?" And one of the gentlemen tells me that a scene from this week's episode was filmed at this bar. As I'm asking him what scene, I suddenly remember and I'm like, "Oh yeah, the scene where Carrie (Clair Danes) comes to meet Brody (Damian Lewis) at the bar at his hotel." I recognize the bar setting immediately. Cutter's, of course, is also on the first floor of a hotel, the Charlotte Marriott City Center. (But I can't say for sure if the hotel room scene that comes after this bar scene was filmed in one of the Marriott's rooms.)
Sam tells me that I'm sitting in the same seat where Carrie sat. Very cool. Now if only I could have the opportunity to sit at the bar when Claire Danes is actually there. Ooh, or Brody's wife, played by Morena Baccarin—she's hot. Various members of the cast are spotted around Charlotte from time to time.

Credit: Twentieth Century Fox Film Corporation
Carrie and Brody (at Cutter's Cigar Bar) in season two, episode four of Homeland.