Spring Festivals for Families in Charlotte: 2023
Options from March to May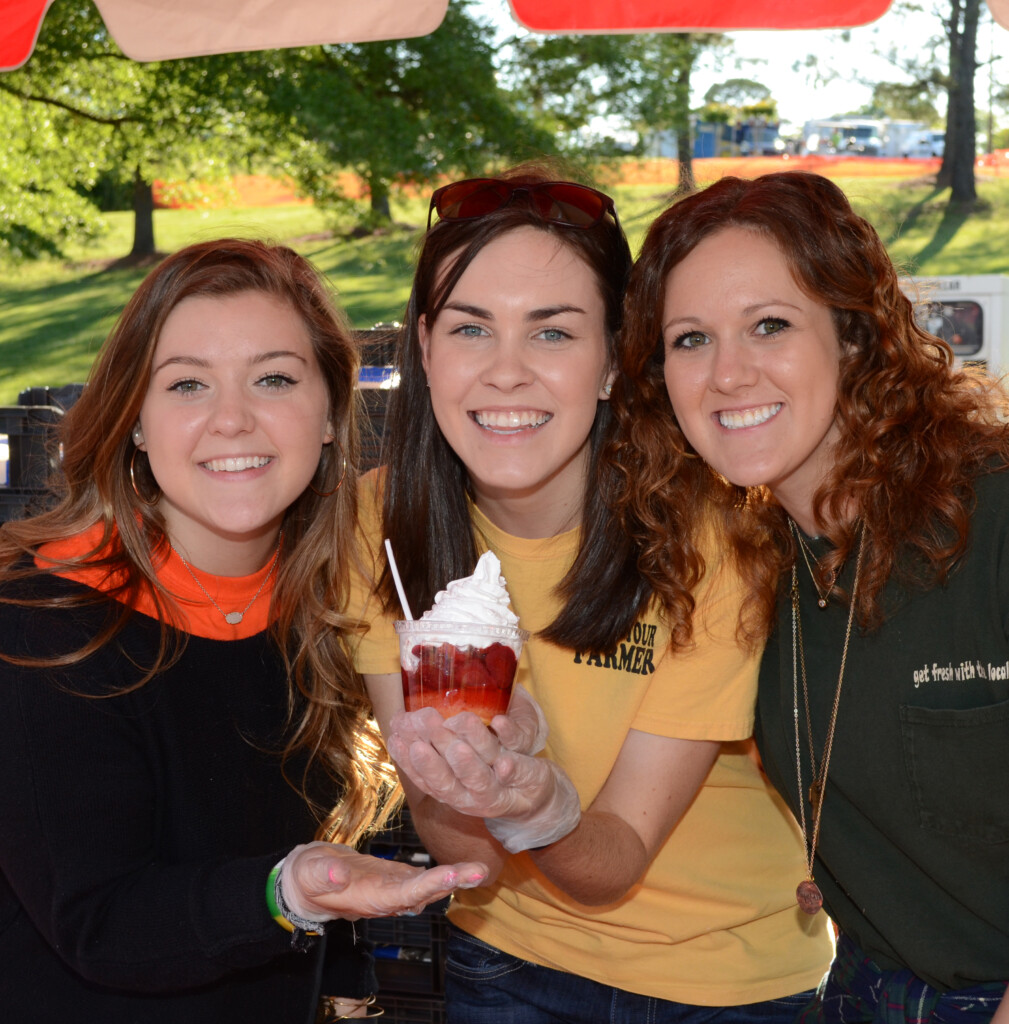 Get out and enjoy the warm weather at these festivals in and around Charlotte:‹
---
March Festivals
Charlotte St. Patrick's Day Festival
(March 11)
Watch a parade full of marching bands, floats, and civics organizations, then head to the festival with food, vendors, and attractions.
---
(March 11)
Festivities begin with the Color Me Green 5K Trail Run and continue with yoga, the coloring of the river, and live music.
---
(March 17-18)
This two-day event includes a performance from the Ghost of Bannockburn, a beer garden, food trucks, a dog show, and family talent search.
---
Old Town St. Patrick's Day Festival
(March 18)
Celebrate St. Patrick's Day with live music, inflatables, a balloon artist, face painting, food trucks, vendors, and beer.
---
(March 18)
Head to downtown Mooresville for a St. Patrick's Day festival and beer crawl with Irish dancers, a pipe band, food trucks, and more.
---
(March 24-April 2)
Enjoy big dogs flying through the air and Lady Houdini on stage, then ride the wild thrill rides and wind down at the petting zoo.
---
(March 25)
See cars of all makes, models, and years and vote for your favorites! There'll be music from the Tim Cook Band and free coffee. Pre-registration is required.
---
(March 31-April 16)
This multi week festival features 200+ installations, performances, events, and activations. Nearly all the events are outdoors, free, and open to the public without tickets.
---
April Festivals
(April 1)
Bring your family to this festival and see dog contests, dog rescue groups with dogs available for adoption, a photo booth, blessing of the animals, and more.
---
(April 1)
The event features a dog-friendly fundraising walk as well as a vendor fair, adoption area, music, a picnic pavilion, food and beer trucks, and fun activities for people and pets alike. Be sure to register for the walk in advance.
---
(April 8)
Discover the best of Cornelius at this eclectic art crawl with dozens of local vendors, live street performances, shopping, food, and more.
---
(April 13-22)
This festival features more than 80 activities. Take part in  a parade, a frog jump, teddy bear tea party, food trucks, live music, kids' activities, fireworks, and more. Locations vary. See website for full schedule of events.
Live music is part of the family-friendly fun at the Come See Me Festival in Rock Hill.
Photo by Blackston Photography
---
(April 13-16)
This automotive extravaganza brings together thousands of hot rods, muscle cars, exotic sports cars, and classic automobiles. Don't miss the AACA Southeastern Spring Nationals on April 15, in addition to vendor booths and antique cars and car parts for sale.
---
(April 14-May 2)
Celebrate the strawberry at this award-winning festival. Attend beauty pageants, a golf tournament, a strawberry scavenger hunt, and strawberry eating contest.
---
(April 14-15)
This historic site hosts antique farm equipment, modern tractors, farm-life demonstrations, and hay rides. Friday is geared toward field trips, and Saturday is open to the public.
See modern tractors, antique equipment and steam-powered tractors at this agriculture and arts festival.
Photo courtesy of N.C. Transportation Museum
---
(April 15)
Come to Cornelius' Robbins Park for wildlife habitat improvements, nature walks, demonstrations, crafts, and live music.
---
(April 15-16)
Come for a unique mix of the sporting, the cultural, the music, and the social. Activities include track and field events, piping and dancing competitions, tug-o-war, and a hammer throw.
---
(April 21-23)
Take part in outdoor activities like lead-line horse rides, fishing clinics, kayaking, guided hikes, reptile encounters, and historic cabin tours, and vote on your favorite recycled art.
---
(April 21-23)
Celebrate the great outdoors and try something new at this festival filled with outdoor competitions, exhibitions, demos, and live music.
---
(April 29)
Visit the Spring Garibaldi Festival, which features local art and music.
---
(April 29-30)
This juried art festival features regional artists, along with musical performances by local talents and food from on-site vendors and area restaurants.
---
May Festivals
(May 3-7)
Jiggy with the Piggy includes a Kansas City Barbecue Society Competition, rides, a 5k race, more than 100 artisans, concerts, an outdoor family movie night, a pancake breakfast, and people's choice BBQ and baseball games.
---
(May 6)
Since May is National Bike Month, walk or bike to the town green in Davidson for family games, entertainment, and food.
---
(May 6-7)
This outdoor exhibition showcases paintings, drawings, sculptures, pottery, metal, stone, wood, and glass works from emerging artists. Families can also enjoy music and entertainment.
---
(May 6)
Spend a day in the park exploring different vendors, demonstrations, giveaways, contests and a mini off-leash area for pup play dates.
---
(May 7)
This festival highlights regional artists and musicians. Listen to live music while supporting local artists, food, and beverage vendors.
---
(May 12-13)
Put your "toes in the sand" with live beach music, shag dancing, carnival rides, axe throwing, street food, and kids' activities.
---
(May 12-13)
Don't miss this two-day celebration of music, camping, the outdoors, and North Carolina's craft beer. With an upbeat atmosphere and family-friendly culture, the NCBMF is a music festival for all ages.
---
(May 13)
Learn about various Asian cultures through food and activities and see teams race to the finish line in colorfully-decorated dragon boats.
---
(May 13)
View local and regional art in historic downtown Waxhaw. You can also witness artwork being created live.
---
(May 20)
Cheerwine fans can enjoy cold Cheerwine, live music, great Southern food, shopping for Cheerwine merchandise, family-friendly activities, a beer garden, and local craft vendors in downtown Salisbury.
---
(May 21)
Charlotte's only Italian gourmet food and wine festival comes the the Gateway Village Promenade in uptown.
---
(May 27-29)
Coca-Cola 600 Weekend kicks off with a music festival, driver appearances, interactive games and displays, food trucks, and more.
---
(May 28)
Kick off the holiday weekend with a morning race and yoga, and enjoy live music throughout the weekend.
---