I'd Like a Cubicle Mate, Please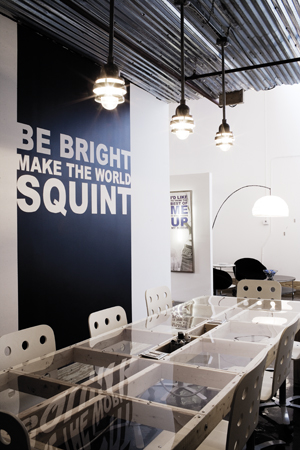 Work from home but crave a daily dose of The Office camaraderie in your working routine? Co-op work spaces like Lightbulb Co-Working in South End are the answer. "It's a way to transition out of your home office or Starbucks," says Tyler Ford, who created the 2,200-square-foot space. It's one of several co-working spots, including Area 15 in NoDa, that have sprung up in Charlotte thanks to a lackluster economy. Independent contractors want company, and job hunters are looking for an office environment. For a $50 a month membership, twenty people have access to a conference room, phones, computers (love the Macs), and Internet access. "It's about having a place to get up and get out of your house, and it's the best of both worlds, because you get in the mind-set of having to work, but still don't have to punch a clock for someone else," says Ford. "Having this type of office makes you a little bit more credible, and that can translate into more business." —M. B.
Editor's Note: This article contains a correction. The original version put Lightbulb Co-Working in the wrong neighborhood.