Ideas for a Memorable Fall Wedding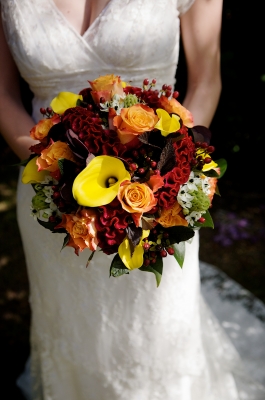 Some of you Charlotte brides are in full-planning mode for your wedding this fall. Green Bride Guide has sent us some ideas to keep your autumn ceremony unique, whatever your style and budget may be!
1. Leaf table numbers – you can use real leaves from the beautiful fall foliage outside your door, or paper leaves. Just make sure the table numbers are printed in a bold font to prevent seating mishaps.
2. Wooden Save the Date Magnets – invitees can stick them on their fridge so they won't forget your big day.
3. Sunflower favors – give away small flowers in recycle pots.
4. Felted Wine Tote and Coasters – to add a rustic touch to wedding party gifts.
5. Glimmer Glass Martini Glasses – toast your future together with these recycled martini glasses, available in autumnal colors like Lemon and Sunrise.
6. Ask your florist to use local blooms – for both your centerpieces and your bouquet. Fall colors, like deep orange, yellow, and cherry red, will pop in front of your wedding gown.
7. Paper lanterns – a beautiful way to illuminate the crisp autumn night and enjoy your reception.