IKEA's Midsummer Feast
The home-furnishings store celebrates its roots with a Swedish tradition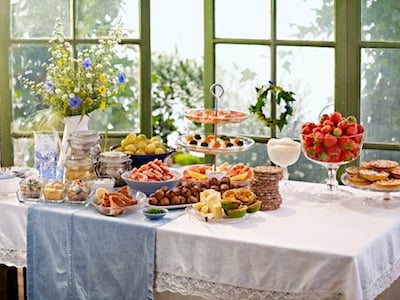 This Friday, IKEA Stores will welcome the return of summer with the Midsummer Feast.
"Midsommar" marks the longest day of the year and is celebrated in countries all over the world. In Sweden, where IKEA was founded in 1943, festivities include food, music, dancing, and special decorations. IKEA Stores will recognize this tradition with all-you-can-eat feasts at the restaurants inside its stores this Friday, June 12.
The menu includes traditional Swedish fare, which many people have come to enjoy upon visits to IKEA stores. Swedish meatballs with lingonberries will be present. Other items include seafood, such as herring, shrimp, and salmon; a variety of salads; ham and sausages; and assorted desserts.
Tickets are $16.99 per adult and $4.99 for kids 12 and younger. They can be purchased in advance at the IKEA Store (8300 IKEA Blvd., Charlotte).
For those who want to celebrate the Midsummer Feast tradition at home, IKEA shares some DIY tips for creating your own festive setting. Flowers and greenery are the main decorations for Midsummer celebrations. Traditionally, the Swedish use them to weave into wreaths for home decoration or to wear as a crown. Below are IKEA's step-by-step instructions for wreath making.
Make a wreath: Start by making small flower bouquets (You'll need about 18 bouquets.); keep the stems long to make the wreath sturdy. Bind each bouquet with string or thin wire. Loop a long piece of wire around the bottom of each bouquet, and create a garland by alternately placing one bouquet to the left and the next to the right. When the garland is long enough to measure around your head, fit the stems of the last bouquet under the first bouquet and bind the garland into a round wreath. Keep the wreath in a plastic bag in the refrigerator until use, and spray it with water occasionally to keep it fresh.