'I'm Afraid Dr. Barber Needs To Get With My Office.'
N.C. House Speaker Thom Tillis, and when absolute arrogance corrupts absolutely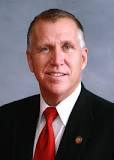 Here's North Carolina House Speaker Thom Tillis, chatting with his constituents Tuesday at the Legislative Building, until one of his constituents turns out to be the Rev. William Barber II, president of the North Carolina NAACP, at which point Tillis slams the door, almost literally.
Here's an earlier non-encounter.
Speaks for itself, really.