'I'm Going to Meet Your Dad'
How a trolley stop photo gave one Charlotte family an unexpected connection to the past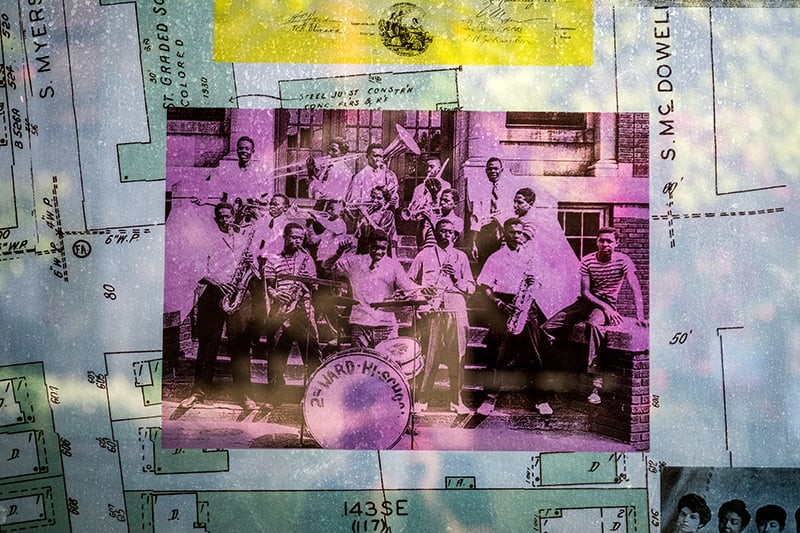 DUSK WAS CLOSING in along the edges of uptown Charlotte when the man seemed to appear out of nowhere. He startled me.
"Excuse me," he said. "Can I see behind you?"
I had just plopped down on the metal seat at the trolley stop near McDowell and East Trade streets. My husband and I were headed to a concert at the Visulite Theatre, and we like to take the streetcar whenever we have a chance.
But as soon as the man appeared, I jumped up and shuffled a few steps away so he could peer at the artwork behind me.
The man motioned to a woman and a teenage boy standing a few steps away.
"Here it is!" he said, excitedly.
He was staring and pointing at a photo on the clear, Plexiglas wall of the trolley stop. The woman was overwhelmed. She sat down and began to cry.
She had just seen her father in the photo, 50 years after she last saw him in person.
"It was, by far, one of the most pivotal moments of my life," Pam Howze would tell me later.
***
MY HUSBAND tells me he doesn't believe in fate. Sometimes, I agree with him. The idea that we all have a predetermined future no matter what decisions or actions we take is both terrifying and preposterous.
Sometimes, though, I can't help but believe that things eventually work out the way they're supposed to.
How else do you explain our story?
We began dating in college 21 years ago. After a little less than two years, he broke up with me and broke my heart. I hated him for about 12 years. In 2008, he sent me a Facebook friend request, which I accepted … until I remembered that hatred and unfriended him two days later.
But the ice had thawed. I sent him a friend request a year later, and finally, in 2013, we talked on the phone for the first time in all those years. A couple of months later, we saw each other in person for the first time since that 1997 breakup. Two months later, we were engaged. We've been married two years.
Fate? I don't know. But it seems like something pretty close.
***
MICHAEL HOWZE had been driving on East Trade Street one April afternoon when he happened to look out his car window at one of the clear shelters decorated with colorful photos at the trolley stops. The photo collages, by glass artist Nancy O'Neil, tell stories from this area's past. East Trade divides First Ward and Second Ward, which used to be the African-American community known as Brooklyn.
One image, shaded in purple, stood out to Michael. It's a photo, taken sometime around 1944, of a group of boys outside the old Second Ward High School. A band class. The boy standing farthest to the left is playing a saxophone.
"That man looks a lot like Pam," Michael thought to himself. Simple as that.
Just to be sure, he parked his car about a block away and walked back to check.
"The way I knew is, she has one picture at the house of her dad," Michael says. "And she looks like him. And she's always talked about him playing saxophone. So, I saw all that when I was passing. And then when I came back, I said, 'It looks like him, and he has a sax. They look alike.' I could just tell."
Michael called Pam immediately to tell her about his discovery—forgetting the important rule his elementary school teacher wife has about calling during the day.
She answered because she was worried there was an emergency.
"Guess what?" her husband began, excitedly. She could tell nothing was wrong.
"I'm in the middle of a lesson!" she scolded, and hung up.
But Michael texted a photo of the picture to his wife, and she instantly knew, too.
She had to see it in person.
***
PAM HOWZE HAS FEW memories of her father. Wardell Ellis Jr. died in a car accident along Interstate 85 in west Charlotte on February 25, 1966. She was just eight years old.
Now 58, she remembers him carrying her into a hospital once when she had a cut on her foot that needed stitches. She remembers him playing his saxophone along with the records he spun for her mom. She remembers playing word games with him, fostering a love for linguistics that she still holds dear.
She has fewer photos of Ellis. Pam moved with her mother and sisters to California shortly after her father's death. Her mom remarried, but died when Pam was in her 20s. Somewhere along the way, the photo album with all the pictures of her dad was lost.
Her sister has one photo of Ellis from high school, and she has another.
So when she took the trip to the McDowell Street stop with her husband and teenage son, she was stunned to see her father staring back at her.
"I felt like I didn't get to know him like I wanted to," Pam says. "So many things happened that changed the course of my life so early. When I saw his photo, everything came crashing down on me."
***
SINCE THAT VISIT, Pam has brought her two adult daughters and son to see the photo of their grandfather. One daughter is a Mecklenburg County prosecutor and often takes the trolley to lunch down the street. She never noticed her grandfather.
Pam's sister, Deborah, took a pilgrimage to the trolley stop with her husband. When Deborah noticed her husband getting dressed up in a suit, she asked what he was doing.
"I'm going to meet your dad," he replied. He wanted to make a good impression.
It was fate, Pam Howze believes, that led her husband to spot her father's photo as he zipped by in his car one day. It was fate that I was there to witness her reaction the first time she saw the photo. It was fate that I happened to give Michael my business card before I hopped on the trolley so I could hear the whole story.
This is what Pam believes. And who am I to doubt her?
She believes that her story of connecting with her husband was destiny, too. The two lived in the same northwest Charlotte neighborhood as children, but lost touch when she moved to California. When she returned to Charlotte in her early 20s, Michael Howze spotted her at a summer festival and was smitten.
They have been married for 30 years.
"I just say, 'God took my parents early, I was too young, but He gave me him,' " Pam says. "He's been looking out for me and just been my angel for 30 years."
Fate? Who knows. But it feels like something close.
Jodie Valade is a freelance journalist based in Charlotte who is leaning toward believing in fate. Reach her at jovalade@gmail.com or on Twitter at @JodieValade.
---
This article appears in the September 2016 issue of Charlotte Magazine
Did you like what you read here? Subscribe to Charlotte Magazine »
---