Improper Pig Relocating to Rea Farms
The Asian-inspired barbecue restaurant's Cotswold location will close July 1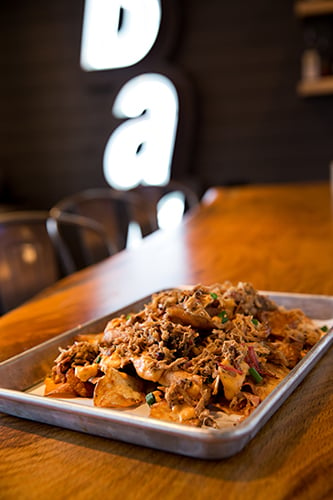 THE IMPROPER PIG will close the doors to its Cotswold location on July 1. But fans of the Asian-inspired barbecue restaurant won't be without their chow bao tacos for long. Owner Will Bigham announced the restaurant will open its new location at Rea Farms in late August. The new 3,535-square foot space will feature a mezzanine level with a private event space, and an updated menu with steaks and seafood cooked on a wood-fire grill. They'll continue to offer favorites like the Improper Nachos, southern egg rolls, Asian shrimp tacos, and the "No Pig" sandwich, too.
"With the same Cotswold crew, we will continue to fill bellies and intentionally spread the love through everything we do," Bigham says. "We have been a part of the Cotswold neighborhood for over 15 years. Our initial transition from Mama Fu's to The Improper Pig in 2014, along with the growth we've experienced since creating The Improper Pig brand, plays a big role in our choosing to relocate to Rea Farms."
The Improper Pig will be located at 9855 Sandy Rock Place, Suite A, at Rea Farms in South Charlotte.