Improper Pig tries bold take on barbecue
Cotswold restaurant combines smoked meats and Asian cuisine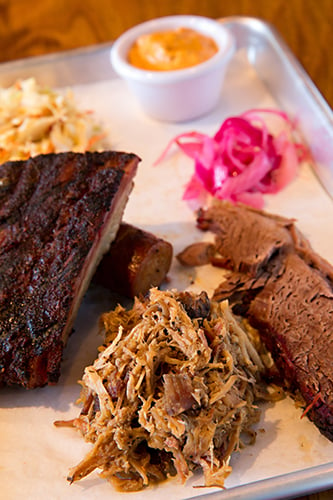 IN THE KITCHEN of Cotswold's newest barbecue joint, a smoker churns out more than 100 pounds of meat a day, seeped in the red tint of burning hickory and ready to be pulled. A few steps away, a chef tosses a wok full of vegetables, flames reaching out as oil and soy sauce hit the hot metal.
One of the restaurant's owners, Will Bigham, greets customers at tables nearby. He's sporting a "musketeer" facial hair look, one he laughingly says some people find creepy, though he finds their reactions amusing. He's a contradiction: a business mind, but with a carefree demeanor. Welcome to the Improper Pig, the latest restaurant from the group Stomp, Chomp & Roll, made up of Bigham, his father Hugh, and business partner Bob Reid.
After 10 years as owner and backup chef at Mama Fu's, an Asian-style chain that closed earlier this year, Bigham redesigned and reimagined the Cotswold space as a barbecue restaurant. He didn't want to lose the past entirely, however, and the Improper Pig ended up becoming a bold mix of barbecue and Asian cuisine.
Bigham's career in the restaurant business began when he was a child and his parents bought a Burger King franchise in Albemarle. That was followed by another in Warren, South Carolina, and finally one in Charlotte. He recalls breaking down boxes and picking up cigarettes in the Burger King parking lot, the responsibilities he held until he grew tall enough to reach the drink machine. His mom, Mary, worked the day shift, while his father oversaw nights. To Bigham, being at the restaurant meant being with family. So now, even though he doesn't share a name with any of his current employees, he still works to keep an environment such as the one he grew up working in.
"A lot of places, you have to work 70, 80 hours a week constantly. I don't believe in that, because you're going to be miserable, right?" he says. "And it's about having that balance, to me, between work and your family time and your life, and you can enjoy life. If you're not having fun, I don't want you on my team."
Part of the reason Bigham wanted to close Mama Fu's was that he grew tired of seeing the 7 percent franchise fee go to a corporate office—he says he wanted to invest it back into the restaurant to continue growth, from the employees to the equipment. Another reason was that he was ready for something different. Bigham opened Mama Fu's to learn how to cook on a wok. He'd mastered that, and was ready to move on to a smoker. Straight barbecue, though, wouldn't work.
"Just one style to me gets kind of boring, so I like to mix it up," Bigham, a 1997 Johnson & Wales graduate, says. That led him to create Asian-barbecue fusion at the Improper Pig. He admits he'd never cooked brisket before—that's a Texas, not a Carolina, thing—but his family's tradition of weekly Monday night dinners featuring barbecued chicken nurtured a love for smoked meat. Hugh smokes chicken and finishes it over charcoal, while Mary cooks the rest of the meal: peas, beans, or collards, family recipes in rotation on the Improper Pig's side options.
From the restaurant's design—an airy dining room with wood accents and metal light fixtures—you wouldn't suspect its menu would retain some of the Asian flair from its days as home to Mama Fu's. The entrepreneurial and innovative sides of the Pig's youngest owner compromised again: Only a small part of the previous kitchen had to be rebuilt to hold the smoker, keeping the wok on the line and putting two signature cuisines together.
Appetizers include the Southern Egg Roll—collard greens and a sweet potato hash in the classic Asian casing—along with smoked chicken wings finished on the grill. A Wow Bao Taco finds its place among the sandwiches, and smoked tofu will make vegetarians feel welcome. You can stick to true barbecue or try the fusion, as the meats are dressed only in a dry rub. At each table sits a selection of sauces, varying from tomato-​based and vinegar-based barbecue to a Thai blend, created and supplied by a former employee, and a spicy hoisin sauce—the one Bigham calls "the most improper." Barbecue enthusiasts may be hard to sway with fusion, but transplants from the North are driving change in the food scene—and their lack of allegiance in North Carolina's east-west barbecue debate may mean they'd be eager to eat at an Asian barbecue restaurant.
"I definitely think Charlotte, with all the people coming in now from everywhere else, they're looking for different styles of food and things going on," Bigham says.
In other words, tender, smoky brisket with a spicy hoisin sauce might just bring in the whole family.
---
---
---
---
---
---