In Defense of Cam Newton's Turtleneck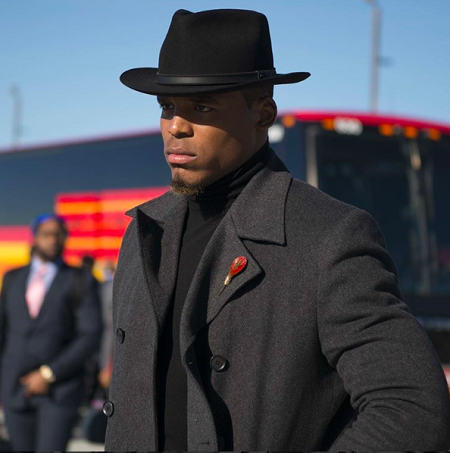 OF ALL THE THINGS Cam Newton has worn, it's amusing that a turtleneck—the patron saint of nerdy '90s middle schoolers—got him in trouble.
The Panthers quarterback traveled to Seattle for Sunday night's primetime game against the Seahawks wearing a black fedora, charcoal topcoat, and, underneath, a black wool turtleneck. A team photographer captured the look for the Panthers' Instagram account. That photo had more than 21,000 likes Monday morning, and roughly half the comments were about Cam's clothes instead of the game.
That was the start of Turtleneckgate, a saga that, while brief, captured a nation's attention on Sunday Night Football.
Coach Ron Rivera sat out the reigning MVP during the first series (it turned out to be a one-play series, after backup quarterback Derek Anderson threw a pick on the opening snap) for what was explained on TV as a "minor violation of team rules."
Newton's offense? Yeah, that turtleneck. Or, more specifically, not wearing a tie on the trip to Seattle.
"It was a travel code violation," Rivera told reporters after the game. "The decision was to treat him like I do all the other players and he didn't start."
Newton called it "a miscommunication" with his coach, and said he should have cleared his wardrobe choice before getting on the bus to the airport. But I don't buy that Newton, who dresses himself and likes to push the limit with his personal style, looked any less professional than the other players who boarded the bus to the airport.
Look, I get that if the coach's rule is to wear a tie on the plane, you're supposed to wear a tie on the plane. But football—hell, America—has real problems and I don't think wearing a turtleneck with a suit is one of them. And let's be honest, some of the stuff Cam has worn this season is far more offensive than his outfit this weekend.
In fact, the look was one of Newton's best. It's on trend without being ridiculous. The monochromatic style is better than the wild colors or patterns he often chooses. He looked as elegant as a 6-foot-5, 250-pound man can look. It was approachable and, tough as this is to do, fashion forward and Charlotte tame at the same time.
The turtleneck-with-suit ensemble works—partly because it passes for office appropriate everywhere except the stuffiest of law firms and banks. But guys are scared to try it out because of reactions like Rivera's.
Unfortunately, Newton's nationally televised time out means his sweater is probably already back in a drawer at his uptown condo. And you can bet he'll have a tie with his suit next week.