In Fitness and In Health
You don't have to toss the skinny jeans the second you gain a spouse. Here's how to stay healthy, happy, and hot far into your golden years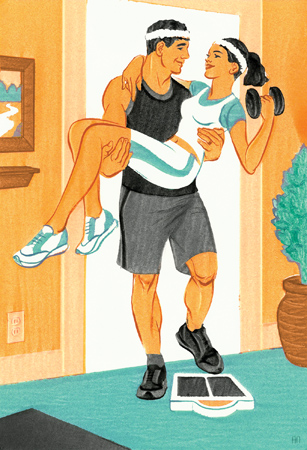 Hard to swallow, but it's true: research shows that, on average, new brides gain nine pounds within the first five years of marriage, and married men and women are twice as likely to become obese. And added weight doesn't just make your clothes tight — extra pounds can dim your desire for sex and lead to serious diseases, like diabetes and cancer. Which is why warding off weight gain and staying active is one of the best gifts you and your husband-to-be can give one another. Follow these tiny tweaks to look and feel as good on your tenth anniversary as you do the day you say "I do."
"When a couple talks about fitness and health, they are ultimately having a conversation about the quality of life they will have together for the many years to come," says Joshua Elmore, owner/director of training at CrossFit Eternal. Not only does it give you more insight into each other's goals and desires — maybe you're interested in being as fit as possible, while your hubby-to-be is happy with simply staying healthy and not going up a pants size every year — but it will also help you to avoid arguments once you've settled into your day-to-day life together. "Our lifelong journey on the road of fitness is a hard one, and everyone's path looks different," says Elmore. "Both people need to recognize the other's goal and be supportive, even if the goals are different than their own. So talk about nutrition and how you want to eat once you're married, and figure out if you want to work out together, in a group, or totally solo."
Set Small, Personal Goals to Keep You on Track
"We are truly goal-oriented creatures, and marriage is usually the biggest 'goal' one can reach," says Anthony Montoya, a nutritionist who also works as a personal trainer at Fitness Together in Matthews. But all too often, warns Montoya, once you're married, many women shift their focus from keeping their body in good shape to other milestones that naturally fall into place after tying the knot, including children, careers, and a new home.
To avoid this, set a new goal for your first year of marriage. "One of my clients purchased a very expensive dress for her wedding rehearsal dinner that her husband just loved," says Montoya. "I told her that she should tell her husband that, in celebration of their anniversary, she would wear the dress every year unless she was pregnant. By doing this, she set a goal to be able to fit in that dress for her first anniversary." Three years later, the dress still fits.
Try Not to Stress
"The dreaded move-in weight gain has a lot of contributing factors, and one of the biggest culprits is stress," says Elmore. "Pulling off a wedding is stressful enough, and everything that comes after the wedding bells have rung sure doesn't help. When the human body is under constant stress, we produce a hormone called cortisol, which triggers the body to store energy as fat. It's a vicious cycle; the more stressed you get the more energy you store, the more energy you store and don't use the more weight you gain."
But don't start stressing about stressing — simply learning to deal with the pressures that come after you tie the knot can go a long way in keeping cortisol levels from skyrocketing. "First, keep things in perspective," says Elmore, who says that 10 percent of stress comes from the actual problem and 90 percent comes from how you choose to react to it. "Moving in with your husband is a major life change, one of the biggest you will experience. Drama and issues are inevitable, so expect it and don't let it stress you out." Second, get plenty of physical exercise. "Regular physical activity can help lower cortisol production and keep your stress levels in check," says Elmore.
Do the Grocery Shopping
The more sweets and snacks in the house, the greater the chance you have of eating them. So although it could be tempting to allow your sweetheart to take the reins when it comes to this weekly chore, do it with caution—especially if his bachelor pantry closely resembled a college dorm. Sugary cereals, chips, cookies, and lots of frozen dinners are all red flags that solo trips to the store will result in too much temptation around the house. Not sure where to get started when it comes to shopping? "Meet as a couple with a nutritionist to help you get started on the right foot," says Montoya, who often takes clients on a shopping trip to Trader Joe's to show them what to fill their grocery basket with and why. "There are many great options that couples can look for that will help them become and stay healthy," says Montoya.
Cook Together
Eating out and ordering in should be a fun treat, not a regular occurrence. Not only do mammoth portions lead to overeating, but there are usually hidden calories in restaurant foods — butter on the hamburger bun, cream in the pasta sauce—that can add up quickly. "If you can limit the amount of time spent eating out and increase the time cooking quality meals that you and your husband can make together, it becomes a lot easier to stay healthy," says Elmore. "Plus, cooking can be a very romantic and fun experience. There are countless recipes and ideas that can bring a couple closer together." Need a little inspiration? Check out the recipe for Better-for-You Burgers on page 41.
Get off the Couch
"Working out together is a great way to bond because it gives the couple the chance to achieve something together," says Elmore. "And struggling through a tough workout can bring a couple closer because they accomplished a hard task together." It also gives you the chance to verbally encourage and affirm one another. "Hearing things like, 'Awesome job,' or, 'I'm proud of you,' are common when training and can go a long way to keep a couple together," says Elmore. But keep in mind, being active goes far beyond the gym. "Find active things you both enjoy, like bike riding, hiking, playing sports, or signing up for local races," says Elmore.
Ask for Healthful Gifts
A gym membership for two, sessions with a trainer or nutritionist, quality cookware, cooking lessons, and healthful recipe books all make for great wedding gifts and should find their way onto your registry. "It's about lifestyle," says Montoya. "A couple growing healthy together will be happy together."
Jenna Bergen is the author of Your Big Fat Boyfriend: How to Stay Thin When Dating a Diet Disaster (Quirk Books). Her work has appeared in Women's Health, Fitness, and SELF. She is the health and fitness editor at Philadelphia magazine.