In Granddaddy's Place
One name connects a corner restaurant in Myers Park and a retirement community in south Charlotte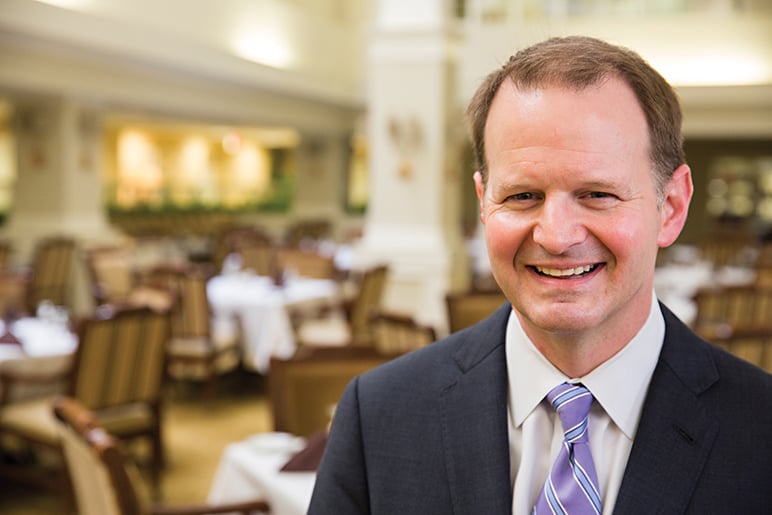 THE FIRST THING the little boy did was check the pay phone for coins. To him, the restaurant was a place to explore. He stood about head-high to the tabletops, and down there the world's a slideshow of legs under tables, pipes under sinks, fallen crumbs on the floor, loose wrappers under the cigarette machine.
His name, Salem Suber IV, gave him the run of the place—it was the same name as the owner, his grandfather, Salem Suber Jr. As the grandson wandered around, running his hand along the green velvet seat backs, the grandfather would watch and laugh, chewing on cigars that he'd quit smoking years earlier.
Throughout the 1960s and 1970s, the Town House Restaurant was the place to gather in Myers Park, right there at the intersection of Queens and Queens, Providence and Providence. Salem Suber Jr. might've been the most popular man in the neighborhood, if not for Hugh McManaway, the peculiar fellow who stood on that corner directing traffic with his outstretched arms.
The Town House was filled with people who came for meat and potatoes and conversation. Everyone knew Little Salem. He came with his grandmother, who waited tables on occasion. The pay phone was in the breezeway, between the two doors at the entrance, and when Little Salem would stuff his fingers into the change slots, he'd find a nickel every time. He thought he was the luckiest kid in the world. In the kitchen, he'd find a bowl of Coke bottle caps, saved by the busboys who cleaned the tables. Whenever Little Salem's school held a bottle cap collection drive, he won.
He did have a job in the restaurant: At the end of the day, he had to count the change in the bubble gum jar. His grandfather let him keep money as payment for his labor, and Little Salem would immediately dart across the street to the drugstore to buy toy soldiers.
It's tough to grow out of a life like that. But one day in 1980, he was 13 years old and away at boarding school in Virginia when an envelope arrived with a letter from his grandmother. She told him in the note that they were selling the restaurant and retiring. He was devastated. It wasn't long before Salem Suber IV decided he wanted to own restaurants, too.
"Whenever I would walk into that place, there was just this feeling of unconditional love," he'd say years later. "It had never occurred to me that the Town House wouldn't be my granddad's."
He went away to college at UNC Chapel Hill, and after he graduated, he spent a year as the manager at Spanky's Restaurant and Bar on Franklin Street. He moved to Atlanta to manage an Applebee's before taking a job as a salesman for the distributor U.S. Foods. While he was on a sales call, one of the clients told him about a restaurant for sale in Jasper, Georgia, a small town in the mountains. Salem IV eventually bought the place, the Jasper Family Steakhouse, and in a town of 3,000, he drew enough customers to keep the 300-seat restaurant going for 10 years. Some people ate lunch and dinner there seven days a week. It was just like he'd remembered.
In 2007, though, he sold the steakhouse and started to try to work his way back to Charlotte. He spent a few years helping people launch restaurants or catering businesses, until one day in 2010, when he saw a job opening for the director of culinary services at Southminster Retirement Community.
The owners were looking for someone to transform the dining program, to bring fresh and local foods to the menus, to give the residents meals they'd look forward to, meals they'd gather around.
Salem Suber IV took the job. And when he started asking the residents questions about what they'd like to see on the menus, he kept running into people who looked at him and said, "I remember you."
And he'd respond, "I remember you, too."
***
THE LOCAL FOODS MOVEMENT started like most movements start—with young people. When chefs and eaters from Generation X and the millennial crowd started paying attention to where their food came from, menus around the country changed. But as it's become hip to say you know your farmers, this shouldn't be forgotten: Elderly folks like to eat good food, too.
On a weekday this past fall, the Oak Leaf Grille at Southminster was as busy as any other lunch spot in Charlotte. One of the two main restaurants on the campus, the grill has a menu that includes local barbecue and mountain trout. Suber, now 47, wore a suit and tie as he roamed around, stopping to talk to the white-haired people at each table. He was an English major in school and doesn't have a culinary degree. But he's a natural storyteller, and he learned from his grandfather that if you take the time to get to know people, they'll like your food better.
He estimates that about a quarter of the nearly 400 residents who live at Southminster have told him they remember him from the Town House. But their tastes have changed since then; they want more than meat and potatoes now.
"Even here, you find people who've been watching the Food Network for 10 years," Suber says. "They wanted food with integrity. They wanted their food to be seasonal. As they go through these changes, they want the dining room to be a place to go."
Suber hired Kris Reid as the executive chef. Reid had worked in fine dining and catering in California before moving here, and she's a well-known champion of local foods in Charlotte. She's one of the founders of the Piedmont Culinary Guild. Reid oversees nearly 30 chefs and cooks in Southminster's kitchens, which operate nearly around the clock. She also led the development of an all-season garden at Southminster. About half of the garden's produce goes to Friendship Trays, a charity organization in Charlotte, and the other half goes to helping shape a seasonal menu for the retirement community.
"Our bodies absorb nutrients slower as we get older," Reid says. "You have to achieve a balance between catering to everyone's needs and to the individual's."
In 2010, the year Suber arrived, Southminster's two main restaurants served about 88,000 meals. That jumped to about 140,000 in 2014, a nearly 60 percent increase. Over the same time period, the resident population jumped only 14 percent.
"If you do food well, it brings people together," Suber says. "If you do it wrong, the conversation's about, 'Well, Southminster cooked the greens too much' or 'Southminster didn't cook the greens enough.' If you do it right, the conversation is about those shared experiences and memories."
***
MOFFATT AND BETSY SHERARD remember this: At least once a week, Moffatt would come home from his job at First Federal Savings and Loan and pet his basset hound, and then he and Betsy would go to the Town House.
Four decades later, they're still eating at a Suber's restaurant. One day last fall, they'd just finished wiping the crumbs off their mouths when Salem IV sat down to say hello before they left the restaurant. The conversation, of course, drifted back 40 years.
"Everybody went to the Town House," Moffatt said. "Everybody in our age group, at least. Until that Harris Teeter came. Do you remember that?"
Salem IV said he did, then kept peeling back years: "I remember when there was an A&P [grocery store] near there. That's where Granddaddy got the meat. Remember The Gambler?"
Moffatt and Betsy smile at the memory of the restaurant's notorious entrée, a rib eye steak.
"Granddaddy had a slogan for it: Sometimes tender. Sometimes tough. Always $1.99."
And everybody laughed.
"Salem," Moffatt said, "was very much like Salem."
Few people knew more about what was happening in Charlotte than Salem Suber Jr. In a segment on WBT, longtime radio personality John Kilgo once said the restaurant owner was "a newsman's dream. He saw and heard everything. He had more tips than a stockbroker."
Nancy and Bud Wilkerson remember him the same way. The couple recently moved from their home in Myers Park to a tidy, one-floor home in the Southminster community. Nancy remembers eating fried steak, mashed potatoes, and green beans at the Town House. But she remembers the owner more than the food.
One day, the Wilkersons pulled into the restaurant's parking lot and saw a policeman standing on the corner trying to arrest McManaway. Bud got out of his car to explain the situation to the officer, who was clearly new to the job: McManaway was such a fixture on the corner, standing there with a napkin and a glass of iced tea directing traffic, that a statue of him now stands in that spot. But the policeman dismissed Bud, who went into the restaurant and told Suber. A few minutes later, Suber, chewing on his cigar, burst out the door and across the street to have a word with the man in uniform.
"I don't know what he said," Nancy said recently, sitting in her new living room. "But I know Salem came out and solved the problem."
***
ON NOVEMBER 26, 1978, minister Thomas Stockton delivered a sermon for Sunday service at Myers Park Methodist Church titled, "The Gospel According to the Town House."
The Town House, Stockton said that day, "is an institution where you can see the same people day after day, meal after meal, where friends meet friends, where business deals are made [legal or illegal], where problems are discussed but seldom solved, where advice is given freely but seldom taken, where joking and kidding are normal but serious discussion is frequent."
Later in the sermon, Stockton said, "All of us—in our varied emotions, reactions, feelings—depending upon our personal situations—we all need people to relate, to share life with."
The sermon followed a reading from the Book of John, the story of Jesus turning water into wine at a wedding. The message, of course, was that having a place to gather is a basic human need, and sometimes it's worth creating a miracle to keep a party going. Salem Suber Jr. died in 1987, seven years after he sold the restaurant. That Harris Teeter on the corner where it once stood has two stories and a Starbucks, and the cheapest rib eye is now about $11.99 a pound. But in the back of the property, a brick wall still stands. It's been added to in the past couple of years, but Salem Suber IV remembers walking along the top of that wall when he got restless, his grandmother holding his hand.
For four decades, he told people that spending his childhood there made him the luckiest kid in the world. But there was always something he couldn't explain. How was it possible that he always found a nickel in that pay phone? Being lucky is one thing. But a nickel every time?
Two years ago, Southminster held a luncheon for people interested in moving to the community. Suber was out of town that day, but during the middle of the event, one of the guests stopped a server.
"Is Little Salem here?" the man asked quietly. "No," the server said.
"I just wanted to ask him if he remembered finding the change in the pay phone," the man said. "Will you ask him that?"
And the man explained, "I'd see him coming with his grandmother through the window, and I'd rush out there to make sure he had a nickel every time."
The server didn't get the man's name, but Suber is certain he'll see him again someday.
Michael Graff is the executive editor of this magazine. Email him at michael.graff@charlottemagazine.com, or reach him on Twitter: @michaelngraff.