In Love & Chocolate: Concord's Chocolatier Barrucand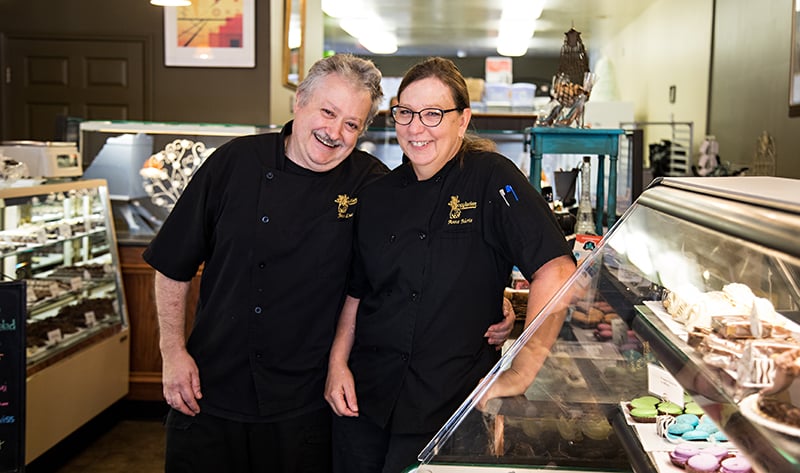 IN A WHITE SUIT JACKET, flowered button-down, and brown suede shoes, Jean Luc Barrucand looked across the table in the Adams Mark Hotel's dining room at his date and smiled. A performer looped around the restaurant floor, stopping to sing a few lines of "Happy Talk" in the style of Doris Day at each table.
Anne Marie Barrucand remembers that day at the hotel on McDowell Street, the day she went on her first date with her now husband and business partner. She even saved his outfit. Jean Luc and Anne Marie both beam as they talk about that date, barely making eye contact with me and instead looking at each other, blushing a little.
Now, the two wear matching black chef jackets, flour smeared all down the front. It's fitting, though. They met in a kitchen 25 years ago, while working at Myers Park Country Club, and have been partners in pastry ever since.
***
I CAN SEE my reflection in the glass display cases lining Jean Luc and Anne Marie's pastry shop, Chocolatier Barrucand, in downtown Concord. My eyes are wide and eyebrows perched, and I can feel myself salivating a little. Rows of Oreo cheesecake, sea salt caramel fudge, blueberry and cream tarts, and carrot cakes sit just beyond the glass—glass so clean, I could almost reach out and devour a French silk tart right now.
Maybe Jean Luc first wooed Anne Marie with his French accent or snappy white jacket, but it was his French silk tart that ultimately did her in. Bittersweet chocolate mousse topped with a layer of whipped cream and a chocolate curl. "That's why I married him," she jokes.
The selection at Chocolatier Barrucand changes daily and goes beyond sweets. About eight months ago, the couple added a small lunch menu of premade sandwiches to go, all served on a homemade croissant or baguette. Local meats and cheeses, such as the Bel Bufala cheese from Fading D Farms in Salisbury, along with a selection of wines, small snacks, such as Ritchie Hill Bakery's cheese straws, and even jars of barbecue sauce fill out the rest of the shop.
Since they opened the shop in 2008, some things have changed—such as the addition of lunch items and more pantry goods—but the desserts are consistent. "Food has a style. Just like clothes, it can go in and out of style," Anne Marie says. "When we first started and we made macarons, we couldn't give 'em away!"
But Jean Luc continued making them, with flavors including mango, chocolate, and strawberry. They sell a lot more macarons now, but it's not because they focused on trends.
***
WHILE GROWING UP in Lyon, France, Jean Luc was surrounded by pastry shops, nearly one on every corner. "Like churches here," Anne Marie chimes in with a laugh.
At 14, Jean Luc had come to accept that the traditional path from secondary school to university wasn't for him.
Jean Luc's father, a handbag maker, told him to choose a different career, one that would make sure he always had food on the table. With that in mind, he chose to study pastry, and in 1985, Jean Luc moved to Charleston to become the pastry chef at La Madeleine. Seven years later, he was in Charlotte on a date with Anne Marie, a young woman from upstate New York and his first assistant at Myers Park Country Club.
The two, and their adult son Stephen, have been back to France many times together. They've wandered Lyon's streets, passing dozens of pastry shops, but they didn't want to be just one in a crowd. On Union Street in Concord, they stand out.
***
IN THE BARRUCAND KITCHEN, Anne Marie and Jean Luc have different styles. Anne Marie likes order. She likes to get things done quickly and correctly. Jean Luc is more laid-back.
Anne Marie started in the food industry at 16. Her father was a farmer in Owego, New York, but she wanted to move south, dreaming of retiring in a neighborhood such as Myers Park one day.
Throughout her career as a chef, passing through more than a dozen kitchens, Anne Marie struggled to find a kitchen where she wasn't outnumbered as a female. She found she had to work twice as hard to gain credibility in the kitchen. "You can work circles around somebody, but they're always going to look at the French man instead," she says, Jean Luc nodding in agreement.
Jean Luc isn't the bossy chef you've seen on reality television. He's soft-spoken, funny, and supportive. Among the first chocolates he put in Chocolatier Barrucand's glass display cases were chocolate lips, filled with real passion fruit, not just a ganache. And he always keeps French silk tarts in stock for his wife.
"We have the respect for each other and what we do. We have different strengths," says Jean Luc.
Whispering, Anne Marie says with a smile, "But I work faster."