In Rhythm
Three years ago, former Appalachian State basketball player Omar Carter suffered cardiac arrest on the court. Now he uses the near-death experience to spread awareness about heart health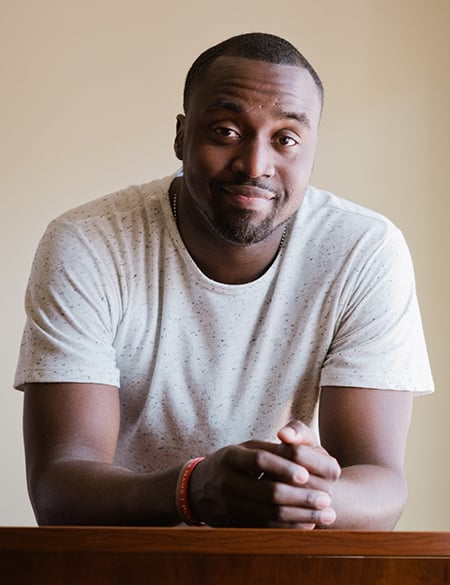 IT IS July 9, 2013, and Carter, a former basketball standout at Charleston Southern University and Appalachian State University, is playing in a pro-am summer league game at the Grady Cole Center. Carter, who grew up in Charlotte, has just returned from playing basketball in the Dominican Republic, and before that Brazil, after failing to be drafted by an NBA team out of college. He's working hard—two workouts a day—to get in shape for more basketball and perhaps a shot at the big leagues.
He's along the side of the court, not far from the rows of fans sitting in blue bleachers who have shown up to watch athletes from the NBA and European and South American professional leagues play.
Carter takes the ball with both hands and pushes it to Dorenzo Hudson, a former Virginia Tech guard, who's near the top of the key. Then, without warning, Carter collapses.
He's splayed on the blonde, wooden court, on his back, right arm bent at the elbow and stretched over his head. The 6-foot-5, 220-pound Carter has fallen so hard that the back of his scalp is bleeding. He's unconscious.
Hudson runs over to check on his friend. Someone snaps a picture, which would show Carter on the ground and Hudson crouched over him, their red uniforms soaked with sweat. A couple of people from the crowd come over and start fanning the injured player.
They think he's fainted in the sweaty, humid gym. But they're wrong. The 25-year-old is suffering cardiac arrest. The intense minutes following his collapse will immediately alter two lives and set Carter on a mission to change many more.
***
ON A WARM, drizzly morning in September 2015, Carter walks into Art's BBQ & Deli on East Morehead Street. He's tall. Not quite duck-to-get-through-the-door tall, but definitely hey-look-is-that-an-athlete tall. He orders a BLT—hold the tomato, extra mayo—even though it's 8 a.m.
He's soft-spoken and overly polite, calling everyone he meets sir or ma'am, even a writer just two years his senior.
At 28 years old, Carter counts NBA star Steph Curry as a best friend and Governor Pat McCrory as a mentor.
Maybe some of his take-the-high-road approach comes from what happened two summers ago on the basketball court. But more than likely, it comes from his mom.
"She's a force," he says with a laugh. "She's always taking charge."
The family moved to North Carolina from Pittsburgh when Carter was 7. He was a student in the inaugural class at Phillip O. Berry Academy before transferring to Charlotte Christian School for his final two years of high school. He regularly spent nights staying over at the Curry house, which was closer to Charlotte Christian than his house. Steph and Carter played ball together, and Dell Curry, Steph's father and the former Charlotte Hornet, became a mentor to Carter on and off the court. McCrory, Charlotte's mayor at the time, was a mentor, too. McCrory knew Omar and his twin brother, Lamar, through their mom, Stephanie, whom he'd met through mutual acquaintances. She regularly took the boys to City Council meetings and made sure they paid attention.
At age 16, Carter went to the doctor after feeling some tightness in his chest. It turned out to be nothing serious, but during the exam, his doctor discovered an enlarged heart. The condition is sometimes referred to as an athlete's heart because it's common in people who exercise vigorously on a daily basis. (Carter also has a borderline condition of hypertrophic cardiomyopathy, a heart muscle disorder.)
"I would have an EKG, an ultrasound, all that, every year," he says. "But everything was always fine."
After college, Carter wound up in Brazil, playing for a professional team outside Sao Paolo. He spent 10 months there and a few weeks in the Dominican Republic before landing in Charlotte to play in the pro-am summer league game. Carter remembers lying on the couch at his mom's house earlier that afternoon.
"I was extremely tired, but I was doing two-a-days," he says. The grueling practice schedule included time in the gym and then pickup games with other players trying to prove themselves.
***
KELLY THOMAS sees the commotion on the basketball court when she walks out of the women's bathroom. She'd decided to go to the game a half-hour before it started and is excited to hang out with friends. She doesn't know the man lying on the court, surrounded by people fanning his face. Thomas doesn't think much of it and makes her way back to her seat.
"I thought he must have overheated," she says, recalling the scene.
Then she overhears someone yell that Carter isn't responding. Thomas, then a 30-year-old cardiac-intensive-care-unit nurse at Carolinas Medical Center, takes off her high heels and sprints down the steps.
On the court, she pushes her way through the crowd around Carter and feels for a pulse.
"It was what we would call 'thready.' " Thomas says now. "It was in and out and very weak." She tells a bystander to call 911. "I was just kind of shouting out orders."
After a minute, Thomas loses Carter's pulse and immediately begins CPR. She asks someone to find an automated external defibrillator, or AED. The machine, which can shock a heart back into normal rhythm, is locked in an office. There is a frantic search to find a way in. Meanwhile, Thomas is on the court, pumping Carter's chest, keeping him alive.
Finally, a bystander arrives with the AED. Thomas calls out orders, never stopping CPR while she asks a man to hook in the AED cord and turn it on.
Then she takes the pads and attaches them to the basketball player's bare chest.
The display shows Carter's heart rhythm. The beat is fast and irregular. His heart is pumping well above 100 times a minute.
The machine delivers a shock to Carter's heart, but it doesn't help. The machine's reading shows a flat line. Carter's heart has stopped beating. The AED machine can do nothing. The same man who helped hook up the AED cord takes turns with Thomas, administering CPR.
Eventually—unbelievably—Thomas feels a pulse moments before paramedics arrive.
Thomas and the bystander—whose name they'll never learn—have been doing CPR for 13 minutes.
***
CARTER WAKES UP in the cardiac ICU, the very unit where Thomas works, after three days in a coma. He spends eight more days in the hospital. During that time he has a talk with his mom while she's perched on the foot of his bed. They try to make sense of the near-death experience.
"She asked me if I wanted to do something to raise awareness, to let people know this can happen," Carter says now. He shakes his head and laughs. "Never a loss for words."
As he recovers, with his mom by his side, he develops a plan to form the Omar Carter Foundation, an organization to raise awareness about the prevalence of sudden cardiac arrest—the leading cause of natural death in America—and to teach CPR and AED skills.
"It's a blessing because no [other organization in Charlotte is] doing it," Carter says of raising awareness and teaching CPR and AED skills. "It gives us a chance to grow and to teach.
***
SINCE THE ORGANIZATION started in September 2014, it's held a dizzying number of events, including a fashion show, a celebrity basketball game, and a kids' awareness day where McCrory made an appearance. (The organization scheduled a Heart of Gold Weekend for June 17-18 this year, with a formal gala that serves as the biggest fundraising event of the year.) Every event includes some sort of training in compression-only CPR, the kind of CPR Thomas performed on Carter. It's a form of CPR focused on pumping the chest with no mouth-to-mouth resuscitation. As of this spring, Carter's group had trained more than 2,300 people.
Doctors still aren't certain what caused Carter's sudden cardiac arrest, but they suspect undetected high blood pressure contributed. Today, Carter can walk briskly but isn't able to play basketball. He devotes the time he once spent on practices and weights and sprints to speaking to groups about heart health. Conversations with other survivors shake him.
"I'll be fine talking to survivors. I'll be on point," he says. "But then when I finish, before I leave, I have to sit there for a second and process it all."
He's surprised by how many people don't know CPR or learned years ago as a Boy Scout or a summer lifeguard and don't remember the steps.
"They don't know how to do it, or they know how to do it, but they don't practice and so they're scared to act."
That's what happened the day he collapsed.
"There were several hundred people in that gym, and no one was doing anything," Thomas says. She has since taken another nursing job, but she stays in touch with Carter and helps with his foundation's programming. She's also on his foundation's board of directors. "This could have happened to anyone else who would have just said, 'Great, my life's been saved,' and never do anything else. Not Omar."
Carter's enthusiasm for the work, for being alive to see it, is like a pulse. You can feel it and hear it, especially at his foundation events.
At an event last summer, Carter beamed as children lined up, one behind the other, across the width of a park in west Charlotte. He stood at a row of tables overflowing with school supplies—backpacks, pencils, crayons.
Before the children could move down the line and load up their bags with goodies, they had to spend time with Carter and other volunteers, who were huddled around a CPR dummy. One by one, the children stepped up, took instructions from the grown-ups, and pushed on the mannequin's sternum. Elbows locked, the kids pushed hard, looking over at Carter for approval.
To help the children remember how fast to administer the compressions, the volunteers kept the beat by singing a disco song: "Stayin' Alive."
Adam Rhew is a freelance writer based in Charlotte. Reach him via email, adam.rhew@gmail.com, or via Twitter: @AdamRhew.
---
This article appears in the July 2016 issue of Charlotte Magazine
Did you like what you read here? Subscribe to Charlotte Magazine »
---