In Search of a Good Fish Sandwich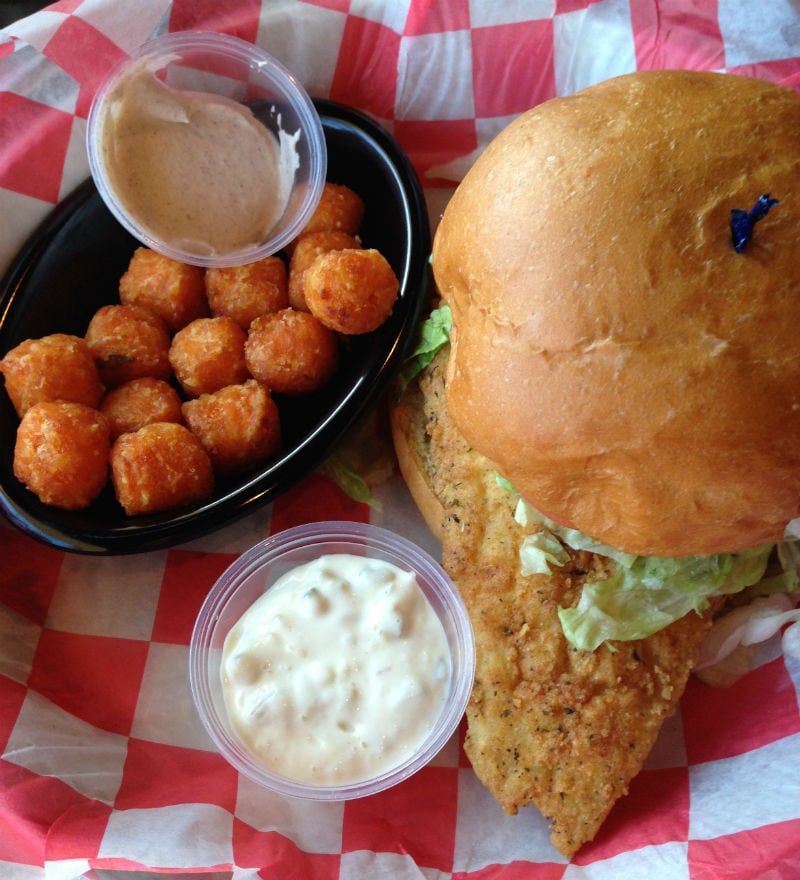 No one ever really talks about who has the best fish sandwich in town.
Best burgers, yes. Best overall sandwich, yes.
Are there just not enough takers? Or enough Charlotte establishments with strong fish-sandwich game?
It's Lent, which is as good a time as any to get the conversation going about where to find one.
I'll start with this: the best fish sandwich I've ever had was at Lazy Days in the Florida Keys. The restaurant's casual atmosphere matches its name, and a long patio that runs along the back grants diners a view of a shallow Atlantic, jewel green and turquoise along a shoreline filled with palm trees.
That probably makes it taste better.
At Lazy Days, they'll cook your catch, so you can enjoy the Fresh Catch Sandwich with fish you caught that day.
That probably makes it taste better, too. So does ordering it Lazy Days style, where it comes topped with Key lime butter, grated Parmesan, diced tomato, and scallions. I urged my friends Mike and Lynn to try this sandwich once. When they returned to the Keys several years later, they had to stop at Lazy Days on their way to the resort because, as Mike puts it, "Lynn is obsessed with the sandwich there."
They have tried, and so have I, to replicate it at home with the same result: good, but not even close.
I have regular, intense cravings for this sandwich. It's about 800 miles away, however, so I've been on a quest to satisfy those cravings here in landlocked, Key lime-less Charlotte. Maybe this isn't yet a well-honed list of the best of the best, but they are some of my early leanings.
Crispy Beer-Battered Fish Sandwich at The Liberty
At this SouthEnd pub, a generous portion of fish demands that you have a strategy for how to address it. The crispy batter is dotted with fresh chives, and the roll's softness complements the battered fish. It is a simple and classic take, dressed only with tartar sauce, lettuce, and tomato.
Lebowski's Old-Fashioned Fishwich
It only gets one line on the menu and so it might be overlooked—especially at a place known for its wings and its beef on weck—but this is one good fishwich. Lebowski's uses haddock fillets for their fried fish sandwich, which is also simple in adornment—shredded iceberg lettuce, sliced tomato and tartar sauce on the side. The first time I ate it, the only talking I did was to repeatedly say how good it was. Extra napkins and both hands required.
Daily Catch Sandwich at RockSalt
RockSalt's sandwich is good for those who prefer things on the lighter side. Since the restaurant doesn't have a fryer, the fish is either grilled or sautéed. The fish itself changes regularly, but is usually a mild white fish, like black drum, rockfish, or grouper. Instead of tartar sauce, this sandwich comes with their tangy boo-ya mayo, a combination of mayo and a house sauce that is itself a combo of cocktail and BBQ sauces.
Fresh Fish Fillet Sandwich at Showmar's
They call it the world's best fried fish fillet. You already know my vote, but Showmar's might win for best value. It's pretty simple in execution as well: thin white fish fillets piled onto a golden bun slathered in tartar sauce. I take mine with a side of crinkle fries; the pair have a certain kind of nostalgia to them.
Savor's Seared and Cracked Pepper BLT
The busy Morehead Street eatery swaps out white fish for a truly peppery slab of salmon, and a soft roll for toasted foccacia. Like RockSalt's sandwich, this non-fried version feels lighter. Just don't forget there is bacon involved. No, it's not a traditional fish sandwich, but it is a popular choice at Savor for a reason.
That's my short list so far. I'd be happy to learn from you what else could be on it, and will readily confess that I still need to try the fish sandwiches at Price's Chicken Coop, The Diamond Restaurant, and Deep Sea Seafood Market, among others. But hopefully it's enough to start the conversation.