In the Cage with Me
Paul Booe was a beloved mixed martial arts trainer who taught hundreds of students how to fight their way out of difficult situations. But few people knew the battles being waged in his head, until one day, Mother's Day 2015, he was gone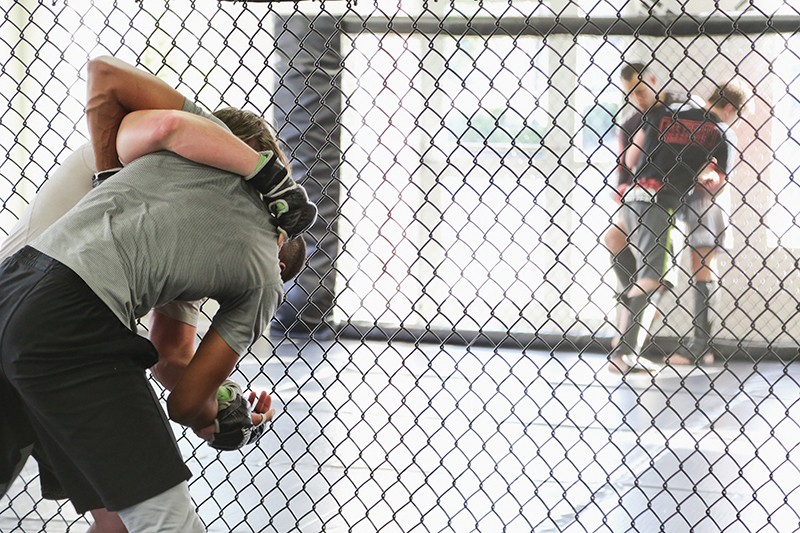 "WHERE'S SENSEI BOOE?" Jonathan Martin wondered.
Paul Booe was always with his mixed martial arts guys. He was their trainer, their coach, their sensei. But on May 9, 2015, a Saturday night, he was a no-show for the pre-fight paperwork, the weigh-in, the hand-wrapping, and the warm-up. Most disturbing, he wasn't there to yell instructions from the corner when his fighters were in the cage.
One of Booe's fighters that night was Martin, an 18-year-old amateur and a top student who had been training with Booe for almost 13 years. Martin considered Booe a second father. He'd called Booe that morning to see if they would ride together to the event, as they always did, but Booe's phone was off. Martin checked Booe's Facebook page, but the account was deactivated. From the minute he arrived at the fight venue to when he left with his family, Martin looked around, wondering if his mentor would show. As the night went on, he realized it was unlikely, but didn't want to believe it. Booe never arrived. Martin lost the fight.
Afterward, a few people from Booe's inner circle hung around the venue. They drank a few beers and talked. They were his students and members of his fight team, people who had become close friends of his over the years. They were concerned. Booe hadn't been himself lately. He was distracted and depressed. He was drinking regularly, something out of character for someone who liked being in control. He didn't show up that week to teach his scheduled classes at the martial arts school he founded, Hayastan MMA Charlotte. And now, he hadn't made it to the fight. It was time to do something. They talked intervention and left agreeing to discuss it further on Monday.
The next day, Mother's Day, other people tried to reach Booe. One call of, "Where's Paul?" set off another. Eventually, someone contacted Tom Ziegler, an instructor, and asked him to bring his key to the gym and meet a friend of Booe's there. Kevin Forant, a professional MMA fighter who trained at the gym, arrived around the same time. Forant turned the key and unlocked the door.
What they saw next, they keep locked in their heads, never wanting anyone else who knew Paul Booe to picture it. Their sensei had hanged himself.
Ziegler called 911, while the others looked for something to cut Booe down. It was too late. Ziegler told the dispatcher he was gone.
Ziegler was still on the phone with 911 when medics arrived. They worked on Booe, despite the obvious. When he hung up the phone, Ziegler went outside and sat down on the curb. Tony Tan, a pro fighter and longtime student of Booe's, arrived. "He grabbed me," Ziegler says, "and he started bawling."
Police arrived. They asked Ziegler questions. He answered them. By this time, word had spread and more people had shown up. They congregated in the parking lot on the side of the school. After finishing with police, Ziegler once again took a seat on the curb, his head in his hands.
In the months that followed, friends and students and family members tried to understand why Booe, a trainer who devoted his life to making people better through martial arts, committed suicide in the school he created. They haven't come up with a clear answer. At 39, Booe had what many would consider a gratifying life. He was respected in his field. He had friends and dedicated students. He had an 18-year-old son. Booe also possessed a range of talents, including playing the drums, drawing, graphic design, and furniture-making. All self-taught. But underneath that, there was a dissonance between his innermost feelings and the objective reality of his life. He never understood how many people cared about him, and he certainly didn't know how far they would go to carry on his legacy.
***
LISA FLYNN WAS an 18-year-old college freshman when she and Booe started dating. He was 19 and in his rocker phase, a drummer with long hair.
He'd been on his own for almost two years by then, bouncing back and forth from band to band since forming his first one, Split Ends, in high school.
Booe had always been eager to enter the adult world. His father abandoned him and his family when Booe was very young. His mother did her best, but without a father to guide him, Booe developed a spirit of self-reliance. At 13, he became interested in martial arts, a sport in which he could compete and succeed as an individual. He found his niche and at 16 earned the first of what would be many black belts. This was the early 1990s, and the term MMA was not yet popular. But Booe realized the usefulness of learning different forms of martial arts and the advantage it gave him over opponents.
A few months after she and Booe started seriously dating, Flynn became pregnant. "We were surprised and nervous, but not upset," Flynn says now. They got married in 1996 and had their son, Alex. For several years, they enjoyed being a family.
Some of the time, Flynn worked and Booe was a stay-at-home dad—something he was great at, Flynn says. Other times, he worked in construction. But his dream was always to open his own martial arts school. "I knew one day he would tell me it was time," Flynn says. When that day came in 2003, they took their tax refund and opened their first school, Xtreme Karate. Booe taught the classes and Flynn was the program director, handling day-to-day operations. Several years later, a second school followed.
By 2005, Booe had become affiliated with Hayastan, a leading MMA fighting system. To earn that affiliation, Booe took several trips to California and other places around the country to undergo intensive training with the founder of Hayastan, Gokor Chivichyan.
Booe's affinity for traditional martial arts was the foundation of his two Charlotte Hayastan schools, but he also began offering MMA classes. Over time, some of the more advanced MMA students in his schools wanted to compete in sanctioned events. The natural progression was the emergence of a Charlotte Hayastan MMA fight team, led by Booe.
As the schools grew, Booe and Flynn's relationship began to suffer at times. The situation wasn't contentious, Flynn says, but the marriage no longer worked.
She says they both made mistakes. She says there was no one reason. But there's no doubt now that some of their biggest problems stemmed from Booe's internal struggles. He had an inherent sense of loneliness. Sometimes he got upset about perceived slights, disrespect, or disloyalty from people he knew—the people who were closest to him. There were times he blew things out of proportion.
"He could be pessimistic about people and loyalty," Ziegler says. "I was one of the few people who could talk to him without him getting pissed off. I tried to be a voice of reason." Booe would appear to listen and acknowledge what Ziegler was saying, but then "go ahead and do what he wanted." There were conversations in which it seemed Ziegler was getting through, but "when Paul realized you were on to him, he would put up walls."
***
"FOR ABOUT 10 YEARS, I just thought he was moody," Flynn says.
One day, she decided to do some research. She looked up his symptoms and found what she thought described him: depression and anxiety disorder. She believed that having a name for what might be causing the turmoil in her husband could be a way forward. So she talked to him and asked him to get help. His response startled her.
"How is talking about myself going to help?" he asked.
Only half of the 25 million Americans affected by major depression receive professional treatment, according to the National Alliance on Mental Illness (NAMI). Additionally, almost 20 percent of the United States' adult population has an anxiety disorder.
A year and a half later, after another argument, Flynn again tried to convince Booe to enter counseling. "Paul, if you don't get help, we're not going to make it," she told him. This time, he agreed. He and Flynn went to a couple of appointments, but he didn't connect with the counselor. He believed the sessions were biased against him. Flynn suggested trying someone else, but he refused. This was part of his personality, too: When he made up his mind, he was stubborn. In August 2013, they divorced.
Shortly after the divorce, Booe began dating a woman who was a single mother. A few months after that, he moved in with her and her two young children. It wasn't the most stable relationship. There were arguments and breakups and reconciliation. When they ended it for good in December 2014, Booe took it hard. He had difficulty moving on and he missed her kids.
Meanwhile, he was estranged from his own son, Alex, who was 18 at the time. In February 2014, Booe was convinced his son wasn't living up to his responsibilities, and he told him so. They had an argument and stopped talking. Flynn was caught in the middle, seeing merit in both sides. "But Paul felt like I didn't back him up," she says, and she and her ex-husband stopped communicating. About a year later, Alex reached out to his father to reconcile. They had some promising communication, but they never saw each other again in person.
Booe maintained a binary approach to life: right or wrong. He could have an uncompromising nature. He knew he needed to keep busy and keep his mind occupied, so he assumed an overwhelming amount of responsibility at work, which only increased his anxiety.
Without Flynn at the school, he was left to handle the less exciting parts of the business: paperwork, records, memberships. His passion was in teaching and training. When people tried to offer clerical help, he was often dissatisfied with their efforts. "He was a perfectionist, and if you weren't up to snuff, he'd rather do it himself," says Tan, a lightweight fighter who had trained under Booe since 2006.
And, of course, there was his default reaction, to take a simple difference of opinion and sometimes turn it into a situation in which he believed people were screwing him over. When a student who was excelling left the school without explanation, Booe took it personally. Similarly, when a business deal went awry, he sometimes felt betrayed.
After the breakup with his girlfriend, he bought an RV and parked it behind the school. It became his home. He started going to local bars, drinking in excess. "It was pretty clear he was dealing with some depression issues," says Forant, who found him that Sunday. "To people close to him, he expressed it. A lot of people tried to talk to him, but it seemed like nothing was good enough to get him out of that depression. For as long as I've known him, he had some anxiety issues. He seemed high-strung if you didn't know him well. In hindsight, especially, I see it was the anxiety."
He also lived by the standards he set for himself. For instance, he saw his divorce and the breakup with his girlfriend as faults, and he struggled to accept them.
"When he first got divorced, he told me he felt like he failed," Forant says.
Ziegler, who started training with Booe in 2007, agrees. "I think his breakup was a component. To him, it was another failure. But I think the loss of Lisa was still a strong part of his depression. He had remorse."
As it turns out, the day Booe was found in his gym was not only Mother's Day, it would have been his 19th wedding anniversary.
***
BOOE HAD several intense conversations with his ex-wife during what would be the last weeks of his life. He revealed deep regrets. He explained that he was diagnosed with severe depression and anxiety disorder. He acknowledged that she was right. For the first time, he apologized for his part in the demise of their marriage.
They sat and talked one day, just two of them in that RV parked behind his martial arts school in Matthews. They felt close to each other again. Uncharacteristically, Booe asked Flynn if he could hug her. "Of course," she replied.
"He hung on tightly," she says now.
Still, she was concerned. She asked him to promise that he wouldn't hurt himself. Although she wasn't shocked by his response, she was crushed.
"I'm not going to kill myself," he said, "but if I got hit by a car it would be OK." It wasn't the first time he'd said something like this. Over the years of their marriage, Flynn had heard him express feeling forlorn. This time was different—she wasn't there to watch out for him. She asked him again to see a therapist. But he didn't believe it would help. At one point during those last few weeks, he conveyed to his ex-wife that he believed the only thing he was good at was training fighters.
The Friday before his death, Ziegler met with Booe in the RV. Booe was unshaven and had been lying in bed for a couple of days. He didn't seem to know what day it was. There was a bottle of Benadryl on the counter, which he sometimes used to help him sleep. Booe told Ziegler he received antidepressants and anti-anxiety medication from a primary care physician. But he apparently wasn't taking them as prescribed, and was mixing them with alcohol. Ziegler asked questions about the medications and proper dosages. He hunted through the RV and found a pen and a paper, on which he scribbled a chart to tell Booe what to take and when. Ziegler wanted to take his friend to the hospital, but Booe refused.
The next day was May 9, the day of the fights. Ziegler went back to the RV. Booe was still groggy and not in any mental condition to be in his fighters' corner. Ziegler quickly had to regroup from seeing his friend in such a state. Months of training and planning had gone into this night. The team needed a leader. He had to take over.
He also wanted to protect Booe's reputation, so when people asked, "Where's Sensei Booe?" Ziegler told them he was sick.
***
JONATHAN MARTIN, the fighter who was in the ring that night, knew Booe's teaching style as well as anyone. He started training with Booe at the age of six and earned his first black belt at 11.
Aside from his parents, Martin gives much of the credit for the person he is to Booe. "He made sure you got it right, not just in martial arts," Martin says. "He expected us to act a certain way. Respect was a way of life, whether you were at home or in school." Their bond grew stronger when Martin started competing. Booe's voice boomed during Martin's fights, so much so that Martin says he can still hear it.
"I always felt like he was right in the cage with me," he says.
Those were some of their closest moments. "Sensei Booe was not an affectionate person," Martin says. "He could be so proud of you and say, 'Good job,' and then he'd say, 'Let's work on that.'" But it was different when Martin competed. "After I won my fights, he was so proud, he would pick me up and we would be hugging each other."
Which is what made the days leading up to the fight even more unnerving.
Martin says Booe became uncharacteristically disengaged. He saw his longtime trainer that Tuesday and, as usual, asked questions about how to prepare and what to expect. For the first time, Booe didn't give specific answers. In fact, what he said was, "Yeah, man, you'll be fine."
"That really threw me off," Martin says.
On Thursday, Booe didn't show up to train, and he wasn't there to teach his scheduled class. This had never happened before. Of course he'd asked someone to cover for him occasionally. But to not show up? Students were there, ready to go, so Martin, the longtime student, taught two of the four classes that night.
That Saturday night, Martin did his best to stay focused, but Booe kept popping into his head. The people in his corner yelled instructions.
"Tom and Kevin and Tony were there," Martin remembers, "but I didn't hear a thing they said."
***
BY EARLY EVENING the day after the fight, after they'd found Booe, about 40 people gathered in the parking lot of the gym in Matthews. They were students, fighters, and instructors, but they also considered each other family. Now they were lost and in need of a leader.
Ziegler started to speak at about 9 p.m. In his mid-40s, Ziegler is the older, wiser guy in the Hayastan inner circle. He started training with Booe about nine years ago, and became an instructor and an integral part of the school. On the mat, he was a student of Booe's. Off the mat, he was a close confidante.
"I remember the weight of it, the eyes on me," Ziegler says of that night. "I had to conjure up enough strength to face everyone in the parking lot." He didn't know how, but "I told everyone that some form of this gym will move on. We'll figure it out."
It was chaotic at first. Booe taught more than 20 classes a week that were suddenly left open. The schedule was disorganized. Ziegler and the staff still had to contact several students who didn't know what happened. After a couple of weeks, there was a meeting of people in the inner circle. Everyone agreed the Matthews school had to be closed; they couldn't go back there. They decided to look for a new Matthews location and pieced together a temporary schedule for the other location on South Boulevard. Booe's sister handled most of the finances for the business, and the guys concentrated on keeping the school functioning.
Ziegler took on most of the day-to-day operations. Forant, Martin, and Tan started teaching in order to keep classes going. Other members of the fight team helped fill in. But many of the students lived in the south Charlotte and Matthews area, and South Boulevard was inconvenient. A few people chose to leave, but most stayed. By late November, they shut down the South Boulevard school, and in December moved the entire operation to a new location on Matthews-Mint Hill Road.
They felt they didn't have a choice; they needed a home not associated with the tragedy, a place where people could think with clarity.
No matter what turmoil he was em­­broiled in, Booe always found his focus in martial arts. His students and fellow trainers viewed him as "The Fight Tech," because of his ability to break down any fight. His teaching style was encouraging, but not effusive. If you did a good job training, he might point out the area in which you could do a little better.
"You probably couldn't learn from a better person," Tan says. "He knew how to adapt moves to fit people's strengths."
***
SEVERAL HUNDRED PEOPLE came to Booe's memorial service. Many wore their Hayastan shirts. Flynn was one of the speakers. She mentioned that there were times over the years when Booe would feel alone and that nobody was there for him. "And I would tell him, 'Right here,'" she said, pointing to herself. All across the room, people nodded back, as if to respond with, "Right here."
"His brain knew he had people who cared," Flynn says now, "but something in his subconscious would tell him he was alone."
Since his death, Flynn has had many moments of sadness and grief. Despite their problems, she has plenty of fond memories of Booe. She describes a husband who was always complimentary of her, even when she was pregnant and feeling less than beautiful. Whenever she was sick, he was "the best caretaker." His detail-oriented personality made him great at giving her medication at the right time and feeding her when she was supposed to eat. She also recalls how he recognized her strengths, such as dealing with students. "He liked to put people in positions where they could thrive," she says. "He had a hard time praising people because he didn't come from a background of that, but he recognized people's natural talents."
A few months after Booe died, Flynn was at home working at her computer and having a problem with the modem. By that point, any everyday annoyance was intolerable.
She grabbed the modem and walked toward the door to hurl it outside. On her way through the kitchen, the coffeemaker caught her eye. "Oh, you're broken, too," she said to herself. She grabbed it and took it outside, too. She used a hammer to smash both. As she walked back inside and past her son's room, he stopped her to ask, "You OK?" She answered, "Yep." They both knew it was the release she needed.
In texts and conversations with his ex-wife shortly before he died, Paul Booe poured his heart out. He told her how much he loved her and Alex. He said that he was proud of his son. He wanted them to know that although he didn't always express it the right way, it was always there. He also said to Flynn, "You were kind to me when everyone else turned their back, thank you. You are an amazing person that I never deserved."
***
IT CATCHES THEM unexpectedly, and at different times. For Ziegler, it's when he recalls opening the door to the gym and seeing Booe's body. For Tan, it's when he talks about how he always planned for Booe to teach his kids. For Martin, it's recalling that Sunday when his mom got a call from the mother of another student. His mother started crying, and then his dad came to tell him the news. "I thought, 'This can't be happening,' and I started crying," Martin remembers. With all of them, it's almost imperceptible. A slight catch in the voice, a pause or a momentary look away. Then they snap back and straighten up. Their stoicism is undoubtedly linked to their MMA training:
Stay in control.
Don't let fear and emotion get the best of you.
Don't panic.
Most of all, power through.
MMA fighters don't restrict their intense mental training to the mat; they carry it throughout their lives. Acknowledging the need for help can be difficult for people who are trained to solve their own problems.
Nobody can explain why Booe didn't go to counseling. Whatever the reason, it was clear he believed that talking to someone was pointless.
The people who cared about him didn't know what else to do. They were available to him. They provided support. They were encouraging. But none of that is a substitute for the professional help he needed. "None of us are psychologists," Ziegler says.
Only Booe knew the extent of his torment, and there is no way to know if he'd still be alive if he'd gone to therapy. What is known, though, is that despite what generations of people have said about the disease, clinical depression is not a character flaw or a sign of weakness. It's also not something people choose to have, nor can they simply choose to rise above it. It's an illness, and it's one of the nation's most prominent invisible killers.
In the United States, someone commits suicide every 12.3 minutes, according to the Centers for Disease Control. It's been estimated that 90 percent of those who commit suicide have a mental illness (though not always diagnosed) at the time of their death, with the most common being depression.
Booe strongly believed in the Japanese concept of Kaizen, or "continuous improvement." It's at the core of what the school teaches and something that continues to guide his Hayastan family. It's part of his legacy.
At the new school, his old friends are trying to sustain the community he built. Part of that means making the school an enjoyable place for the students, not a place filled with sadness. There is camaraderie among those who train there. Deep bonds are formed there. Many nights, after closing down, Booe, Ziegler, and Forant would hang out and talk and joke and laugh. There were also nights when the conversation turned to things other than MMA, such as family, or whatever might be going on in their lives. MMA wasn't just their common interest, it was the medium for what became their kinship.
"We want people to have their happy place back," Ziegler says. "There's no getting around the fact that his presence is missed, but you can't dwell on those thoughts. I spend most of my day trying to block it out, so I can continue with the commitment I made that day to everyone in the parking lot [the day he found Booe's body]."
What Ziegler said in that parking lot was what others needed to hear. What he didn't say, though, was something that bounced around in his head as he spoke, looking out at the 40 or so people who'd gathered to mourn the loss of their friend and leader Paul Booe, tears streaming down their faces because they loved him.
"Paul," Ziegler said to himself, "do you see us now?"
Allison Futterman is a freelance writer in Charlotte. She first wrote about Paul Booe for The Charlotte Observer in January 2015. She can be reached at aliwrites10@gmail.com.
---
This article appears in the May 2016 issue of Charlotte Magazine
Did you like what you read here? Subscribe to Charlotte Magazine »
---