In the Navy
Local fashion designer blends Southern charm with urban sophistication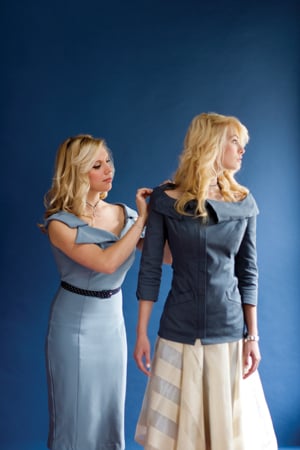 As a kid, Annelise Manns loved theater and ballet, but she was especially intrigued by the intricate embellishments on the costumes worn by the actors and dancers. She began teaching herself how to sew at the age of eight, and by the time she graduated high school she'd already drawn up a business plan for launching her own fashion line. Originally from Pittsburgh, Manns migrated to the South to study retail and costume design at the University of South Carolina. Now the designer and her fashion line, Navy & Pearls, are anchored here in the Queen City.
Manns says she has a deep appreciation for Southern culture that has undoubtedly influenced her designs. "There's a completely different aesthetic down here," Manns says, and one that she thinks fits perfectly with the look of her line. Her spring 2012 Navy & Pearls collection is full of soft, delicate pastel hues and feminine fabrics like chiffon and lace, but the silhouettes Manns has designed are structured, tailored, and sophisticated in their construction, giving each design a slightly urban edge. Most of her fabric and material come from Mary Jo's in Gastonia. "I think it's important to use things locally—to reinvest locally."
See the Navy & Pearls collection on the runway at Charlotte Fashion Week, September 21-24, or head to navyand
pearls.com to learn more about the inspiration behind the clothes.