In the Raw: Naked Sushi Night in Charlotte
Late at night in dining rooms and restaurants, adults are throwing a different type of dinner party—one in which sushi comes served on a nude model. Come on, we'll show you. Don't blush.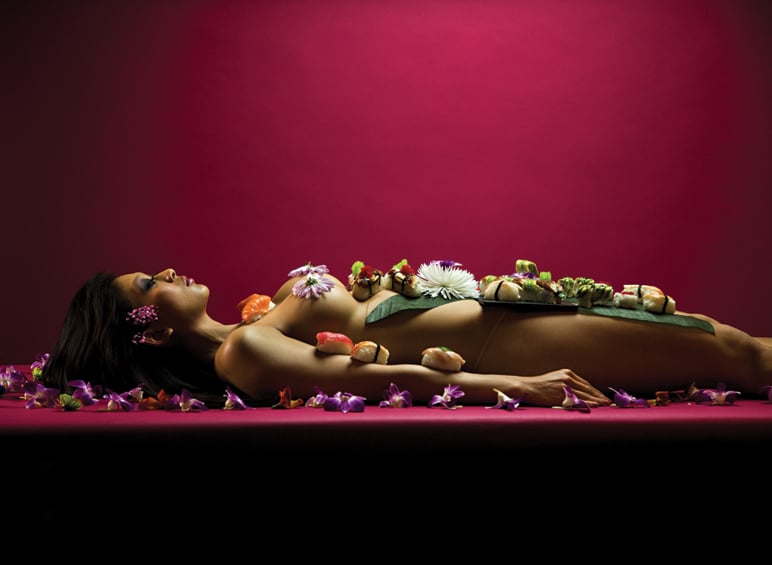 NOLA JUNE ARRIVES at The Mandrake restaurant in uptown on a Friday evening in April wearing black dress pants and a black tank top. Most of the dining room has been cleared, except for two rows of counter-height tables, which are actually three square tabletops pushed together. On each combined table—one row across the floor from the bar, another near the far wall—a padded mat is covered in a silky tablecloth. June, age 31, is here for a modeling job, of sorts, and this is her runway.
She disappears for a bit while the staff makes last-minute preparations for the restaurant's first Naked Sushi Night. A tub of cold beers is covered in ice; a DJ adjusts his sound equipment. June emerges wearing black flats and a pink robe with black lining and Asian patterns. It's almost 10 p.m., the party's start time. She sheds the robe and lies on the table as the chef and his team approach with trays of raw fish.
Rectangular pieces of slate holding pyramids of sushi are balanced across her shins, thighs, and pelvis. Banana leaves sit between her skin and several pieces of nigiri on her abdomen, arranged to resemble the pattern of her bones. Her narrow waistline proves a tough spot to lay raw fish; the nigiri is unsteady as it rests where her ribs create a slant to her stomach. Two flowers give minimal coverage to her breasts, and more flowers are scattered around her in an artful display. Early party attendees peek in from the restaurant's patio, waiting until the moment they can enjoy an open bar and sushi buffet.
At 10 p.m., the sushi is set. A young crowd starts to fill the room, many mixed-gender groups and couples. They steal a quick glance at June, lying on the table covered in sushi, then pretend she isn't there. Their backs are to June as they face the bar, looking at their drinks and sharing awkward glances. Minutes later, a man in a blue polka dot button-up shirt approaches the table. He takes a plate, some soy sauce, and a set of chopsticks. He quickly grabs a piece of sushi from the slate on June's shins and returns to his friends. Others follow, then more, and more. Twelve minutes into the party, the slates are empty and banana leaves sit unadorned on June's chest and torso.
There are five people in the kitchen, and they can barely roll sushi fast enough to keep some on the model. Seaweed wrapper. Rice. Flip. Cucumber. Salmon. Roll. Slice. Plate. The pace is relentless in the kitchen, but Chef Travis Garrett keeps presentation beautiful. The display, after all, is meant to be art. Another slate of sushi, and out to the model it goes.
The new sushi is set out, and three, four, five pairs of chopsticks are pinching above June. Some are unsteady, and sushi tumbles to the floor. She lies still as the rice brushes against her. Couples approach, and girlfriends point out the sushi they want to their boyfriends, who hold the chopsticks.
The section of the dining room surrounding June, a corner station serving beer and wine, and the full bar is packed. iPhones flash; girls crouch near the model's head for selfies. She has become the center of the room, the groups around her now facing her, drinks and sushi in hand.
***
THE PRACTICE OF SERVING sushi off a naked model is called nyotaimori when the model is female, or nantaimori if the model is male. Many people in the United States believe it's something commonly done in Japan, but I reached out to several professors in the field of Japanese culture studies, and they didn't know much about it, other than it wasn't really that popular in Japan.
In fact, I found very little reliable information; most articles referred to nyotaimori vaguely as an ancient Japanese practice. Then I talked to Chef Mark Scharaga, owner of one of the most well-known body sushi caterers, Nyotaimori Experience, which now hosts parties across the country.
Scharaga graduated from UNC Wilmington in 1993 and began working for a software company, staying in the industry for nearly 10 years. He briefly moved to Richmond, Virginia, for a job and took on additional part-time work as a sushi chef, later opening his own part-time sushi catering business. In 2004, a friend in Durham asked if he would throw a nyotaimori birthday party
for her, the beginning of a catering company called "Naked Sushi King." Before the chef agreed to the party, he wanted to do some research—a task he also found rather difficult.
"There's a lot of misinformation out there, and there's a lot of variation in the details of how it actually began," he explains.
He relied on friends in Japan to help him. They found the first mention of nyotaimori back in the Shogun period of Japan, around the 1860s, when returning warriors supposedly ate sushi off geishas. More recently, he says, the Japanese mafia picked up the practice, kidnapping girls and using them as their sushi platters.
"It's had a sordid history; it's not the popular cultural item people want to make it sound to be," Scharaga says.
In 2007, Scharaga rebranded his company Nyotaimori Experience. Most of his business at the time was in Durham. It then spread to Charlotte, and on to Atlanta. Back then, it was still a curiosity for people, he says. Now, it's more of a creative experience.
"When it did come over to the United States, it has been more artful in the way it's been handled," he says. "And that's our goal: to make it an artful experience."
When naked women are used as serving platters, though, the question surfaces: Where is the line between art and objectification? In an award-winning essay called "Madama Butterfly Gave Birth to a Monster: Exploring the Internalization of Racial Stereotypes within Asian American Women," author Jocelyn Jiao writes, "It has inherently demeaning implications—that the female body's practical function is that of an unassuming object. Furthermore, having an Asian female lie atop a table and allow food to be eaten off her furthers the expectation that Asian women are passive, voiceless—and they are willingly, happily so."
June is aware that some people aren't comfortable with her naked sushi job, but she isn't concerned. After all, it's her body.
"There's always someone who is going to not like what you're doing," she says.
***
ON A WARM Wednesday, June arrives at Fitness Connection off Morehead Street. Wearing black athletic pants and a black zip-up over a workout tank top, she meets training partner James Adams inside. June is training for a bodybuilding competition in Charleston, where she'll compete in the bikini class. To win in her division, she has to be just muscular enough, just lean enough. Adams, who works at the gym, is a power-lifting competitor, with arms that make him look like the mold for kids' wrestling figurines.
The two chat about bodybuilding supplements over the sounds of the gym: the clash of weights meeting weights, bars falling to the floor after a deadlift, grunts of exertion. Today, June and Adams are working on shoulders. Doing four or five exercises a day focusing on one muscle group helps them build muscle, they explain. Adams asks June how many times she ate today. It's 3:30 in the afternoon. "Just once," she laughs. She probably should've eaten at least twice today, she tells me.
June sits down and lifts her hands to the bar for a seated barbell shoulder press. She starts with 10-pound weights on each side of the 45-pound bar, making her warm-up set 65 pounds. Adams holds lightly onto the bar as June counts.
"One, two, three." The weights jump off their support. "Got 'em," she says. Adams' hands stay close. June's toned, petite body begins to show its muscle. Her arms bulge, and veins I'd never noticed appear. With each press, the weights pop above her as she makes the final effort to straighten her arms upward. Between her reps, June takes her place behind the bar and spots Adams, hands ready to catch 135 pounds, should his arms slip.
They switch places again. With each set of exercises, the weights get heavier. June looks at the ceiling during every rep, making sure she's feeling the right movements in the right muscles. By the end, she's lifting 95 pounds, three quarters of her body weight. Three sets, and they move on. June grabs her pink water bottle for a sip of water with supplements from VPX, the company she promotes as a rep and model. This one helps keep the muscles from breaking down, she explains, before pushing those muscles to lift even more. Pulls at 85 pounds, lateral raises at 50 pounds, Arnold presses (named for Arnold Schwarzenegger) with 25-pound free weights. At the end, she has a small patch of sweat between her ribs.
***
JUNE WASN'T always so fit. She attended UNC Charlotte, where she studied biology and later psychology. While in school, she got a job working at what was once a Gold's Gym in Concord. She was skinny, she says, as she witnessed peoples' bodies change as they worked out at the gym every day.
"I saw someone there that was bodybuilding, and I'd never seen a bodybuilder before in person," she recalls. "And just to watch him change—they're kind of bulky at first, and then cutting down and becoming crazy muscular. It was inspiring."
When she started college, June planned on becoming a high school biology teacher. But while working as a substitute teacher in public high school science classes, she missed the inspiration she found at the gym. She decided to make that inspiration into her career.
She has watched her own body change since then, building muscle by working out and dieting frequently. She's done fitness, swimwear, and lingerie modeling, and doesn't see nyo-taimori modeling as anything different.
"You get to a point where you've worked so hard on your body that you want to show it off," she says.
A few close friends know about her latest modeling job, but she invited only one to the party, and she didn't tell her parents, both first-generation Chinese-Americans.
"I don't think they would even be able to imagine what it is," she says. "They would just hear naked and be like, 'You're not doing that porn stuff, are you?'"
I ask her if she feels uneasy at all about acting as a plate for the evening. Before my question, she explains the process of competition judging and how it felt standing on the stage for the first time, ready to learn if your hard work has been enough.
"It was strange to look down at the judges and know they're looking at everything, every corner of your body, seeing if it's good enough," she says. "And then you think about it in the back of your head the whole time, like, 'They're looking at my legs, and they're horrible.' Everything goes through your head when you're up there."
Lying naked on a table in front of regular people? She's not worried about that. This is just another modeling job.
***
AT 11:15 P.M., June's shift as a naked sushi model is just about over. She remains still, moving only to chat with a guy who's a little friendlier after a few trips to the open bar. "What happens if you have to pee?" he asks. She smiles and says she's fine. After an announcement that her shift is about to end and a last call for photos, the staff members come out to remove the sushi from her body and help her down.
She slips back into the pink robe and her shoes. She laughs, saying she wished people had used their hands to get their sushi—most stumbled with the chopsticks. She grabs a cocktail glass of water with lemon and visits her friend, a bodybuilding colleague, and her friend's boyfriend. Both stood nearby during June's shift on the table. People come over to tell her she did a great job. The open bar and sushi end at midnight, and it's almost time to go home. A group of girls has turned the space near the DJ into a dance floor, and voices are louder, slower.
A server brings June a flatbread pizza with pepperoni and tomato; she wasn't able to eat any of the sushi plated on top of her. She seems to appreciate the gesture, gratefully taking the plate. She enjoys the smell of it for a minute, and puts it down on the table. She's in training for a competition, and her training and diet regimen don't include pizza. She gets a to-go box. Tomorrow, it's back to the gym for a leg workout.
Kristen Wile is senior editor at Charlotte magazine and editor of Charlotte Home + Garden. Email her at kristen.wile@charlottemagazine.com or follow her on Twitter: @kristenwile.